Lisa Gardner is an American novelist who is popular for writing mystery thriller as well as some romance novels. Her career started in the 1990s with her first novel. Before becoming an author she used to work as a research analyst in Boston. She also used to work in the food industry. She had written several romantic novels under the name Alicia Scott before writing her first thriller mystery novels which were released when she was just 20!
It's impressive how she has made a name for herself and gained many loyal fans by her FBI Profiler series. Her other series like Detective D.D Warren, Guiness Gang, Tessa Leoni, and so on got popular too and not to forget some of her standalone novels that had won the hearts of people. Her writings mostly inspired by real-life cases and she also keeps tabs on the latest technological advancement used by police to solve the crimes. Overall you can say that she is kinda a method author who tries to make her story as realistic as possible with lots of thrill and mysteries. The best part about her novels is you will find it relatable thanks to her straightforward writing. But that doesn't mean it's going to be a boring novel. She had made sure she entertains the reader and keep their interest until the last page.
Now enough about the author, let's talk about her work. In this article, we have written about a number of books by her, so it can help the people who have never read her book and don't know where to start. It's always better if you follow the publishing order or the order of the series, you can better catch up with the characters and see their character growth through her books.
Lisa Gardner Books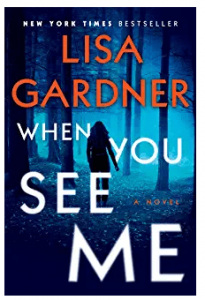 Hiding Jessica is one of the books in Guiness Gang series. It is the first series by Lisa Gardner under the pen name of Alicia Scott. This one is the Romance Suspense genre novel which is quite different from what she is writing nowadays. Even though the book is from the romance genre, you will find a number of elements that are widely used by Lisa in her future books which are from a crime thriller novel.

The story revolves around Jessica who is a cover girl and Mitch Guiness who is a magician. Jessica is a pretty hot woman who can kill any man with her beauty but she has a very cold heart that just couldn't care less for anyone.

When you will start reading the novel you will realize she is definitely hiding something! But what? One thing is clear she can't trust anyone even the man who is trying to save her life! The story will interest you if you like a romantic novel.
This is another book by Lisa Gardner from the Guiness Gang series. This Romantic novel revolves around the character of Suzanne Montgomery and Garret Guiness.

Suzanne is a kindergarten teacher who lives with her sister and mother. Fifteen years ago she wanted to escape her life with a drunk mother. That's when she asked Garret to come for her and take her away. But he never came and she slowly made peace with it somehow. She is now busy in her taking care of her mother and sister. And that's when Garret arrived! Not in a way she would have expected, he is all injured and doesn't know how he ends up like this!

The story is quite interesting and you will see the chemistry between the lead characters. People have a different opinion for the novel, anyway, you should give it a try if you want to see what happens with Garret and how his promise to Suzanne impacted him all these years.
The One Who Almost Got Away is one of the most liked romance novels by Lisa Gardner which is also a part of her Guiness Gang series. This time the story features the characters, Regina and Jack Guinness.

Regina is an FBI officer who has arrested Jack Guiness while he was testing his friend's art theft security system. He is apparently under suspicion that he is the highwayman, who is a real thief the FBI is looking for.  After clearing his name, he is trying to woo Regina and set up some dates. They somehow end up being a part of Highwayman's plan and face dangerous situations. It's definitely a book worth reading!
Maggie's Man is the first book in Maximillian's Children series. It is a romance fiction thriller novel that got a pretty good response from the readers. The story features three children who are searching for their family's truth but they found much more they would have intended to.

The story is written very well and they keep the reader interested till the end. You will be always asking a question like why this happens and how they end up! You Fillmore willingly to take up the next book in the series after you have read this one.
The second book in the series that you will be interested to read after you have read the first book of the series. The story features the character of Tamara who has lost her family and now she is on her own. All she wants is to take revenge from the person who has wronged her. But she doesn't know much about the man and his powers and that's where the tables turn and she becomes the one who is being threatened.

That's where a man named MacNamara who is an ex-marine comes to rescue her. He knows that he will have to pay for this but he decided to help her anyway. What will happen with these two will remain the question and you can find out in this amusing novel!
This is the last book in the series by Lisa Gardner. The story features Brandon Ferringer who is trying to uncover the truths about her family for four years now and he is close to finding out now. He has now rent a room in farms but to his surprise, his landlord is trying to distract him from his mission.

Brandon who is a firefighter now meets a single mother they two seem to have a connection between them. But he is on a mission and it becomes pretty rough when he founds out it had become all dangerous and threatening their lives. What could be the answer to all this? And who is behind all this? Will Brandon be strong enough to handle the truth?
The Perfect Husband is the first novel of Quincy FBI profiler series which has bought fame for Lisa's writings. The book is from the thriller and mystery genre which has the ability to keep you entertained throughout the whole book.

The story revolves around Tess Williams who is marrying a sweet man named Jim Beckett, well he seems sweet after some time of their marriage he becomes a violent man who harms Tess. It didn't take long enough for him to turns into a psychopath! Tess somehow manages to put him behind the bars. But is the end of her misery? I doubt so. You will be always worried about Tess and what's gonna happen to her next until you reach the last page of the book.
The Third Victim is the next book in the Quincy series. The story starts with a horrific shooting incident that took place in the peaceful town of Bakersville. The people are demanding justice and everyone is shaken up from the shooting. Amid all these chaos a boy shows up and confesses that he has committed the crime, but the evidence shows otherwise. And the cops believe he is not guilty. But why would he claim that he is guilty? And who is behind all this? These questions keep you in suspense until the very last of the book!
The Next Accident is the next novel in the Quincy FBI profiler series. The story revolves around a killer who knows how to play with the minds of people and makes them vulnerable. The killer targets the people who are close to a person and make their deepest fears come true. Who will be the next victim of this killer and how will Quincy find out the truth and catch him before it's too late.
The next novel in the Quincy FBI profiler series. The Killing Hour features a psychopath who kills when the temperatures rise to a hundred degrees. He picks up two girls from the town. He kills the first one and when they discover the body of her, only then they can get some clues about the second. It's a game for him! But this has to stop before every girl in the town becomes the victim of him and it's important that the lead character Quincy does everything it takes to arrest the killer!
Conclusion

So these are the Lisa Gardner books in order that you needed to know about. Her books will impress those who love to read realistic crime thrillers and wants to explore the mysteries in a novel.

We hope our article has helped you and you can also check out such contents for other authors as well from our page. Thank you for visiting us and keep coming!