James Rollins is a popular techno thriller/action-adventure/ fantasy writer. He was born in Chicago in 1961 and his original name is James Paul Czajkowski. He has written many series and many standalone novels. But he is most popularly known for his SIGMA series.
In this article, we naming all of his books in publishing order. So that you can have a full list of James Rollins Books. As we have said earlier there is a lot of series and you can pick anyone and you will be amazed by his writings for sure.
People have appreciated him and his writing style. And you would be surprised to know that he even wrote an Indiana Jones adventure books and some books for kids as well. A person this talented and have this much wide range surely deserves some applauds.
If you belong to that small group of people who haven't read any of James Rollins's books then this article would be a big help. We are starting with his very first written books which he wrote under the pen name James Clemens. We have written a full plot description for the first few books, so you can be introduced to his writing style and now what kinda books he is capable of writing. Take a look at the following list of James Rollins Books so you can start with one of them.
James Rollins books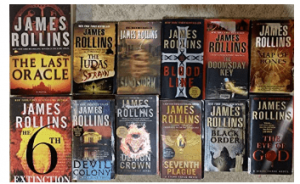 This was the first novel written by James in 1999, he used the pen name, James Clemens! The book was pretty good considering it was his first novel ever written. With this book, he raised the bar for the fantasy genre. The book is also the first installment of the Banned and the Banished series.

The plot starts with an event five centuries ago where three take a desperate stand of sacrificing everything to preserve only hope of goodness. On the present day which is an anniversary of that ominous night, a girl-child ripens into the heritage of lost power. But the Dark Lord has already sent his monsters to capture her and bring him the embryonic magic she embodies.

The story takes unexpected twists and turns and is full of magic, evil, and the unknown forces with monsters and dreadful creatures. Being a fantasy genre fan, you will definitely appreciate the writing.
Released in the same year as his debutant year 1999, Subterranean has also grabbed some attention from the readers with its adventure genre. The book takes you to the world beneath ice at the bottom of the earth. This world is beyond your imagination and it holds many wonders as well as terrors.

Being a mysterious place, it has already grabbed the attention of people and some scientist and almost everyone wants to explore this Grange land. But only one man, Ashley Carters has the courage to do so. He is an archaeologist and chose to explore the strand lang with a full-fledged team.

As soon as they reach there, they realize they are not the first ones to reach here and they are definitely not alone. There are few things which don't wanna be disturbed and others can be proven lethal to them. The mysteries and the wonders of this story will take you to another world. So if you are in a mood to explore adventure, this book is for you!
This is the 2nd book of the Witch series by James Rollins. The story continues after the events of the first book. Elena has taken up the mark of which upon her hand. Here the journey of dark power starts which can terrify you at some points. What will happen next? Is the question you will often ask. Readers have reviewed this book as "dark fantasy" because you will find several incidents that are terrifying. The Dark Lord is doing everything in his power to control Elena and Sy-wen. The story shows their struggle for freedom. Will they be able to escape or they will remain the slaves of Dark Lord?
The next book in the Witch series is Witch War! This fantasy fiction and high fantasy have never failed us to take things to new levels. Elena holds energies of blood magick. She is struggling to recover the blood diaries which is kept in a cage too strong to break in! The blood diaries hold many secrets in its pages and they are the only way Elena can defeat the Dark Lord.

If we were to define the fantasy novel in two words, then they would be, Immortal Magic and Infinite Vengence.
Excavation is released in the year 2000 and its James Rollins's another standalone novel which is pretty amazing writing. The novels belong to science fiction, suspense, thriller, and action-adventure genre so it's kinda all in one of James Rollins's favorite genres.

The book can be a good start for those who haven't read any of James Rollins's books before. Because it's a standalone book you will be more than happy to take it.

 The story of the book revolves around Dr. Henry Cocklin who has discovered a 500-year-old Mummy who wasn't supposed to be there. The story also takes turns when his nephew discovers a site that was hidden from the human eye. What is going to be on that site? And are the two incidents linked to each other? Well the only way to find out is to pick the book up and start reading. This action-adventure book is definitely a good read and you will be happy that you were introduced to this book!
The next Witch series is back and we know you will be more than happy to take the book and see what happens to Elena and what will be the fate of the Dark Lord. Being the 2nd last book of the series, it will definitely hold numerous shocking and adventurous elements. The characters of the book take a hit when Dark Lord again returns by the means of dark wells and it's surely a crucial time for Elena and other people of the realm.
Deep Fathom is another standalone novel by Jack Rollins that you will enjoy if you are a fan of his adventure and thriller writings. The story follows the character of Jack Kirkland who is an Ex-Navy SEAL officer. Air Force One has disappeared with the president on board while the whole earth is on shake with tragic events.

The authors describe what it will be like to experience destruction. You will be thrilled with every page with the adventures of the lead hero. There are going to be unknown powers and devastating secrets which adds an excellent element in the book.
The last novel of the Witch series is a must-read if you have read the first books. And we don't need to tell you why it's important. Because if you have invested your time in the previous series, it's obvious that you are already in love with characters and story. Since you are approaching the end, you will find yourself desperate to know the fate of Dark Lord and Elena along with other main characters. The way James Rollins has finished the book is to make it worth investing our time in the series.
Amazonia is another standalone novel by James Rollins which was released in the year 2002. This science-fiction takes place in the wilderness of Amazon, where a scientific expedition took palace but no one ever returned from there. The government now sends Nathan Rand to explore what lies beneath this mysterious place. And he must unfold the secrets and find out the answers to the several questions the people have in their mind. This adventurous journey is worth reading.
Ice Hunt was released in 2003 and it managed to get many positive reviews and appreciation by the readers. This science-fiction/adventure fiction also takes place beneath the ice and gives you an opportunity to explore the mysterious world. They still don't know what's happening in the north pole at the abandoned station but one thing is sure, whatever is going on there can end human life! So the soldiers, scientists, and intelligence agencies must come together and fight their common enemy!
Conclusion

So these are the James Rollins books in order. As we have mentioned before, he has written many series as well as some standalone. You can start with anything because at the end of the day you will be his fan for sure. The best part about the James Rollins books is you get a variety of genres and the most popular among them is techno-thriller and fantasy.

We hope you liked our article and it has helped you to pick a James Rollins book to start. We have written another article for many popular authors as well, so you can check them out too. Thank you for visiting our page and keep coming for more such content.