We all need to take loans at some point in our life! Some lend money from their friends and relatives, others rely on the bank! Now that's a better option. We all know that how long the process takes when it comes to getting a loan from a bank. It requires filling up the forms, then the documents will be verified and then you may or may not get the loan form the bank.
But what would you do you need money like right now? Where would you go? We all know that the bank is your only shot but it will take time! For this reason, the instant loan applications were developed. personal Instant loan apps are no less than a blessing for those who want to take a loan from the bank as soon as it would be possible.
This may sound surreal but you can actually take loans from your phone, without going to the bank or burden yourself in thousands of forms to fill. And not to forget no waiting for the results, whether you are gonna get the loan or not. These instant loans are simple and reliable and they do a good job without making you big efforts.
There are a number of apps present which claims to get you instant loans! But which one would be the best app for the job? Since you are here, we can guess you are having trouble finding the best Instant Loan App for yourself. Well you are t the right place because we have picked up the 10 best instant personal loan apps for android and iPhone, take a look!
Instant Loan Apps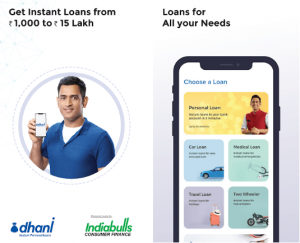 1. Dhani: Instant Personal Loan, Credit Line & Wallet Android / Iphone

Dhani is India's most trusted instant loan app for Android and you would also like it for its reliability and ability to provide you instant loans. The app has over 10 million downloads and people have praised it too. For starters, the app can get you loans from 1000 to 15 lakh instantly at the rate of 1% to 3%. The rates are low so that is its first plus point. The time period for these loans last for 3 months to 36 months. It's processing fee ranges from 1.5 % to 6%. And you will also find zero foreclosure charges on loans below 20,000.

You can also shop anything in 3 simple steps and that too at a 0% rate. So it will make easy for you to shop and without any hassle. The app also provides bill payments and mobile recharge, along with ticket bookings.

It eases your way of getting loans as you don't have to give any guarantee or security to get the loans. Just upload your pan card and address proof to get instant loans. There are many kinds of loans available on this platform. You can take a vehicle loan, medical loan, loan for holidays and more. It's easy and reliable and you would be lucky to have it around, you never know when you need to use money!
2. Instant Personal Loan App – RapidRupee Android

Instant Personal Laon App is an impressive app that can help you get instant loans, whenever and wherever you want. Millions of people using this app and finding it helpful for a number of reasons. It can be your best pick for handling all your financial issues.

It's a hassle-free app where you won't be buried under the piles of forms to fill and neither you will be asked to bring all the documents you have since your birth. The app is so cool and simple that even a 5-year-old can run it (although keep it away from your children).

You can get an instant loan from 1000 to 60,000 at a rate of 1% per month or 12% per annum. It also has a low processing fee. This one is a paperless loan process. It's also an easy to use app and you won't have to go through any complicated procedures to get the loan. So for your financial needs, switch to this one!
KreditBee is our next pick for best instant loan apps for Android. This one is also a popular platform for getting instant loans. Here you can take a loan up to 2 lakh for 91 days to 15 months at 0-2.49% rate per month. The app surely features a low rate. Although the rate can go up to 22% depending upon your profile risk!

You can easily find different types of loans from this platform that includes personal loans for salaried people, online purchase loan, and Flexi personal loan. It features a 100 percent online process with minimum documentation. Fast approval is also an impressive feature of this app. It's an overall great app to have on your phone for your instant cash needs.
4. Money View Loans Android

Over 10 million people are relying on Money View Loans for their financial needs. Here this one also shows an impressive interface and working process which makes it one of the best instant loan app for Android. The app claims to get you an instant loan within a few hours. It's a time-saving app where you can easily apply and get loans.

You can get a loan from 10,000 to 50,000 Rs thousand at 1.33% to 2.5% interest rate. The duration varies between 3 months and 60 months. And the standard procedure fee varies from 2.5% to 4% of the loan amount. You can also apply for the loans up to 5 lakh and its interest rate vary accordingly. The procedure is quick and paperless where you can get your loan within a few hours.
GotoCash is also a great instant loan app and you will find some amazing as well as simple features to get your loan without stepping a foot out of your house. Millions of people are using the app and they have also found it helpful.

You can get the loan ranging from 2,000 to 50,000 Rs at the rate of 35.7% per annum. What you will find best about the app is its convenient repayment methods. And customers who have low or no credit history are also available. Lastly, you can apply from anywhere and whenever you want. The loan will be approved within a few minutes.
Our next choice for best instant loan app would be CrediMe for its simple and intuitive interface and a quick procedure. The app has got about a half a million downloads and the customers have also given a good response for the app.

You can easily take a loan from 2,000 to 20,000 Rs at the interest rate of 35% per anum. The processing fee is quite high, which is 10%, excluding the GST. Just download the app, apply for an instant loan, and fill up your personal details along with your ID proof. After a while, your loan will be approved and immediately transferred to your account.
Paysense is another popular instant loan app in India on which you can rely when you need instant cash! The app has got over five million downloads and quite a few positive responses from its users.

Users can get an instant loan from 5000 to 50,000 Rs at 36% per anum. The processing fee for this app starts from 3.5%. You can easily take loans and the rate is quite good too. Although you can apply for loans up to 5 lakh and see if you can get it based on your profile risk.
With Cashmama you can take instant loans for up to 8000 rs. So this is basically for the people who want to take small instant loans. The annual interest rate varies from 35% to 20%. Service charges vary from 5% to 10%. The approval of the loan will only take 3 minutes. Aadhar card details or Pan card details will be required.
Loanflix is again a pretty great app to get your instant loans on your phone. The loan amount range from 1,000 to 2 lakh Rs. And you can take up the repayment options from 91 days to 365 days. The unique feature of this app is the 18-year-olds can also take the loan from the app.
Our last pick up for the best instant apps is mPokket. This app specially made for students and they can loan money from the app. Loan amount starts from 500 to 10,000 for a duration of 3 months.
Conclusion:

So these are some of the best instant personal loans app that we found. Although not many people believe that you can get an actual loan from these apps but what can we say, we are going forward with technology. These apps are reliable and you can check them out if you want and pick the best one for yourself. We hope you found what you were looking for. Thank you for visiting our page!