Gone are the days when we used to hire an agent or broker who would do the investments in the stocks and we had to pay them a huge commission for that. Nowadays it can be done by investment apps! Where we could do stock investments for free or just with a little commission (which would be far less than we used to pay the brokers).
There are a number of apps available which would make it easy to invest in stocks and offer us variety of services, be it an automated investments or help the beginners to understand the stock investments, you will find many helping features on these stock investment apps!
What more.. You don't have to engage in long calls with your brokers and easily understand yourself the process and strategy and do all these investments from home without stepping out of your bed.
If we started to list the pros of stock investment apps then it would take a long time so let's jump to the list of best apps for stock investments all around the world.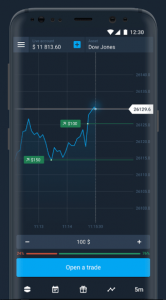 1. OlympTrade – Online Trading App Android / Iphone

Over 10 million people are currently using OlymTrade which makes it a top stock investment app! Its a global stock investment platform so naturally it comes at the first place in our list. The trading mechanics are very impressive and you will also find a user-friendly interface which makes it one of the easiest app for investment.

Here you will find lots of indicators and technical analysis tool which helps you to invest in winning trades. You can easily invest in your preferred assets such as stocks of leading companies, metals, commodities and so on.

If you are new then the good news, OlymTrade has a number of tools which are beginner-friendly and helps you to easily understand the full concept of investing and how you should it. The app also provides a demo account where you can do your training before actually stepping in stock investment.

Apart from these, users will also get some webinars, analytics and trading strategies which will help them make its users some profitable trades and this is available for all the people whether they are a newbie or a pro!
2. Mutual Fund App, Free Direct Funds, SIP- Groww Android / Iphone

Groww is another leading stock investing app in India where you can perform trading of mutual funds and direct funds for free (no commission charged). Groww provides an ultimate destination where you get to switch from your regular investments to direct investments.

Here you get to earn up to 1.5%+ returns. Not only you can invest in the stocks but you can easily sell them too. All the transactions will take place directly from your bank account. They have categorized the top mutual funds which you can invest in.

The tracking and analysis system is too really impressive, and you can easily keep track of your investments and returns. Lastly, if you are new to investment banking then you can learn it from this app at a low price!
3. Investing.com: Stocks, Finance, Market and news Android / Iphone

If you wanna invest in global stocks and easily monitor your investing in multiple stocks then Investing.com might be your first choice. It's a fast app that helps you to get real-time data for live stock quotes and charts for more than a hundred thousand financial instruments which are traded on over 70 global exchanges.

Economic Calendar and portfolios are a great help when you want to monitor your stock investments. To keep you update with new stock market news, the app gives you an alert. Users will also get a full analysis of global financial markets.
StockEdge is a great app for stock investment in India. This app helps you make a wise decision when it comes to investing in stocks. Users will get a daily analysis of stock news.

People have liked its stock research features which help them understand the stock trend better.

A sector research is also available which represents the stock list, industries, companies, price movements and so on. You will also get a portfolio which will help you manage your investments better! In short, the app helps its users to understand better the stock investments and the news related to it.
5. Stock Trainer Android

As its name suggests, Stock Trainer is one of the best stock investment app for beginners. Stock trainer uses the real market data to help investors, who are new to this, to help them understand how the real market works. It basically works as your guide for your future investments.

It supports over 20 world stock market. Users also find the stop loss and limit order features. If you are thinking about investing in the stock market even though you have no prior experience then we would totally recommend this app so that you can be prepared and know how actually these things work!
6. Webull: Trade stock and ETFs Android / Iphone

Webull is a popular stock investment app in the U.S. and here people can easily invest in stocks with zero commission. When you open a Webull account you will get some free stocks from which you can start trading and investing.

You can invest as low as $12 to get your second stock. Just like the above apps to shows you real-time live stock quotes and multi-platform accessibility.
Forex game is too a stock investment app for beginners so that they can get a little practice about this stuff before they actually spend/invest their real money in it. Get this app to develop your skills to trade and learn how to invest!
8. BSE, NSE, NIFTY, SENSEX – share market, stock trade Android

This one is too a popular stock investment app in India which helps its users to easily trade in BSE, NSE and so on. App has many impressive features such as technical charting, tracking trends, customizable watchlist and so on.
5paisa allows its users to invest in trades with zero brokerage. Users will also get the highest exposure and live trading. Easily transfer the funds from your bank account. This app basically makes it easy to invest and monitor your investments in the stock market and that's why you should use it.
10. E*Trade: Invest. Trade. Save Android / Iphone

E*TRADE is too a global stock investment App. It is one of the most popular and successful stock investment app. Get the live quotes and seize the opportunity to invest in profitable stocks. This app is known to get its users the best deals and make them save more while investing.
Conclusion

So these are our top picks for stock investment apps for both beginners and pros. Here we have to tried to include apps that serves as a platform for investment in the stock market all around the world. So take a good look at every app before picking the app so you get the kind of services that you actually need. For example, if you're a beginner you might wanna get the app that helps you to easily understand the investments and simplified the analysis for you. We hope you have liked our article, thank you for visiting!