There is no doubt that you have played pubg at some point in your life and if you are on this page you must be PUBG lover who wants to enhance his gaming experience! And we hare here to make this happen by providing you some of the best gfx tools for pubg.
GFX tools help you enhance to graphics of pubg to give you smoother experience while playing. Sure there are like hundreds of gfx tools present but we have bought you the best 11 from them. Read the article below and find out which are the best gfx tools for Android and iPhone.
Gfx Tool For PUBG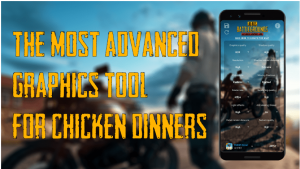 1. GFX Tool For PUBG Android

Over 10 million people are currently using the GFX tool for PUBG and it is undoubtedly one of the best gfx tool apps for pubg. It is original, it is powerful and it surely is advanced. You can perform a number of tasks by using this gfx tool.

The app is known best for reducing the graphics so that players can avoid frezies to have a smoother experience. Players can also access to the locked options from your device and enjoy the excellent picture.

The players can easily do a number of stuff which will enhance the quality of the game, and that includes, customization of shadows, textures, quality, screen resolution etc. You can also unlock the FPS limit and so much more. It's a lightweight app and it won't consume much space in your mobile. Overall you will have a good experience with this app.
2. PUB Gfx tool free for Pubg mobile Android

PUBG Gfx tool for pubg is also a great tool to have and it won't disappoint you in any way. We understand the struggle of you playing with dull graphics and with poor quality and it just kills the spirit to play pubg but this gfx tool for pubg to download is a great way to avoid all these technicalities once for all.

What you will find here is some amazing tools that will help you to customize several things according to your preferences so that you can have a smooth gaming experience!

With this gfx tool, you can easily customize the resolution, enable HDR graphics and unlock the FPS limit. Along with this, you will be able to perform several other functions such as shadow texture quality, MSAA with some cool features.

It will only take 1.5 MB on your phone's space but it will do wonders to your pubg gameplay. So that's why it might be the best gfx tool for pubg android.
3. Flashdog – best gfx tool for pubg Android

FlashDog is a great gfx tool for pubg to download. The app has over 5 million downloads and the app has a number of features which will impress you at the first sight of it's.

FlashDog is a great gfx tool which will help you enhance the quality of your pubg game and have a great experience while playing. Its gfx tool gives it's users a number of features which will help them customize the game according to there preferences.

But the best thing about flash dog is the fact that it's not a mere gfx tool but it does so many great works which you can't imagine in the first place. For starters, the app also works as a game speed booster. It will help it's users to boost the phone's ram and make the game more responsive. Ultimately it will help you go load the scenes much faster and have a fast experience.

The app also provides players some in-game loot locations, which you can have by clicking on the map and it will show some high loot places! You will find many other features as well and that is why we considered flashdog as the best gfx tool for pubg to download.
4. GFX Tool Pro for PUBG Android

There is always a chance to improve your game quality when playing pubg and GFX Tool Pro for pubg can help you with that. More than 500 thousand people are currently using the app to get the best experience they can while playing pubg.

The app provides you a number of customization feature which will help you to gain a smoother experience. You can easily change the resolution and Change graphics style setting. You can easily unlock HDR graphics if you are using a low-end device.

Other great features include shadow enabling or disabling, unlocking the extreme FPS level, players can also enable or disable the GPU optimization. These are just a few options that we have listed,  you would find much more once you have downloaded the app. This gfx tool for pubg iOS is really easy to use and simple to understand.
5. Battlegrounds advanced graphics tool [no ban] Android

Battleground advanced graphics tool is here to help you achieve more chicken dinners. This gfx tool app for pubg is widely popular and millions of people use it to customize and optimize the graphics.

That's not it the app is very easy to use with an intuitive interface which will bring the joy of playing pubg like never before. The app was made to smoother the gaming experience for those who use low-end phones. And let me tell you it does a pretty great job too. So you can trust this app for enhancing the graphics of your pubg!
6. PUB GFX tool (with advance settings) for pubg Android

If you are looking for a simple tool which will help you to enhance the quality of graphics on your pubg then this gfx tool for pubg might be your best option! As we said earlier the app is simple and easy to use and anyone can easily use it on any phone to improve the quality of the game!

You can easily customize several things like the graphics, optimizing the fps, and boost the overall gaming experience.
7. GFX Tool Pro for PUBG Battlegrounds – 60 fps Android

Gfx tool pro for pub is also a popular gfx tool that we can find nowadays. The app does all the basic things like customization of shadows, resolutions or graphics and players can easily adjust the quality too. The app is pretty great and you will find many advanced features in this one.

What will impress you in this app is its ability to provide several basic features with the greatest of ease. Anyone can easily get the app and use it to optimize the graphics. This free gfx tool for pubg can be a great help if you are using a low-end phone.
8. GFXBench Metal Iphone

GFXBench Metal is one of the best gfx tools for pubg iOS which you can find. Here you can easily monitor the gaming performance and see what needs to be done in offer to get a better gaming experience. This easy to use application has been used widely by pubg lovers for their iOS device to enhance the gaming experience.
9. GFX Tool For PUBG Android

GFX Tool For PUBG is also a great app to have if you are looking for an app that enhances your pubg gameplay. Thousands of people are currently using the app to customize the graphics and optimize their gameplay.
10. PUBG GFX TOOL BOOSTER Android

PUB GFX Tool Booster is also a great gfx tool for pubg lite to have in your phone if you a pubg lover and wants a powerful app that can help you achieve more chicken dinners in the game by adjusting the graphics.
11. GFX Tool for Battleground Android

GFX tool for battleground helps you customize the shadows, style, and quality of the game along with resolutions and graphics. The features are pretty great and easy to use too.
Conclusion

So these are our best picks for best gfx tool for pubg Android/ iOS to have!