Flash browser apps are essential these days to play some videos and audios on your phone. It's also a great way to enjoy games on your phone as well. Flash browser apps basically provide you a browser where you can use the flash player to play videos and audios which otherwise won't be possible.
These apps are also necessary because not all the browsers support flash players. And that's where we jump in. There are so many flash browser apps for Android and iOS present which will help you to stream any video, audio or even play the games. But are they all good enough? I guess no, there are some apps that are better than others and that's what we are gonna talk about. We have listed 12 best flash browser apps for iPhone and Android. Take a look and choose the best one for you.
Flash Browser Apps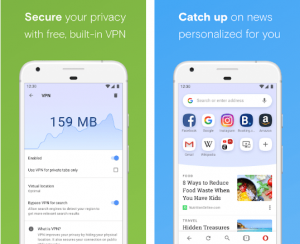 1. Opera Browser with free VPN Android / iOS

Opera Browser is one of the best browser we have and now it is also one of the best flash browser app for android you will find ever. As you know, we all are familiar with the opera browser and how it is one of our most favorite browsers. The browser comes with a free VPN, so now you will be able to secure your IP address and it will generate a virtual IP address so your personal information will be safe and secure. And also it will go into private more and you can browse anything.

The most annoying thing about browsing on the internet would be the pop-up ads but if you have this one you don't have to worry about that since the browser come with an ad blocker which enhances your browsing experience. Personalized newsfeed is also a great feature of this flash browser app where you find what you are interested in.

The list of its great features haven't ended yet, with this one you will get a night mode to ease your looking at the screen in the night. You will also get a password manager where you can keep your passwords safe. Here the font size is also adjustable. Apart from these, you can also sync with opera devices as well as you will find home screen options. All these features make sure you get a decent experience while browsing and you will be able to play many videos and audio as well as play games which otherwise would not be played on your phone. And due to all these extraordinary features, the app has more than 100 million downloads as well as a rating of 4.6.
2. Puffin Web Browser Android / iOS

Puffin Web Browser is also a leading flash browser app for iOS and Android. This one has impressed us with its feature-rich interface too. You won't have to worry about the security of your phone. This one comes with adobe-flash-over-cloud and that too without any additional in-app purchases.

The app will surely make you experience a fast browsing experience as it speeds up the process by shifting the workload from your device to cloud servers. It also provides cloud protection so you can easily use the public wifi without risking your data and phone security. It can also auto-clean your browsing activities in the app by going Incognito.

The app is regularly updated with flash versions. This one is surely the best option for those who prefer browser gaming as it comes with virtual trackpad and gamepad. This will help you to get through browser-based games.
3. FlashFox – Flash Browser Android

FlashFox is another reliable flash browser for Android and iOS. And millions of people are currently relying on it for a flash player. And it is also one of the most highly-rated apps when it comes to having a good browsing experience. This will also speed up your browsing experience and comes with a default flash player.

It is compatible with phones as well as tablets. Its smart interface keeps you updated with the latest videos and you will also like its smart searching. Keep your mobile data safe with this one and never goes wrong when it comes to your privacy.
4. Kiwi Browser – Fast & Quiet Android

Kiwi browser is our next favorite flash browser app for android that you can find. Its ability to speed up your browsing experience is also impressive. It is entirely based on the very best Chromium technology.

People love the app for its ability to block ads and provides you an uninterrupted experience. And it actually works very amazingly at removing the pop-up ads. Cryptojacking protection is also available which will prevent you from hackers. Other features include, night mode, bottom address bar, disabling AMP, blocking unwanted notifications, etc.

The app provides translation for up to 60 languages and you can also easily import and export bookmarks. To protect your privacy the app blocks the slow and invasive tracker! Overall it's an amazing app that is becoming more and more popular. And that's why we recommending it to you.
5. Dolphin Browser Android / iOS

Dolphin Browser surely made it to our list of best flash browser apps for Android. This one has impressed almost everyone with its amazing features and phenomenal user experience. What you will find most interesting about the app is its wide range of themes which can change the look and feel of the app as per your mood.

Over 50 million people are currently using the app and they gave it an impressive rating of 4.1 at the google play store. It supports the flash player. Here you will get the best gaming experience as well as streaming HD videos. Its ability to block ads is also great to have in an app. You can do a personalized search. Quick share is also available. It also features the dark mode and battery saving mode.  Overall the app lives up to your expectations and you won't regret having it on your phone.
6. Photon Flash Player and Browser

Photon also makes one of the best flash browser app for android. This one should be your go-to app when you wanna browse flash content and listen and views some of great videos and audio via flash player. This one also features a number of customization options which will help you to have a great browsing experience.

You can easily control the way your browser should look. It also cares about your privacy as incognito allows you to easily erase the browsing history. Overall it's another feature-rich flash browser that you needed to know about.
7. Dolphin Jetpack

It's a rather old flash browser which haven't updated for a long period of time now, but it still makes a good enough flash player for Android. The flash player support is quite good and you can easily browse anything flash video or audio.

The app provides a fast download feature. You can also sync your history, bookmarks, and passwords for convenience. Clean UI and fast navigation is also a thing. So yeah this one deserves a try!
8. Puffin academy

Puffin Academy should also be in the list of best flash browser apps. The app is being used by millions of people worldwide and you should try this one too. It's absolutely free and provides you a good user interface.
9. Dolphins Zero

If you are concerned about the privacy of your phone while you browse the flash player then this one should be your first choice. It incognito features help you to maintain your privacy by clearing the history as well as doing private browsing.
10. Web Browser and Web Explorer

Web Browser is also one of the best flash browser app that we have for Android phones. The best feature of this app would be it's simple and easy to use features. It's also able to block ads and going incognito. Overall it's a decent app that can be used by any of us.
11. Web Browser

If you are looking for a lightweight flash browser app then this should be your first pick. It's very small in size yet delivers some of the best features of a flash browser. Go ahead and use this one for a better experience.
12. Web Browser- secure explorer

This one is also a decent app for flash browsing where you can secure your privacy and data while streaming the best flash contents. This one also features fast search speed, night mode, and its lightweight too.
Conclusion:

So these are the best flash browser apps in our opinion. So now you have 12 flash browser apps to choose from and stream flash content like never before. These apps have impressed a large number of people across the globe and now it's your turn to have an uninterrupted browsing experience. So go ahead and play games or stream flash content without being worried about anything. We hope you found the article helpful. Thank you for visiting our page.