You must have heard about the survey apps where you can earn money by giving your honest opinions. These apps are pretty common nowadays because they are sponged by companies that want to enhance their products and services and make them even better. And the list also contains various survey making apps for that person who wants to take surveys about a particular thing and better their services and products.
Even though there are hundreds of survey apps present on the play store and Apple store, finding a perfect one that actually pays you us kinda a hard task. So we have decided to help you with choosing the best survey app among hundreds of them. We have chosen these apps considering their downloads, ratings, and most importantly the reviews from the users. So let's not what any more of your time start our list of best survey apps for Android and iPhone.
Survey Apps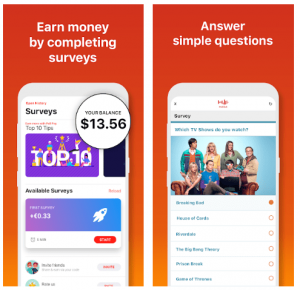 Our first choice for the best survey app for android is SurveyMonkey. There are good chances that you have heard of this name before because it's that popular. Here you can easily create and send any type of survey. Although you won't get any money from this app because instead of taking the survey it allows the users to create one so that they can collect the crucial information or just have fun.

The app is used by business persons to get reviews from the customers to engage the product or service quality. It's pretty easy to make a survey with this app and you can send it via email, WhatsApp, or by any other means.
Now we are talking about the survey app that actually pays you (or at least claims to pay you). Here you can take the simple surveys and polls to get paid. And it's super easy. You can either get cash via PayPal or you can get free vouchers. The gift cards include Amazon gift card, Xbox gift card, GooglePlay gift card, and Netflix gift card.

As we have mentioned above it's pretty easy to use, all you have to do is download the app, login, and take surveys. And lastly, exchange the gift cards or get the cash. It's worth giving a try!
The next survey app on our list is non-other than Survey Heart. The app has over a hundred thousand downloads and people seem pretty happy with it, that's why the app has 4.4 ratings on Google Play Store.

This one too is used to create an online survey in a pretty simple and effective way. To help the people with making surveys the app has many features such as numerous kinds of templates for different purposes. There is also a feature of summarized responses. There are also a number of themes. You can also easily export the files as well. The survey will be in your control fully.
We all can agree that SB is one of the most popular and survey app that you will find nowadays. The app has over 1 million downloads and few positive responses as well from the users. In my opinion, this is the most trusted survey app that you can find.

You can easily earn free gift cards by answering the SB survey app. By taking the survey you will receive SB point which then can be redeemed by the user. You will be surprised to know that over 18 million people have redeemed their SB points which were worth $150 million.

The app contains answering surveys, telling about yourself, Daily Poll, and visiting the local retailers, and answering the surveys. There are great chances that you will win some impressive gift cards via the app so don't forget to try it!
Another popular survey app that has crossed the one million download mark. The app is definitely one of the best as it has a high rating of 4.4 on Google Play Store and many positive reviews. The app is known for its fun surveys. So if you don't wanna get bored jut stick with this survey app.

The polls are used to improve the products and services of various companies. So get ready to see some pretty amazing surveys and polls. You might see some personal questions too which will be fun to answer. The app will also pay you so stick around!
Well we can surely trust google, one of the biggest companies. So there are a lot of things that will interest you. Here you won't be getting paid by cash but you will get google play credits. You will find quick surveys to answer. Many people have downloaded the app and benefited from the app.

It's pretty easy to start the survey, here all you need is to download the app and answer the basic question about yourself. The app will give you frequent surveys and might be once a week. And for every survey, you will receive $1.00 Google play credit. The questions will provide very easy and interesting questions.
Another amazing app that can pay you for taking surveys. The app has over five hundred downloaded and a rating of 3.4. It's a pretty amazing app with a very small size of just 3.4 MB so you won't have to worry about taking it all the space on your phone.

The app contains surveys from big companies and organizations. The best part about the app is you can adjust the length of the survey. As you know some surveys might be too long and you can get bored but with this one, you can take surveys of the desired length. Other than this you can also decide how many surveys you wanna take per day or per week. So in our opinion, this one is definitely a great survey app to rely on. Other than this, the app has a low payment threshold so you can quickly redeem the money via PayPal.
The app claims to give you many amazing prizes for gibing surveys. The best part is you will be asked pretty simple questions which will be easy and fun to answer. There are many amazing features such as you receive free points on your birthday. And there will be one time easy and effortless signup.

You would want to download the app thanks to its prizes which are said to be pretty expensive. Here people have loved the app and given it a good rating as well. Over a hundred thousand people have downloaded the app and used it.
Another not so popular survey app that can make you rich (well not rich but you will definitely have a few extra bucks in your pockets!!). Lucky cash has been downloaded by over five hundred thousand people and they are very happy with the app which reflects in its high rating of 4.6.

Apart from giving surveys, you will also get numerous actions to complete which will further pay you. These surveys include installing apps, watching videos, playing mini-games, etc. You will get gift cards and cash which you can redeem via PayPal. 1000 points will be equal to one dollar!!
Easy Reward is a leading survey app for android so you can definitely trust this app to earn rewards. There are many ways through which you can earn money. This includes downloading certain apps, watching videos, and even inviting your friends.

Apart from getting cash, you will also get many gift cards, such as Amazon gift card, Walmart gift card, PlayStation gift card, Xbox gift card, Stream gift card, etc. We are pretty sure you will have fun with the app.
CashApp is a popular survey app with over a million downloads. Here you will definitely get many fun ways to earn money apart from the taking surveys. The fun part is you will be asked to try new apps and give your opinions about it. You will be asked to try out services as well. People have loved the app for not featuring any complicated task to complete.
Another app that works pretty great for making money by taking surveys. Here you will be completing the surveys. And here you will definitely enjoy the surveys. You can easily redeem the cash in just 2-3 days after you have completed the surveys.
CashOut is another best survey app that you will find on google play store. You will get a daily check-in point so even if you don't take the survey you will still be getting the points. Along with the cash, you will also get the gift cards.
FeaturePoint might the most downloaded app with 5 million downloads so you can definitely try this out. The point is simple to complete surveys and tasks and get paid or win gift cards. Not only this you can also win cashback when you do online shopping.
This is a rather new survey app which makes it a perfect match for our list of best survey apps for android. Go ahead and see what you can find here, you might like it even more than popular apps!
Conclusion:

So these are the best survey apps available right now. You will be more than happy to use them and get paid. Although some of them will provide you the discounts for different shopping platforms and brands and others are just for fun. But either way, you will be benefited from these apps and it will only require 10 to 15 minutes of your day (obviously you can give more time to it as well). Thank you for visiting us and we hope you found it helpful.