There is no doubt that we love Instagram and that resulted in it being the number one social media platform these days! There is so much to do, like posting cute pics, getting likes, and expanding your circle. Apart from these we also enjoy getting entertainment from those platforms by various celebrities.
The thing that differentiates Instagram from Facebook is the fact that we can't download the pictures from this platform. Most of the people prefer screenshots of the pictures but when it comes to videos, we would want to download it! Since Instagram itself haven't came up with any downloading features so people use third-party applications to download pictures and videos from Instagram.
Today we are gonna talk about this stuff. Since you are here you must be looking for apps that can download pictures and videos for you from Instagram, well you are at the right place. We have gone through a number of Instagram photos and videos download apps and found the 10 best Instagram photo and video download apps for Android and iPhone.
Instagram photos videos downloader apps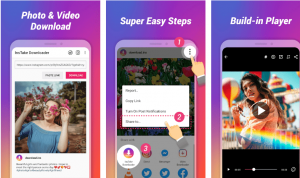 With more than 10 million downloads and a high rating of 4.8, this one is definitely among the top photos and videos downloading apps. One of the reasons why people actually prefer this one the most is because of its ability to download pictures and videos in HD and that too without you logging in. It's absolutely free and easy to use.

You can easily play the videos offline in your built-in video player. This one also supports copy link, share, rename, repost for the downloaded videos and photos. The app is pretty small in size so it won't take much space on your phone.

It's pretty easy to use this one, firstly you will have to open your Instagram, click on the share link of the photo and video. After that choose the InsTake Downloader to Share. And that's it, the photo and video will be automatically downloaded. You can also do the same with the Copy link.
2. FastSave for Instagram Android / iPhone

Our next choice for the best Instagram photos and videos apps is FastSave! This one too is a popular app to download photos and videos from Instagram. Here you will also find many amazing features to complete the download as well as keep them in your phone or repost them.

This app is too download by over 10 million people across the world and they have left some positive reviews for the app. The app is capable of download multiple photos and videos. You can quickly see the saved stories too. With a long press on saved photos and videos, you can get the details of the user. More importantly, it also features a secret locker to hide your downloaded photos and videos.

To download the photos and videos from Instagram, you need to turn on FastSave and then open the Instagram. Then do Copy Share UI of photos and videos. And they will start downloading automatically! You can see the progress in the notification bar as well. It's that easy and definitely a reliable app to use.
This one is too a popular app to download photos and videos so you can actually try this one out. You will find all the amazing features such as fast downloading, repost for Instagram etc. What's impressive in this app is, you can download the full-sized photos and videos so no compromising in the quality of pictures.

Additionally, you can easily set the photos as your wallpaper. Apart from that, sharing the photos with your friends is a lot easy. There is no watermark, which a plus point as many other Instagram photo download app feature their watermark which just looks annoying. The mechanism of downloading the pictures and videos is the same as the above-mentioned apps. Overall it's definitely one of the best Instagram photos and videos download app to have on your phone.
Photo and video saver is too and a great app to have on your phone if you want to download the best quality pictures and videos from Instagram. This one too has over 10 million downloads as well as a good rating if 4.7 which tells it's popularity among the people.

The two-step downloading and no login option is what makes it one of the best Instagram photos and videos downloading app. Using the app it becomes a pretty way to save and repost to the Instagram. So when in doubt, you can always turn to this app for downloading the pictures and videos. The interface is user friendly and it also follows the same method to download pictures and videos as the above-listed apps.
Another app with the same name but different in functionality. Over a million people are using the app to download photos and videos from Instagram and you can too trust it. Here you can download an unlimited number of photos and videos with a fast downloading speed.

What makes this app different from others is its best dashboard which allows you to quickly manage the downloaded pictures and videos. You will also get an amazing view with slideshows and more! You can also hide the photos and videos in the locker. Overall its a pretty great app to use.
Super Save is one of the best Instagram video download app that you will find on the play store. This one too allows you to save the videos and pictures without logging in. And all the features will smoothly run so you won't have to worry about it being a hassle.

The app makes it pretty easy to download videos from IGTV and all the pictures will be downloaded in high quality! After downloading the pictures and videos, they will be automatically saved to your gallery. The app also claims that they will soon introduce the feature of Instagram story download. Instagram hashtag copy is also present.
Video Downloader for Instagram and save Photos is a new entry among the best Instagram videos downloader apps. The features are pretty much the same as the other apps, such as HD download, free and fast downloading, easily repost to Instagram, etc.

You can easily share the downloaded pictures and videos to your friends and let them whats new in your Instagram feed. The app is only about 5 MB in size so that's a good point since you don't wanna full your phone's memory with these kinda apps.
Video Downloader is our next pick for the best Instagram video download app. Although this app will demand you to log in to your account in order to download the videos. The best part about the app is you can also use it for Twitter and Facebook.

Apart from you can actually manage the quality of the photos that you want. And managing the pictures and videos that is, saving them, viewing them, or deleting them is pretty easy.

Lastly to use the app, follow the instructions:-

Run the app

Log in your Instagram account in the app

Click on the photos and videos that you want to download

Now click the Download option.

That's it you are down and your desired photos and videos will be downloaded.
Instasaver is also a pretty great app to download if you are looking for the best Instagram picture download app! The best part about the app is you can easily download the instastory as well! So go ahead and download the best Instagram picture and video downloader app.

You can also save the profile picture and that too without logging in. The downloading process is also fast and easy.
Our last but not the least app to download the Instagram pictures and videos is Instant Saver. Millions of people are currently using the app due to its various features. You can easily download the story, highlights, profile pictures, and hashtags! You can also share the saved pictures to another platform such as Facebook and Twitter! The app definitely worth a try so check it out!
Conclusion

So these are the best Instagram photos and videos download apps that we could find. The apps work really great. Now you will be able to download photos and videos from Instagram in a hassle-free manner. So what are you waiting for? Choose any app among the above-listed ones and download videos and photos.

Here our work is done and now it's your turn to explore these apps. We hope you found what you were looking for! Thank you for visiting us and keep coming for more such reviews.