Instagram has become one of the most popular social media platforms. This is due to people get to share and like the photos. Instagram was already popular but when they added the story features, it becomes a revolutionary step for Instagram! Now everyone is concerned about the stories they post, which is gonna last for 24 hours and people can see what they are up to.
Another thing which made the story features this popular is the plethora of options available to make it more interesting. There are stickers, emojis, and so many more stuff that can add an additional value to your story.
Even though we have this many options for stories, some people do prefer additional filters or editing options when it comes to posting their stories. And that's where you take the help of Instagram Story Maker apps.
If you search for Instagram story maker apps you will find plenty of apps but not all of them deserve your time. In order to help you with posting a perfect story, we are bringing you this article featuring the top Instagram Story Maker Apps. Take a look and find your perfect match.
Instagram Story Apps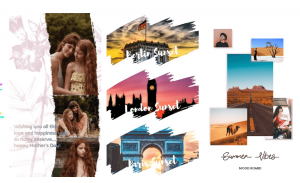 1. Story Maker – Insta Story Editor for Instagram Android

Our first pick for the best Instagram Story Maker Apps is this one! Story Maker has been used by millions of people and it also features a high rating of 4.7, which makes it clear that it is one of the best app that you can find right now.

There are a number of amazing features present in the app such as more than 300 templates, which include simple, forest, clean, desert, travel, and so on story maker templates. Other than this you will also find a number of amazing fonts that will set the mood for your Instagram story.

The app also supports video and audio format so you can add whatever you want without download two different apps for each. The app also features high-quality export mean g the photos will be in high resolution. You can also share the stories on different platforms like Facebook, WhatsApp, etc. Last, the app won't ask any login information so you don't have to worry about your privacy. Overall it's a great app that you can trust for your perfect Instagram stories.
2. StoryArt – story editor for Instagram Android / iPhone

When it comes to the most popular and most used Instagram story maker app, no one can computer with Story Art. The app has been used by over 10 million people and featured a high rating of 4.6 on Google Play Store. The app provides a number of exciting features which includes more than 1000 templates. People have also liked the way they can customize their Instagram stories without much effort.

Apart from amazing templates and customization features, the app also provides a number of filters. You will also find high-end professional tools to edit your pictures and videos to make them insta-perfect. Different borders and different color effects either makes your stories one of a kind.

You will also love the fact that you can create your own highlight covers. And it's also possible to present your quotes, status, captions, and quiz with a unique hype style. Our best feature of the app is, you can actually make your photos size-fit for Instagram so, no more cropping or worrying about the photos being perfect for Instagram. It's pretty easy to use and you can upload the stories with a few simple clicks! So go ahead and try this app out and be ready to amaze people with your perfect stories.
StoryLab is another popular Instagram story maker app that you need to know about. The app has been used by over 5 million people and they all have appreciated it through their positive response which resulted in its 4.5 rating.

The developers of the app market the app as an "Instagram story editor and Design kit app" which means you will get almost all kinds of features that you can need to make your story perfect and up to your standards. The app provides over 300 customizable collage and layout template. It also includes different types of frames and other features. The best thing is you can easily design your own layout and post it.

The app also takes care of backgrounds, so you can choose high-quality background pictures for your stories and you can also choose the highlight covers. You will also find a number of stickers, filters, texts, and brushes to add to your instagram stories.
Our next pick for the best Instagram Story Maker App is Mojito. This one got popular because of its amazing features that make sure you have a story the way you want. You can edit the stories using static and animated story templates. The app has over 500 templates which feature different styles and borders.

Over 5 types of fonts are also available. You will also get over 60 customizable layout templates. What will impress you the most is it's 50+ themes so you can add a unique feel to your Instagram story. Users will also find a number of filters, stickers, texts, backgrounds and so many other features which would be enough for you. This one also doesn't require any log in information.
5. Insta Story Art Maker Android

If you are looking for a fast and reliable Instagram story maker then this should be your first choice. Millions of people are currently using the app and find it helpful for pairing their stories on Instagram.

You will find everything from customizable templates, layouts, themes, stickers, fonts as well as different kinds of filters which will make your Instagram story one of a kind. What impressed us the most about the app is it's easy to use nature which makes it user friendly and anyone can create their own personalized stories without any hassle. So download the app to feature the best stories on instagram and please your followers.
StoryChic is another high rated and leading Instagram Story Maker App which you will find extremely useful. You can get the idea of its popularity with the fact that it is the top choice for Instagram influencers when it comes to a story maker app for Instagram.

The app is equipped with a number of story maker tools such as the customizable templates to the animated texts. People like the app for its nature of frequently update the features and resources such as collage layouts, templates, fonts, texts etc. Overall you will find it useful and entertaining.
StoryStars is for the people who are more on a creative side and always looking for experimenting with their stories. The app is also the first choice for Instagram influencers as well as story creators. Why are we saying this? Well, the app provides a number of amazing templates for birthdays, festivals etc.

Another reason to download the app is, it also provides a number of useful tools for business accounts so they can create stories to promote their products and services in a more intuitive and easy manner. You can also upload the stories on the other platforms as well. The tint option is also something you will look forward to use in your Instagram stories.
Another easy to use app which you will love to use as your Instagram story maker app! You can depend on the app for everything you need to make your Instagram story unique and perfect. Users will get everything from amazing templates to themes that will look just perfect with their photos. The app also useful when it comes to exporting the high-quality pictures.
9. Story Maker Android

Wanna play with your Instagram stories or in a mood to experiment with new themes or templates? Well, we have found a perfect app for you. It's rather least known Instagram story maker app, but you can completely rely on it when it comes to beautiful templates, layouts, and themes.
10. Story Maker Android

Another Instagram story maker app with a similar name but it does differ in functions. The app will allow you to post photos in different shapes and sizes in your Instagram story. You can also add music as well. That's not it, you will also find a number of advanced tools that will be enough to create a story just the way you want!
Conclusion:

So these are our top 10 picks for the Instagram story maker apps. We chose this app based on the good reviews, number of downloads, feature-rich and user friendly experience. We have down our part by introducing you to the best Instagram Story Maker Apps, now it's your turn to pick the best one among them (which have the features you want).

Alright, this was our article for the best Instagram Story Maker Apps and we hope you liked it. Thank you for visiting and keep coming for more such reviews!