Collages are widely popular for a long time now. Although people now prefer posting multiple images in one post but the charm of collages haven't died yet. There are a number of people who still love to get creative and make collages for their Instagram stories and that's where they need a collage maker.
Since Instagram is a popular social media platform now, so there are a number of Instagram collage maker apps available for Android and iPhone. And people are actually using these apps to post multiple images in one picture with different layouts and frames to make it more attractive.
Collages are even used by Instagram influencers, business accounts, as well as content creators to grow their followers by presenting a number of pics in one frame. You must be thinking why do business accounts or influencers use the collage maker? Well, they can promote a product or services by presenting a number of different pics, so the installers get a full idea about the brand or service without feeling the need of seeing more pics about a particular thing.
Today you will find a number of collage makers which are made for professional use and they actually provide a number of amazing features that will make your collages one of a kind. Although finding such collage makers for Instagram can be a tedious work since there are so many of them. And that's why we have come up with the top 10 Instagram collage maker apps for you.
Instagram collage maker apps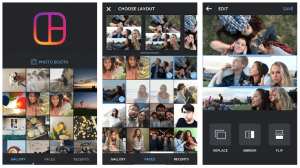 1. Layout from Instagram: Collage Android / iPhone

Layout From Instagram is our first pick for the best Instagram collage maker app. You will be surprised to know that the app has over 100 million downloads and with an impressive rating of 4.5. So it's natural that the app which has impressed over 100 million people becomes one of the top Instagram collage maker app.

Speaking of its features, the app allows the users to Re-mix up to 9 of your photos at one time and allow them to create fun and personalized layout and collages. You can easily save the layouts in your gallery and share them on Instagram as well as other platforms.

The app features a number of advanced tools and creative filters and effects which makes it one of the most favorite collage marker app for instagram. Lastly, it's pretty easy to use the app since you won't require to sign up or create an account or anything, just download the app and start making collages.
If 9 photos aren't enough for you to make a collage then you can try this one, as it allows it's users to use up to 18 pictures at a time to create a collage. With over 10 millions download and a high rating of 4.8, it naturally becomes our top choice for the best Instagram collage maker app.

The app features over 100 layouts of photo frames and grids to choose from. Apart from this the users also find a number of backgrounds, different styles of fonts, doodles, stickers etc. So overall you can get as creative as you want to.

Speaking of creativity, the app should be the top choice for content creators or the people who love to make memes and share them with friends. Both the freestyle and grid style is present in the app. You can choose the different kinds of ratios and pick a different shape for different pictures. There are a number of advanced photo editing tools are also available in the app.
If you are looking for an app that features the best options to make a grid collage then this should be your first choice. We know it's the time when everyone wants to upload unique style pictures and what would be better than uploading pictures which are made of different pieces!

The app also helps it's users to make the photo a perfect fit for Instagram without cropping it. Apart from this, the app can also download pictures and videos from instagram. So to sum up this one we can only say that this is a multipurpose app and creating a collage will be a child's play with it.
Our next pick for the best Instagram collage maker app is Collage Maker. This one too has impressed over 10 million users and they all have appreciated it for being one of the best collage maker app for Instagram. You will find a good number of tools and features to create some of the best colleges for Instagram. You can use the freestyle or grid style to make the collage.

The best thing about the app is, you can just choose a number of photos which you wanna include in a college and the app will automatically a collage for the pictures. So it would be the best option for the lazy people out there. But of course, you will find a number of features to customize the layouts, frames, and other filters and effects for your collage.
Although the StoryArt is popular as an Instagram story maker app but it's widely used for making collages for Instagram as well. Due to this, the app has become widely popular among Instagram users so you can actually trust the app for your perfect Instagram collages.

The app has different themes, layouts, frames, effects, filters and so on which will make a unique collage for you. So download the app and see what it has to offer you, you won't be disappointed!!
StoryLab is another popular Instagram collage maker app that you will find on Apple Store as well as Google Play Store. We have included the app on our list because it truly impressed us with its amazing themes and layouts. It actually looks like you have made the collage using high-end professional software. And due to this feature, the app has become the top choice for influencers as well as business accounts.

You will find all the required features and tools and a variety of themes, backgrounds, layouts, templates, frames, etc to make a perfect collage. Stickers, fonts and brushes also contribute to make the app this popular!
This may not be exclusively made for Instagram but it's still used by millions of Instagrammers to create the perfect college for their Instagram post and stories. The reason why the app has over 100 million downloads is because the app has hundreds of different features and options to make the app one of the best. You will hardly have anything to complain about the app since it's kinda perfect. Download the app now and be creative with collage making with its amazing features.
PuzzleStar is one of the latest Instagram Collage Maker App we have. Since its new not many people are aware of this one, but it totally deserves much more appreciation and popularity than it has now. This one is for the people are looking for something new and unique other than the traditional features and layouts offered by other collage makers for Instagram.

The app is popularly known for its high-quality pictures and its ability to make a beautiful puzzle grid. So if you are one of those people who wants to create a puzzle-like effect in the collages then this should be your first choice. Of course, the app offers standard editing tools and many choices for layouts and templates.
StoryChic is yet another popular Instagram Collage Maker App that you need to know about. What will impress you the most about the app is its unique styles and background choices which will give your Instagram collage a unique theme. Animated Text styles are also present to make your collage more beautiful and one of a kind. Overall the app worth a try.
InSquare is also one of the best Instagram collage maker app that you will be happy to use. Apart from all the basic features the app definitely provides a number of unique features that will impress anyone who wants to create a unique collage picture for their Instagram. There are different shapes, different layouts, and templates and different kinds of frames to work with.
Conclusion:

So these are the best Instagram Collage Maker Apps that you needed to know about. These are the top choices for the Instagram influencers, marketers as well as the private account holders. We have chose these apps on the basis of their reviews from the users and the overall ratings.

Here our job is done and we have introduced you to the best Instagram collage, maker apps, so go on and download the one which you find most suitable for yourself. Thank you for visiting the page and we hope you found the article helpful!