Are you smart? Well, you can't know until you have competed in a quiz! Of course, no one can participate in quizzes daily or at the national level, but if you wanna prove yourself we have got away! That is quiz apps. Yes, you heard it right. There are tons of quiz apps present out there which would be glad to use. These apps ask you some questions which will show you how intelligent you are. The questions are fun and exciting which you will enjoy!
As we have mentioned earlier there are tons of games present for Android and iPhone. So you need to choose the right one because not all the games are worth your time! We have selected the top quiz apps for iPhone and Android so take a look and choose your favorite one.
Quiz apps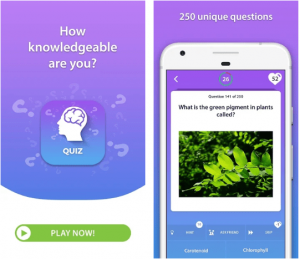 QuizUp is one of the most popular quiz app for iPhone and Android. You get the idea of its popularity with the fact that it got around 10 million downloads and people have given is good ratings as well. In the description of the game, you will find the words, fun, addictive, challenging, etc and trust me they are all true when it comes to describing the game.

There are so many interesting features that you will like about the game, first of all, you can make your own quiz and post it online along with some interesting facts about your favorite topic. The game supports online playing so you have a chance to connect with millions of other players around the globe. You will also be ranked and have a chance to be on too with your knowledge.

The game has actually got thousands of topics so you can easily find the one you are highly interested in. Overall it's a game which you will definitely enjoy.
2. General Knowledge Quiz: World GK Quiz App Android

If you wanna enhance your knowledge for world GK then you must download this quiz app for android and iPhone. It's definitely something which will interest you. It's a free app that will improve your knowledge about the world as well as a great platform to prove your knowledge.

The app covers 30+ streams of general knowledge. Online test is another great feature of the app where you can give online tests and know how much knowledge you possess. Refine tests are also something that will be helpful to pass your time as well as enhance your knowledge about the world. From agriculture to the world economy, you will find everything in there. It's easy to use with its user-friendly interface.
3. Trivia questions & answers – Quizzland Android / iPhone

Quizzland too an amazing trivia quiz questions and answer app. This one a lot has over 10 million downloads as well as a high rating of 4.8. This shows it's popularity as well as the credibility of being the best quiz app. What makes it unique is the availability of 17 different languages.

You can also join the leagues where you can compete with players and show everyone the power of knowledge. Furthermore, the app is an absolute source of knowledge, so even if you like to play it when you are bored, you can know a lot of knowledge about it. Lastly, the app won't just give you a one-word answer instead it will give you a full explanation which will be helpful for you.
4. General Knowledge Quiz Android

General Knowledge Quiz is an absolute blessing for those who wanted to be on the quiz shows or quiz teams. Here they have a number of ways to make the game pretty interesting, for example, you will win the prize of 1 million euros (in-game) if you win the contest. For that, you need to answer 15 questions and the best part is you can also use hints along the way.

You get plenty of time to answer each question, this one doesn't give a competitive feel but it's a decent app for those who just want to play a simple quiz game to I have their knowledge!
5. Loco: Watch live Game Streams, Play Quiz and Games Android / iPhone

It's more of a multipurpose app but we are mentioning it due to the presence of amazing quiz games. Each quiz featured by the app has 10 questions and they won't be easy. So if you wanna test your knowledge then just play the app. Although the game also claims, that if you answer all the questions you will get real money. So you can try your luck with that too, after all, who doesn't want money right!

Apart from holding quiz the app also live streams the games and play some videos on demand. To sum it up, the app is feature-rich and if you wanna do more than just quiz, you are welcome here.
Trivia 360 might be the best quiz game for Android that you will find. And it's definitely something you would wanna play at least once (well after that you will just wanna play this one). The game supports the online multiplayer mode so you have a chance to compete with others and be on the top of the leaderboard.

Moreover, the quiz is held in different categories such as true/false questions, classic 4 questions, flag quiz, landmark riddles and so on. Its intuitive interface is another plus point that wanna take into consideration while choosing the best quiz app for yourself.
7. Ultimate English Spelling Quiz: New 2020 Version Android / iPhone

Are you a fan of spelling bee? Well we kinda all are, aren't we? And if you think you can be in the spelling bee and you have the potential to win then we have found the perfect app for you! This one definitely makes a great spelling quiz where you can test your knowledge of spelling.

The quiz includes the familiar words, foreign origin words, American vs. British English spelling, Acronyms, etc. There are also bonus quizzes as well as the leaderboard where you can know where you stand. Overall if you are a fan of spelling bee then this should be your first choice. furthermore, you can also introduce the quiz app to your children to enhance their spellings.
8. Quiz World: Play and Win Everyday Android

Quiz World is another best quiz app for Android that you would wanna play with. You will be surprised to know that there are thousands of quizzes present and that you are gonna love it.

The unique thing about the quiz app is its all-new survival mode which will highly interest you. There are so many categories as well as a number of different quiz modes too. It's fun, it's something everyone would enjoy regarding their age.
9. Quiz of Knowledge 2021 – Free Game Android

Our next pick for the best trivia quiz questions and answers app is Quiz of Knowledge. It is one of the latest games on the list which means you will find the latest questions about the current affairs. The game features more than 4000 trivia, so its gonna take a while to get all done. The game also features 5 difficulty levels so you can play whichever you like.

It can be played on both fine as well as online so you are gonna love these features of it's. It's a small-sized app you won't have to worry about it taking all the space.
10. General Knowledge Quiz Android

Another app with a similar name, but is very in other things. The questions are asked from 8 different categories, so you will easily find something you are interested in. The layout is amazing following the easy to use interface.
11. Quiz 2021: Win Money Quiz Game Android

The game is inspired from the show 'who wants to be a millionaire", here you give answers and win the fake in-game money, which is still kinda cool. Test your knowledge and win money for that too.
Quiz is also a popular quiz app which has won many hearts with its amazing quiz as well as easy to play mode. This makes it super easy for children as well. It's fun and exciting and you will definitely gonna be addicted to it.
13. General Knowledge Quiz Android

This one too is an excellent quiz app for android to download. Just like the above-mentioned apps, here too you will find different categories. Although here you will find some tools which can help you with the quiz. So download it and expand your knowledge and become super intelligent.
Conclusion:

So these are the best trivia quiz questions and answers app which you needed to know about. All these apps got good ratings and you would be happy to explore your knowledge with these apps. So go on and choose the one which you find most appealing. We hope you found something good and worth your time.