We all want to stay fit and healthy and look just perfect. But our busy lifestyles don't let us look after our bodies. Although people are under impression that only exercise can help them to stay fit and healthy. But that's not true. Your health and fitness depend on 90% on what you eat and only 10% of what exercise you do. So it's pretty clear that we have to eat well!
Diet is all about eating a good notorious foot at the right time and not about eating less. So it becomes more important that we are aware of what we should eat and when we should eat! But how do we know that without going to a nutritionist and spending a lot of money? Well, we have an answer! The diet apps. As you know we get all kinds of help from our phone and it pretty easy to find a good diet app to download which can tell you what you need to eat and when you need to eat.
But the thing is there are too many diet apps present on the play store as well as the apple store so it becomes difficult to choose which one would be right for you! And that's why we have come up with the list of best Diet apps for Android and iPhone. Take a look at the following list where we have mentioned 15 good diet apps to download.
Diet apps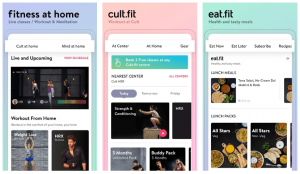 1. Calorie Counter- MyFitnessPal Android / iPhone

MyFitnessPal is one of the best diet apps for Android and iPhone. You can get the idea of its popularity with the fact that it has over 50 million downloads and 4.5 ratings. People have loved the app and find it trustable. The app can help you in many ways, so either you want to lose weight, tone up, get a healthy diet, or change your food habits, this app is going to be super helpful.

You will get easy notorious recipes to cook. You will be able to get the information about the food that you eat by simply scanning the barcode. The app is also able to calculate the calories of the food that you need so that you are aware of what you are eating! You can easily make a diet plan with this diet app and there is also a daily page where you can list all the things you have eaten and even your water intake.

Simply choose a goal (weight gain or loss) and the app will help you to reach the goal. You can also track your progress and see how much you have accomplished. It can also be connected to other fitness apps such as Fitbit! Overall this diet will simply impress you when it comes to keeping up with your eating habits and eating healthy!
2. Cure.fit Fitness, Meditation, Healthy food, Doctor Android / iPhone

Although this app is popular for numerous reasons, as you can guess by its name but this one also makes one of the best diet apps for iPhone and Android. The app will take care of your diet by mounting how much calories you are taking and it also tells you how to plan your eating habits and what to eat. Although the app has other amazing features related to fitness and meditation so you can say it's kinda a whole package! Check this out if you are looking for an app that can all things in one place!
Diet Assistance is another popular diet app for Android that you need to know about. Millions of people are currently using the app for their diet plan and they all are pretty impressed by it. The app features an easy way to plan your diet. All you have to do is enter your weight goal and the purpose and the app will come up with one of the best diet plans for you.

It's built-in Body Mass Index calculator is also helpful by which you know about your body and which diet plan is suitable for you. The diet plan will be according to your eating preferences meaning you can either go for a vegetarian diet or even a high protein diet. The weight graph is also available by which you can see your progress.
Diet Point is our next pick for the best diet app list. The reason we chose this one is you will find over 130 diet plans here. And you can choose any one of them according to your preferences and needs. The best part would be it's alert for the next meal so you will know when to eat! The app also gives estimated weight loss for each plan.

There are over 500 tips which will help you to lose your weight effectively. Just like the above apps this one too features a Body Mass Index calculator and weight tracker and monitor! We found it extremely useful and so does the other million people who have downloaded the app, so you can try it out!
My Diet Coach is also a leading diet app that you can trust with your diet plan. The reason why it has over 10 million downloads is because of its intuitive interface as well as easy to use features. The free version provides reminders, motivational and inspiring photos, tips, and a diet diary. But that's not it! You will find some additional as well as useful features such as a panic button, a weight chart, and a point system.

You will easily find the standard features such as BMI calculator, calorie counter, etc. But this app is mostly loved for its motivational guidelines. The reminders will alert you for drinking water and when its time to eat your next meal. Overall if you are looking for an app that can motivate you to stick with your diet plan and eat healthy then this should be your best option.
This diet app is helpful for those who want to lose weight but in a healthy way. See you don't need to starve yourself to lose weight and that's why you will need this app to assist you in losing weight in a healthy manner. The app uses intermittent fasting to help you lose weight. But there are more than 10 fasting plans so you can choose the one which feels right for you.

You will also find a lot of knowledge regarding your intermittent fasting plan so you won't be misguided. There are many tools that can help you to come up with a diet plan and lose weight effectively. The best part? There are no advertisements so you won't be annoyed the whole time while you use the app.
If you are looking for an app that can help you lose weight in one week than you should check out this diet app. The app will tell you a 7-day diet plan and you can follow that and see if that was effective for you. The goal of it's don't plan is to detoxify your body and help you be fit again. You will be provided with a list of calorie-burning meals.

Download the app and find a full diet to lose weight and belly fat. You will find all the standard options such as weight loss tracker. It's easy, it's reliable and it's definitely one of the best diet apps for Android!
Military Diet for Weight is also a popular diet app that you can download and try. The app claims to help you lose up to 10 pounds of weight at a very fast rate that is, in minimum time. The app provides a detailed diet plan for the day which you can follow. The day diet tracking system will help you to know how much you have progressed in your weight loss plan.

You will be notified when it's time to eat your next meal. In addition, the app tells you some simple work out plans which will help you to lose your weight effectively. You can also clarify your doubts regarding the diet plan within the app. The app also tries to motivate you to keep up with your diet plan.

Another impressive feature of the app is it provides you with a number of food substitutes so if you don't want to eat a particular food, you will be given a number of substitutes.
So finally we have something for those who are following the Keto diet. So you already have a diet plan or you want to take up one of the most difficult diet plans that is keto then it's the perfect app for you. The app helps you to track your calorie intake and find out how many macros you have taken up.

The keto and macro nutritional calculator will help you to be aware of your eating habits and your intakes. The food diary will also help you to understand which food you should eat and when to eat. The app also provides a few cardio workouts which are simple to perform. Last but not least you can get educated about the diet plan you are following and the app will also motivate you to follow the diet plan.
FITTR is another diet app that you would like to use for your diet plan. It's one-stop for all kinds of health and fitness-related queries. There are numerous tools available such as the diet tool, training tool, BMR tool, Macro tool, body fat calculator. The app features expert coaches, who can help you with your diet plan. It also has a number of recipes and fitness challenges.
The name says it all, Diet Diary is kinda an app that helps you track your food intake and lets you know how much calories you are taking. The app basically a recording app that keeps your records for exercise and food intakes. So that you can self analyze your progress. It also reminds you to drink water and what your next meal. You can also import and export the data.
Calorie Counter and Diet Tracker is also a diet app that is popular for providing various kinds of diets such as keto diet, 1200 calorie diet, carb diet, vegan diet, etc. So you will get every kinda diet which you wish to follow. The healthy meal planner is also a great feature of this app.
This one might become your favorite diet app because it helps you to come up with a diet plan by providing you healthy recipes and create your meals. It's free to download and register and you will many amazing features.
This is a premium diet app but has been used by many people and they have really good things to say about the app. As its name suggests the app will provide you a 1200 calorie weight loss diet plan so if that's what you are looking for then you might wanna try this one out!
If don't have control over how much you eat and you have no idea how much you should eat then this diet app can help you! Just target your nutrition goal and leave the rest on the app!
Conclusion:

So these are the best diet apps that we found for you. We have selected them on the basis of their ratings and reviews! So you can choose any one of them and trust them with your diet plan. Because it's always nice to have some assistance to help with our diet plan. We hope you found the article helpful so thank you for visiting us!