We all know the struggle of finding parking spots. How many times did it happen that by the time you find a parking spot you realize that you have missed your movie or you are late for a meeting or date? I guess several times. If you are wondering what can save you from this struggle then our answer would be your cellphone! Yes just like you can book a movie ticket or flight tickets and choose the desirable seats, you can also do the same when it comes to finding a perfect parking spot for yourself.
Many people have found these parking apps lifesaver because they can now easily find a parking spot and that too for less money! Although there are many parking apps present, but we know you are looking for the best one! That's why we have prepared this list of the best parking apps so that you can know which apps are best for you. Take a look at these 15 best parking apps and choose anyone among them.
Parking apps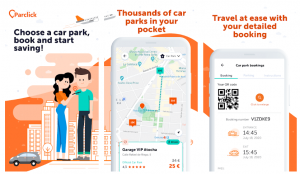 JustPark Parking app is a leading app for android and iPhone to download. Thousands of people are currently using the app and they all have given it good reviews as well as a high rating of 4.5 on Google Play Store.

With the app, you can find the parking spot within seconds whenever and wherever you want. The app has also featured some reservable parking spots so you can easily choose the desirable spot. You can easily pay for the desirable parking spots via the app. You will be provided for simple instructions, directions, and restrictions regarding your parking spot. So go ahead and download the app to enjoy the street free parking experience. You will find it amusing that the app has won many awards and it has been also appreciated in many leading newspapers and magazines for being one of the best parking apps.
This parking app is for those who struggle with calculating the parking cost and who often over the park for the longer duration and then face parking issues. It has been widely appreciated for making it easier to calculate the parking fee automatically.

All you will have to do is to select the parking spot, enter your vehicle number, and select the duration for parking, after this, you will be provided with the parking charge. You can also change the parking duration from the app. You will also receive a notification when your duration is ended or expired. If you come back at your vehicle early then you will receive a refund as well. It is definitely an amazing parking app to rely on for your parking charges and payment.
Parkopedia Parking is also a leading parking app for iPhone and Android. You can guess the popularity of this app with the fact that it has over 1 million downloads and a 4.2 rating on Google Play Store.

The app features more than 70 million parking space info for about 15000 cities. The app can be used for finding parking spots, it will also tell you the direction for your parking spot. The app features up to date prices, real-time parking spaces, payment methods, and more. There are numerous filters also present, such as free, pay via card, etc through which you can easily find the parking spot for yourself.
If you live in Europe then we have managed to find the best parking app for you!! And it is Parclick. The app features the parking spot information for about 250 cities in Europe which makes it pretty easy to find a parking spot at the crowded places.

You can even find the parking spot way before you have to go to the place. And you can also book the spot. There are many filters also present which help you to find a good parking spot. Not only this, but you will also find the best offers so you can find a good parking spot at a reasonable price.

The app is pretty easy and intuitive to use as well. You will only need the parking code when you arrive at the location to park your vehicle. The app also works to find parking spots for different vehicles as well. It's a free parking app which is increasing its reach day by day and more and more people are taking its advantage. So what are you waiting for?
Park+ is an India based parking app which is meant to ease the parking struggles of people we all know the crazy traffic and population of big cities of India such as Bangalore, Mumbai, Delhi, etc. And you must spend a lot of your time to find the parking spot for yourself. But say bye to this trouble and download Park+.

This parking app offers you the best parking slots around your destination. Apart from this, you can browse the parking locations online, book the location, and pay for it too. The parking location can be booked one week in advance. People have found the app really helpful and they have also said that this app saves their time, money, and fuel! I don't see any reason why you won't like the app so download it and enjoy hassle-free parking!
RingGo is yet another popular parking app for android that you can trust on. This app has managed to get more than 1 million downloads in the UK and the app has become every UK citizen's favorite as it has made parking a super easy affair! You won't have to do much as the app features easy navigation.

You can easily find the parking spot either on the streets or car parking lots. You can easily pay from the app. Not only this you can also extend your parking session too. You will be able to find your parking spot direction through its easy navigation. Overall if you live in the UK then this is the must-have parking app!
We have talked about the apps that can find you the parking spots but there are also the apps that can find you the car in a crowded parking lot. Many times you just randomly park your car and then find it difficult to get back to your car since the place is too crowded. This app is for those people who often forget where they parked their car. And within just a few clicks you will be able to find your car and the directions to your car as well. Here you will be also able to see the history of your parking through this app.

The app also gives you parking alerts/reminders so that you can avoid the hefty fines for over parking. The best part is the app supports the smartwatch as well as tablets.
EasyPark is also a leading parking app for android. The app has over 1 million downloads in  1500 cities across 19 countries. The app works on Plan, Find, Pay, and Manage themes which makes your parking struggle a lot easier.

The app features on-street, off-street, and Garage parking in your city. You can pay online via the app which saves your time and you can also manage your parking duration. It's pretty easy and you will definitely love using it.
Another UK based parking app that you will be lucky to have. We all know that parking lots are charging way too much and it's still difficult to find a good parking spot and that's why you need to download this app. The claims to save up to 70% drive-up prices.

Over 250,000 parking spots are enlisted in the app that you can choose from. And these spaces are from various cities in the UK. Pre-booking the parking slot as well as managing your parking time features are also available. The most interesting feature of the app is, you can even earn money by leasing up your parking spot! All you will have to do is to choose the price and set availability. This app literally manages everything for you. Its a must try parking app if you live in the UK.
Now we have something for the people who live in the U.S and Canada. This is one of the leading parking apps for Android in these countries. It's also a one in all kinda app that does much more than just finding you good parking spots such as booking the movie tickets, event tickets, theme parks ticket, place an order at restaurants, etc.

The app features more than 100 cities in these two countries so there are good chances that your city will be enlisted in here too. With this app you can actually book the parking spot for 24 hours. And you can also cancel the booking as well. There are numerous features present in the app which will help you to get park your vehicle with ease.
Another app that will make your parking hassle-free. This is also a U.S based parking app that features many cities. Here you can easily find good parking spots at a reasonable price. The comparing features where you can compare the prices for parking spots year your destination is pretty great. Users have also liked the reserve option where they can pre-pay and save their time.

The navigation system which tells you the turn by turn direction has also eased the parking process of users. You can bookmark your favorite parking location for easy booking in the future. Lastly, the app also manages your monthly parking account!
The app is popular for finding the parking spots with 3 taps only!! Yes you heard it right, it's that easy! So you will know that there are many amazing features also present in the app which you would find useful. It's pretty easy to use and you will definitely thank us for introducing this parking app to you!
Our next best parking app for android is Parkster! This one is popular for getting you the parking spaces at a reasonable price. And you will only have to pay for the time you have parked your vehicle without any extra cost. You can easily manage your parking duration via phone. All you have to do is to download the app and get the parking ticket with easy payment options. The app also sends you notification 15 minutes before your ticket is going to end. The app covers 200 Swedish and German cities. Download the app and save money for parking tickets.
This one features more than 500 parking zones in 100+ cities in Europe. In some cities automatic parking service message recognition and zones with sessions are also supported. The app is popular for providing custom parking zones. It's also supported by the smartwatch. It's features like multiple car profiles and automated zone suggestions are also appreciated by the users.
ParkingRhino is our next choice for the best parking apps list. This one is popular among the people who are looking to find free parking spots along with paid parking, valet parking, and Event Parking. You can even adjust the radius to search for a perfect parking location for you. Overall you won't be disappointed with this one!
Conclusion:

So these are the top 15 parking apps for Android and iPhone that we could find. We have chosen these apps considering their ratings and positive reviews. So you can actually trust them! We hope you found our article helpful, thank you for visiting our page.