Baby's require a whole load of new stuff then we could have ever imagined. It's like you change the entire furniture, kitchen products, grocery items, and so many other things just to ensure your baby is safe and comfortable. One such thing is the Infant Car Seats. You may forget it to buy when you were preparing for the baby but once the baby is born and you need to take him/her home, you will realize the importance of an infant car seat.
The seats are made to ensure the safety and comfort of your baby when you need to use the car for going from one place to another. It is used from the day your baby is born till he/she reaches to the height of the infant car seat or its weight limit. There are actually plenty of infant car seats available in the market which can make you think, which is the best infant car seat to buy!
Before we tell you which are the best infant car seats to buy, we would like you to take a look at these important factors which an infant car seat should have.
Safety: Safety is your priority already so make sure you check the infant car seat thoroughly to make sure if the car seat meets the safety standards. Safety standards include the leveling systems which tell you if the car is safely installed and its good to go. Other than this, you should also look if they feature the shock absorption, padding, and high-quality material.
Easy installation: You don't want to take your whole day to figure out how to install the infant seat. So look for the one which comes with easy installation steps so that you can quickly install it by yourself. LATCH system is considered as one of the best installation process.
Correct Fit: The infant seat should easily fit in your car otherwise there is no point buying one. And every car seat ranges in shapes and sizes so do the infant car seats so buy the one which fits in your car.
Fabric: Fabric or the material from which the car seat is made is a very important criterion so always buy the one which is not only comfortable but toxin-free as well as durable and washable.
Stroller Compatibility: Many infant car seats come in a traveling kit that can be converted as a stroller or the stroller frame which makes it easier for you to travel with the baby or even shopping with your baby.
Apart from these, you should also set a budget and then look for the best infant car seat. Brand is also an important factor as it makes it easier for us to rely on and trust the infant car seat that it will be of higher quality and safer.
Convertible car seats are also an option but during the initial stage, infant car seats are better because they can be easily carried around if you buy a travel system. It's also easy to transfer the infant car seat from one vehicle to another.
Now we are going to list out the best 15 infant car seat which you can trust. We selected these ones because they met most of the criteria as well as good reviews from the parents.
Best Infant Car Seats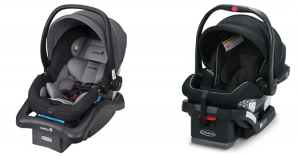 Britax is our first pick for the best infant car seat list. This because it is already a reputed and adjustable brand, and they have established themselves by features some of the best products lately. So when it comes to buying the best infant car seat you seriously wanna consider this as your first option.

The safety features of this var is what makes it one of the best. Apart from this, it is also easy to install as it features the simple LATCH system. It's deep and narrow along with sidewalls which features extra paddings which is energy-absorbing foam as well as features side impact protection.

It is ideal for small cars too as it takes very little space. The steel frame is also there to add and additional safety factor but it also makes it a bit heavier. Overall the infant seat is definitely a good choice and it also comes at a decent price given the features and safety!
Chicco KeyFit 30 also makes it to our list of best infant car seats due to its overall performance and good price. The safety features are impressive as it managed to pass the government crash test with some good numbers as well. Head impact and side-impact scores are also good.

Furthermore, it is easier to carry around as well as to install. Due to its lightweight, it becomes the top choice for parents who need to change vehicles on a daily basis. You will find a LATCH system which significantly makes it easier to install and use. The fabric is comfortable as well as easy to clean.
If you want the infant car seat with full crash protection then this should be your first pick! It an award-winning Infant Car Seat so we don't have to convince you much about it. The car seat features an adjustable base with a load leg, a metal support for extra collision protection. The car seat also features an indicator that will tell you if the car seat is properly installed.

It features the European Seat belt path routing which ensures an easy installation. The best part would be its lightweight nature. Parents have accepted it widely and they are still considering this one for its safety features. Although the better safety features come with a higher price so you may need to spend more than the above two infant car seats.
If you are looking for the best infant cat seats which don't require you to empty your pockets then Graco should be your best option. And the fact that it comes at an inexpensive price doesn't mean it lacks the essential features. It clicks connect technology makes it easier to install it. And you will know when you have connected it correctly as it makes a clicking noise.

This one can be used until your baby reaches the 35 pounds weight and 32 inches of height. You can use it for initial months and then later invest in a better convertible car seat for the baby as he grows.
It might be one of the most expensive options for an infant car seat bit when it comes to your convenience you can't find a better option. It's one of a kind car seat for infants that can be quickly transformed into a stroller with the click of a button.

Due to this feature of it's, people who live in big cities and need to use public transport frequently are in love with this one. So if you are one of them and you are looking for a convenient option for a car seat as well as the stroller then buy this one without any second thought. This one also used for the baby's up to the 35 lbs weight as well as 32 inches height.
Maxi-Cosi is every mother's favorite because of its easy to clean features. We all know how messy kids can be, spit-ups and diaper scenes are common but your infant car seat won't have to suffer. It comes with removable paddings which can be easily washed up in the machine so you won't have to be worried about a dirty infant car seat.

The extra safety features include side impact protection as well as an anti-rebound bar. Although the car seat might not be the best option for a compact car so keep in mind while buying this one. Its fabric is very comfortable and especially for those who live in warmer areas. It is suitable for kids up to 30 lbs and 32 inches.
UPPAbaby Mesa is also a popular infant car seat in which you can invest. The infant car seat features no complex installation process as it LATCH system is anyway a good option for hassle-free installation. In addition, there is no pulling and tugging of straps. It also features the indicators to ensure if the car seat is installed safely or not.

Furthermore, it can be a bit heavy but you can easily connect it go a baby stroller without using additional adaptor. It's spacious so your baby will be comfortable. The fabric is soft and features headrest as well as side-impact protection padding.
8. Peg Perego PV 4/35 Infant Car Seat

Peg Perego is an Italy based company which has been providing us some good products for 60 years now. The best part about the infant car seat would be it's rubberized material which is durable material.

It features adjustable side impact padding as well as ESP absorbing foam. This one also features an anti-rebound bar. It's a high-quality infant car seat which justifies the higher price.
9. Nuna Bugaboo Turtle Infant Car Seat

Nuna is popularly known for its comfortable infant car seats so that your baby can be asleep during the ride or even when you need to transfer the car seat. This one features luxurious cushions as well as side impact protection padding. It might be more pricey but in the end you will get the value for your money.
10. Safety 1st Onboard 35 Air Infant Car Seat

This is another budget-friendly option for you which will impress you with its quite luxurious features. Your baby will be surrounded by puffy pillows which will comfort your baby throughout the car journey. So you can consider it as a budget-friendly option while choosing the best infant car seat!
11. EvenFlo LiteMaxi 35 Infant Car Seat

Evenflo has always provided good products at a reasonable price, so we went to check it's infant car seat as well. To our surprise, the seat features every essential feature from the LATCH System to impact absorption paddings. So go ahead and take a look at this one as well.
12. Baby Trend FlexLoc Infant Car Seat

Baby Trend is an amazing Infant Car Seat. It's reliable, durable, as well as budget-friendly. It also features adjustable leveling base, no-rethread shoulder adjustment, EPS energy-absorbing side-impact foam etc. Apart from that you will also find a large canopy too.
13. Cybex Cloud Q SensorSafe Infant Car Seat

Cybex Cloud is also a parent's favorite Infant car seat. This is because your baby can stay asleep while you drive or even takes the car seat out. Apart from comfort, there are several safety features are included too. It's safe, it's comfortable but it's a bit pricey. So give a loot at this one and see if it has what you are looking for.
14. Doona Infant Car Seat Stroller

We have already discussed Doona's infant car seat earlier and this one is a different model from the same company. And this one too is an infant car seat cum stroller. So if you were not satisfied with that one, you can give a try to this one! It comes at a similar price range as the other infant car seat from the brand.
15. Trumom Infant Baby Car Seat

If you are looking for an option where the Infant Car seat can be useful for a longer period of time then Trumom is your best option. This one is ideal for the baby up to 16 months and it has a weight capacity of 13 kg.

It's a life savior for parents as it features four different positions for different purposes like feeding, car seat position etc. It is lightweight so you can actually carry it around without getting tired. It's soft and can be easily adjusted. Five harness safety system will keep your baby secure. The paddings are machine washable too. It's definitely one of the best infant car seat.
Conclusion

So these are the best infant car seats that you can buy. These are easily available in the market, meet the safety standards as well as comfortable for your baby. They will definitely make it easier for you to drive with your baby. So go ahead and choose any infant car for your baby. We hope you found something good with the help of this article. Thank you for visiting the page and keep coming for more reviews.