Parenting can be tough! You need to be around your child 24*7. There are so many things you need to change after a baby is born. From household stuff to the seats of your car, after all the comfort of your little one is everyone's priority. Speaking of car seat, everyone knows that kids needs a separate seat which will be more supportive as well as safer. And that's where convertible seats comes in handy!
A convertible seats can be first used as a rear-facing position for babies and later it can be converted as a front-facing position for older children. That way you need not invest in an infant seat as well as a booster seat.
Convertible car seats are very important for parents these days, because they have to keep their children with them while they drive or go to one place to another. So it's important that you invest in a good as well as safe convertible car seat. And for that, you surely need some assistance. And that's why we came up with this article where we have mentioned some of the best convertible car seats as well as a buying guide.
First let's start with our buying guide, as you know, whenever we buy something, we have to invest our time as well as our money to buy the best thing possible which meets with our requirements as well as comes at an affordable price.
So let's take a look at these points which will suggest you, about what should you look for when you buy a convertible car seat!
Safety Indicators:- for every parent, the safety of their child comes first. So whatever you but for your child, you should always look for safety features. Some convertible car seats come with inbuilt safety features such as leveling systems as well as safety indicators.
Other than these safety features, you can also consider buying those convertible car seats which come with inbuilt shock absorption, padding, and high-quality material.
Easy to install:- A convertible car seat should also be easy to install so you won't have to give it an entire day or ask for help. Right now, var seats that come with the regular seat belt or LATCH System are quite popular as they are easier to install. Apart from this, you should also look at how it fits in your car. By the one that goes perfectly with your car seats.
Comfort:- You don't want your child to get uncomfortable in the convertible car seat right? So it's always suggested that investing in a car seat which is comfortable is always worth it. The comfort of a convertible car seat is associated with extra padding, extra cushier with cup holder, and of course, a good fabric that ensures a good ride for the baby so he won't be cranky or annoyed with every ride. You can buy a less comfortable convertible car seat which will be less costly if you are not planning to take frequent drives with your baby.
Durability:- If the convertible car seat is all fancy, comfortable, as well as easy to use but doesn't last for even 2 months due to some manufacturer error than there is no point in buying one right. Durability is also an important factor that you need to consider while buying the best convertible car seat.
These are some of the most important features that you need to consider while buying the convertible car seat for your child.
But the thing is many cars offer these features, and that's why people get confused about what they should buy and what they should not! That's why we have divided to come up with some of the best convertible car seat list. Take a look at the list and choose the best one for yourself.
Best convertible car seats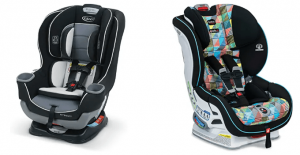 Our first choice for the best convertible car seat is Britax Boulevard. There are numerous stuff which we loved about the convertible car seats, such as its safety measures. The car seat features two layers of side impact protection and a steel framework. The car seat also features 10 positions so your child will be comfortable.

Although the car seat is quite heavy but you will wanna but for its safety measures. So if you are not planning to carry the convertible car seats from one vehicle to another then it should be your first choice. It may be a little expensive but it has managed to get a good crash score which justifies its price.
People have accepted Greco 4ever All In One Convertible Car seats, because of it is actually an all in one car seats which will be work for many seats of your child. It can be used as a rear-facing convertible car seat (for children between 22 and 65 pounds), after this it can be used as a forward-facing harness until your children become 52 inches tall. Later it can be used as a high back booster seat as well as a backless booster. This ensures the positivity of the car seat and you need not buy any other car seat for different stages of your child.

It's easy to install with a Latch system. This one also features 10 position headrest. A steel frame, as well as integrated cup holders, are also present. Overall it's an amazing convertible car seat to invest in and you won't regret it.
Looking for an affordable convertible car seat? Well, here your hunt for the best as well as budget-friendly convertible car seat ends. The price is actually very cheap and almost anyone can afford it. The next best thing about the car seat is, it very lightweight, which means you can easily carry it around as well as easy to clean.

This one too can be used as rear-facing as well as front-facing harness in your car, which will keep your child happy and safe. You don't have to think that just because it's cheap or lightweight it will be of lower quality. You will be surprised to know that this is an aircraft certified convertible car seat. And it also features a good seat pad and cup holder which are dishwasher safe. It's got those people who need to carry the convertible car seats from one vehicle to another.
Chicco Nextfit Zip is also a popular choice for the best convertible car seat these days. The reason behind its popularity is because it is highly rated and people find it reliable as well as adjustable when it comes to the safety of their child. It's also easy to install and features washable paddings which is responsible for it's easy to maintain quality.

The car seat also features a full steel frame which makes it highly durable. The next thing you will like in the car seat is its convenience as it has steps that are easy to understand as well as has a belt tightened system. You will find 9 headrest positions and side-impact position. Due to all these amazing features, it has become a little bulkier, other than this, you will this one for sure.
Evenflo too makes an excellent choice for the best convertible car seat. This one also does an excellent job of being the best yet affordable car seat. It can be used as rear-facing as well as front-facing harness just like the others on our list.

When it comes to safety, the seat has been tested and it passed the structural integrity as well as crash test. Furthermore, the car features four straps for the shoulder position along with adjustable front harness. When it comes to comfort, it's cushions as well as removable head pillows do the job!
Diono is our next choice for the best convertible car seat. Although you should know that this is the best option for a narrower convertible car seat. This is best suited for the people who are no lt intending to carry the car seat from one car to another as it is really heavy due to its full steel framework. Which means the seat will be safer.

Furthermore, the car seat is quite comfortable too, as it features foam bottom and removable nesting. So if you use a smaller car and looking for the narrower convertible car seat, this should be your first option. Lastly, it also comes at a decent mid-range price, so it's worth a look!
Safety First Grow 3 in 1 is our next pick for the best convertible car seat that will definitely impress you. This one is also a highly rated car seat which you find. For starters the car seat can be used as 3 purposes, that is as rear-facing, front-facing, and belt adjustment harness, hence the name 3 in 1!

It has 3 reclining positions which are responsible for the perfect fit in your car. Furthermore, you can easily adjust the headrest and harness in a few easy steps. Seat pad is also washable and one can easily remove it too. Two cup holders also ensure further convince. In conclusion, if the comfort is your first priority then you must buy this one.
Finding a perfect convertible car seat is anyway a challenge and it becomes more challenging when you have a tall kid. And that's why we picked Maxi-Cosi, which is a perfect choice for the tall kids. You will be surprised to know that, this convertible car seat can easily used for the kids up to 85 pounds as front-facing harness. And you can also adjust the height of the seat!

Other than being the best convertible car seat for tall kids, it is also a good choice for a comfortable seat. With removable and washable paddings and magnetic chest buckle, it becomes a perfect match for parents as well as for kids. Although this one might be a bit pricey but given it's highly rated features, its totally worth it.
Clek Foonf is also one of the best Convertible Car Seat that you will find in the market right now. The reason we picked this one, is because of its convenience. It's super easy to install as well as it ensures the safety of your child. With crash resistance steel frame and anti-rebound bar, it has become the first choice of parents these days.
This one comes from a reputed brand so it's highly trustable as well as reliable. Although its an affordable option so if you are a brand freak and your budget is low then it should be your first choice. Features like extension panel and no-rethread harness (adjustable straps) are what makes it unique.
Last but not the least, this one has managed to make a place in our list of best convertible car seat. We are getting straight to the point, this one is 5 in 1 convertible car seat. Yes, you heard it right! It will be comfortable for kids from 5 pounds to 120 pounds. So it can be the best option for parents.
Conclusion

So these are the best car seats that you need to buy for your little one. We have chose the convertible car seats for the list on the basis of their reviews as well as ones that show maximum factors. These convertible car seats have also received some great reviews from buyers as well. Overall these are the best convertible car seats that you can trust and rely on.

Here are the end of the article for convertible car seats, and we hope you find something worth buying for your child. Thank you for visiting our page and keep coming for more such reviews.