Our car is kinda like our second home, at least for the people who love driving or have to drive to long distances for work. So just like we equip our house with useful as well as smart gadgets, we also need to introduce some gadgets to our car as well. Many people may think what is the need of car gadget? But why not we need the gadgets right! From car changer to organizers, everything is essential to make our car journey convenient as well as easy.
And in the era of innovation and technology, where everything g is becoming "smart" then why don't your car deserves to be smart! We believe many cars can be connected to wifi and this can help you to ease your traveling. Although there is a long list of car gadgets but we have managed to get you some of the best car gadgets which are must-have.
Go ahead and read the article to find out what you need to have in the car, some of them will surprise you and you might have the other ones. So let's get started so that you can know what you need to buy.
Best Car Gadgets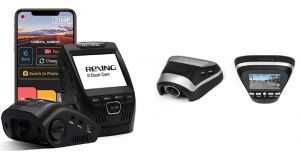 If we ask you what is the most important thing you keep with yourself all the time then the answer would be your cellphone! We know you won't ever forget it but what about the charger? The way you depend on your phone, the phone kinda depends on its charger. And how many times it happen that you forgot to charge your phone and rushed from home with 10% battery left. I am sure that makes you anxious.

Well, it won't if you have a charger in your car! And with this gadget, you can easily charge your phone and prevent it from dying. The gadget features "Quick Charger" in the name and that what exactly it does. With this charger, you can charge your phone fully in the minimum period of time. And the best part is, it is compatible with almost every phone in the market, whether it's android or iPhone. So we have listed this one on the first spot for the sake of your phone. And it is indeed the most important gadget to have in your car so don't think and buy it. The charger also comes with an 18-month warranty.
We live in the most advanced era where everything is recording by the camera, whether it's a mall, theater, your school or office, everything is under the surveillance. And for what? For security purposes. So why don't we add a camera to your car as well for the very same reason? It's surely a good idea and also a popular one.

A dash camera will prove very important when things go south! For example, you can meet with an accident and need proof to claim the car insurance, or for proving that the accident wasn't your fault. It can also help to track someone who has harmed your car or even stole it. Because water will be recorded on it,  you can easily have it on your phone or computer.

The dash camera has got 4K resolution with a 3-inch screen and G-sensor! It tracks the speed and GPS as well. And you won't have to worry about it getting trashed or misplaced as it's magnet will keep it stable in the car.
This is something you should definitely have in your car! And once you have got your only complaint would be, why I didn't have it earlier. The car tracker will help you to know about your car status, from anywhere and anytime. The best part is, it comes with a 5-year free 3G subscription so you won't have to pay extra bucks either.

You can connect your car to Alexa and access to engine diagnostics which will keep you updated when there will be anything to worry about. It will keep the full track of your car in case of theft so you have got nothing to worry about your precious car! Crash alert services are also available.
Many people need their phones to search for the location or have a conversation while driving. But they can't use the phone while driving cause that's illegal and you may be charged for it too. But having a dashboard phone mount will help you in this situation.

It will grip your phone and maintains it at high speed. It features a high power suction cup which will never fail you. You can also adjust the view while you look for the google map. Lastly, it's firm rubble grip will keep the phone in place. No matter what your phone isn't gonna move from its position so go on and you can enjoy phone conversation as well as view the maps.
Everyone loves a clean car no matter what! And sanitization is very important anyone, besides who would wanna sit in a car that's dirty or smells right? And that's why our next best car gadget includes all the cleaning tools you will need to keep your car clean.

All the stuff that is present in this kit will help you to clean the car thoroughly. It's a trusted brand and people have used it and gave their positive response for the tool kit. The kit coves everything from the body of your car to it's interior and it's wheels as well. Moreover, it has got everything from the car shampoo to the cleaning cloth! So if you are looking for a cleaning kit, invest in this one.
This car gadget can save your life! How? Well we all know the driving while you are drunk is a punishable offense and you can also put yourself and other's life at stake. So it's important to know when to not drive. And this gadget makes sure of that.

The breathalyzer will let you if you should drive or not and that way you can keep yourself grounded and make a good decision. It is cleared by the FDA and the results are accurate. The operation is also simple where all you have to do is breathe in it after a single push-button! It can also help you to check others and you will know if they are able to drive or not!
Winter isn't the best season to drive and if you ask it might be the worst one. You never know when it started to snow and how long it's gonna take to stop it. Or you can be stick in your car for hours or sometimes a day too. All this because your car is stuck in the snow. And when this will happen, all you are gonna think is, I wish I had the tools to remove the snow!

Well, don't just think and buy one before its too late. This kit comes with all the essential tools which you need during the winters it includes, folding shovel, ice grips, torch etc. All this will help you to tackle the winter situations. So if you live in a cold or snow prone area this should be on your must-have car gadget list!
We don't need to tell you the importance of a first aid kit and everyone should have one in their car. It doesn't matter how safely you drive or for how small a distance you cover with your car daily! A first kit should be your first priority while you add the important car gadgets. This one is a great first kit for a car, it's compact and easy to carry. It includes dressing, bandages, an emergency blanket, adhesive plaster, scissor, tape, and other stuff like that and an instruction manual. No matter what you should always have a first aid in your car and this one is the best first aid kit to have.
Going for a long journey by car? Well, you should know that your wheels are very vulnerable and you should keep monitoring them as this can help you monitor the whole vehicle. For example in the cold area, you will know the performance of your vehicle and if there is anything you need to worry about.

You attach the little sensors to the wheels and see the analysis through the display hub that sits on your dashboard. It is powered by solar so you won't have to worry about the batteries either!
Mini fridge is one of the best inventions of all the time and especially for those who love to take long rides. This is definitely one of the best car gadgets you can possibly buy. It came with an AC/DC so you can easily plug in your car as well as anywhere else. It is energy efficient so you won't have to worry about it consuming more energy from your car or electricity from anywhere else.

The space is generous as you can keep 6 cans in the fridge. And it's also able to switch from hot to cold.
Need someone to assist you while you are driving? How about Alexa? We know she is more comfortable in your house but goes to what she can assist you in your car as well! You can ask her directions, shopping list or even charge your phone. It will definitely make your life easier.
Everyone hates speeding tickets. And we all wish we knew when someone is detecting our speed! Well, you have got this, with this gadget you will never have a speedy g ticket as it will detect the police scanner activity so you can be safe.
You can easily connect it with your car's aux to transfer the audio and enjoy your favorite music. For easy operation, it features a scan and volume button inside. It's definitely worth buying!
We are here with another Dash Cam because let's face it, they are need of the hour. It features built-in wifi along with high resolution and HD recording. The LCD screen in also big enough!
Do you need a tiny vaccine for your car? Well, this should be your first choice. As it makes sure you clean your car with the best quality vacuum cleaner which is specially made for your car. It's battery life last for 20 minute which is enough for a car vacuum.
Conclusion

So these are the best gadgets for the car which you should have. We are sure you didn't have the idea about some of these and you are pretty surprised that they exist. So go ahead and buy some of it to make your life easier and more convenient.

So that was our article about the best car gadgets and we hope you liked it and found something interesting to buy. Thank you for visiting our page and keep coming for more such reviews.