There are numerous occasions when you need to rent a car but going to the car rental offices and filling out forms seems like a tedious task. But thankfully, just like everything else, this process has also become digitalized. Yes you heard it right, no need to get out the house and filling tons of forms just to get a rental car.
Although there are numerous car rental apps that are present for Android and iOS, you want the best right? Obviously finding the best rental car is no joke as you would have to look them all and find the perfect match for yourself. Seems like a too big of the job? We are here to help you! We have gone through several car rental apps and found you the best 15 car rental app for Android and iOS that you need to know about. So don't wait for it anymore and see which one do you like the most.
Car Rental Apps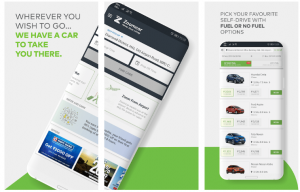 1. Zoomcar – Self Drive Cars and Car Rentals Android / iPhone

The first car rental app from our list is Zoomcar. The app has over 5 million downloads and a rating of 3.9. It has also received good reviews from the users and that's why we have picked this car rental app for Android for our list.

The app has a total of 7800 vehicles covering 45 cities. Some of these cities include New Delhi, Mumbai, Hyderabad, Bangalore, Pune, Chennai, etc. So this is definitely one of the best India based apps.

Other amazing features include referral benefits where you get a discount each time you refer the app to your friends. You also get a few privileges if you join the super smilers club. Other than that you won't have to pay a security deposit. Lastly, you can earn some in-app points and use them as discounts later.

Using the app is pretty easy as well, all you have to do is book a car on the app, upload the license, fill out the details, and receive the car keys. Have fun with road trips and return the cars. It's that easy!! So for India, it is surely an app that you would wanna have on your phone.
Zipcar is another best car rental app for Android and iPhone. This one is a rather international car rental app as it covers many cities in various countries. This the reason why the app has more than 1 million downloads and a high rating of 4.0 which reflects how useful the car rent app is for the people around the world.

The car rental app covers over 500 cities in various countries like Spain, France, Canada, Taiwan, Turkey, United States, the United Kingdom, etc. The idea of Zipcar is to bring freedom, flexibility, and convenience when it comes to booking a car for rent. So just download the app and enjoy the convenience of booking a car.

You can book the car for hours or even for a day. There are also numerous types of vehicles available for rent. You will find other amazing features too.
3. Turo – Better than Car Rental Android / iPhone

Just as its name suggests it's even better than car ranting apps, as the app connects the local car owners to the people who need to rent a car. So this is kinda a car-sharing marketplace where you can book any car you like, anytime you want and anywhere you want.

The app doesn't just help you with renting a car as you can also rent a big vehicle like a truck in case you are moving or something. Since you are booking directly from the car owners you will get the 30% cheaper price.

Due to this peer to peer car sharing and renting, the app has been downloaded by a million people and they have given it a good rating as well. And that's why it is one of our list of best car rental apps for iPhone and Android!
This another well know car rental app that you need to know about. Rentalcars definitely make it easier for customers to get a car anytime they wish. With 1 million downloads and a good rating of 3.9, it definitely deserves to be on our list of best car rental app.

The app has partnered with many rentals car partners which means you will be able to rent the cars at a reasonable price. Here you will also able to compare all the car rental prices so that you can get the best deal. Apart from this, the app is available in major cities of over 100 countries and available in 40 languages. You can also set the currency in which you prefer to better know the car rental prices.

It's pretty easy to go used and you can rent the car in four easy steps. There are different types of cars and you won't have a compromise with your favorite car. Go ahead and download the car to enjoy a vacation, road trips, and many more.
SIXT definitely deserves a place in our best car rental apps list. The app has more than 1 million downloads and a high rating of 4.6. As the name suggests this car rental app is all you need to rent and share the car. The car rental app is available in more than 100 countries and that's why it's a must-have when you are on an international trip.

You will find the car-sharing with no limits that mean so you won't have to limit the duration, drip off points, etc, and enjoy the car ride as per your preferences. The app has many filters so it becomes pretty easy to rent the car of your choice. There are many other amazing features also present which will make the car rental process super easy so go ahead and download the app!
Europcar is our next choice for the best car rental app for Android and iPhone. You can rent a car, van, and a truck at your convenience. This one has over 5000 stations in about 133 countries so don't worry if you are on a vacation or a business trip, the app will be there for your help. The choices for cars are pretty huge so you will get a number of different car models to book.

The GPS is also added to your booking. The best part about this car rental app is it's kid-friendly which means you will get child seats which you can choose while you book the car. You can also have various duration to rent a car. Overall there are many unique features in this app so it's definitely a reliable choice for the car rental apps.
If you are looking for an India based car rental app then this might be your first choice. Revv is a great app and it provides 24/7 services so whenever you want a car, it will be on your doorsteps. The app is pretty simple and convenient. You just book the car and pay and you will get the var at your doorsteps delivered by an employee. After that, just drive the car for as long as you want and return to your home and from there the car will be picked up.

You can easily reschedule and cancel the car booking. So all these amazing features surely make it one of the best car rental app for iOS and Android.
Car hire with Centauro is a leading car hire company which provides a super easy service of car rent. And now they have launched an official app through which you can easily rent a car. The car rental service is available in over 1500 destinations worldwide, so either you are traveling or a local resident its will be super easy to hire a car.

The app is super easy to use and you can book a car for yourself with a few simple steps. Although there are many formalities that you need to complete. Apart from this, the car rental app also features different languages as well which makes it even easier to use the app by different language speaking people.
CarzUp is another free and leading car rental app that you need to know about. This app is available in countries like the united states, Canada, Latin America, Europe, Africa, and Asia. The app has over two hundred thousand users worldwide and a total of five hundred cars are available to rent. That means you will find a variety of cars to rent.

The app is available in 135 countries. The majority of cars can be booked without credit cards. The app features more than 30 car rental companies which means you will be able to compare the prices and get the best deal. Lastly, all your details will be in one place so it will be easier to manage the car rental services in the future.
This car rental app is exclusively for Audi lovers!! As we all want to drive the best car and at a reasonable price as well. There is numerous reason why you should have this car rental app on your phone, the first one would be you get to drive an Audi, secondly, the app works in a paperless manner, so book the car digitally and ride the Audi as per your convenience.

It can be used with a few taps and there will be no waiting to book a car either. The fuel fair and tracking policies are also reasonable.
Getaround is known for its easy and instant car fencing services. No need to hassle and wait for the car companies to finally give you a nod to book a car and instead get the app to instantly rent a car. It's also a carsharing platform which means you will be renting g the car with the local car owner which means less price. There are also numerous car models and you can choose anyone according to your convenience.
As its name suggests, Drivezy is also a leading car rental app but you can also find other vehicles yo rent as well such as bike, scooters, etc. The app covers many popular and big cities in the world such as Bengaluru, San Francisco, etc.
Another free and easy to use the app for car rental that you can rely on. It's pretty easy to book a car and even cancel it when there is a change of plans. The prices are reasonable with no hidden fees.
Myles is slowly emerging to become one of the best car rental app for India. There are about 38 models to hire and you can easily hire by hours, day, or even week. Overall the app is definitely a must-have if you are in India.
Last but not the least, Virtuo is also a great car rental app that you can have. The app is even easier than the cab booking apps. Within a few taps, you can easily rent a car. You will definitely like the app since its growing day by day and making our lives more and more convenient.
Conclusion:

So these are the best car rental apps for iPhone and Android in our opinion. We have chosen the apps considering their ratings, no of downloads, and the reviews from users. So don't waste your time figuring out which app to download or where to go for renting a car, go ahead and choose the best car rental app. We hope you found the article helpful. Thank you for visiting us.