Looking for a dating app where you can chat with strangers and make new friends? Well, we have got something even better for you! These are the random video chat apps work just like the dating app but instead of just swiping here and there you can actually talk to them face to face.
Talking someone face to face is always nice, we get to see who they are and what they are like in real life. It's also easy to communicate and have a real conversation when you are talking to them face to face. But not all the people trust video chatting apps as you may end up talking to someone who isn't good for you as there are certain risks in this field. You would glad to know that technology has taken your experience of video chatting to the next level and they even protect your privacy.
For a good video chat experience with strangers, you should use the best video chat app! But how can we choose the best random video chat app when we have hundreds of choices? We know it's difficult to go through each and every random video chat app and finding the best one and that's why we have down the tedious work for you! In this article, we are going to review the 11 best random video chat apps for Android and iOS. Take a look and choose the best one for yourself.
Random Video Chat Apps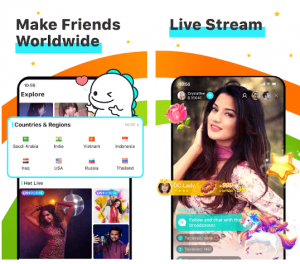 1. LivU: Meet New People and Video Chat With Strangers Android / Iphone

LivU is one of the best Random Video Chat app for Android and iOS. You can get the video of its popularity with the fact that it is by over 10 million people worldwide. The app has got a 4.5 rating of Google Play Store which means people are really liking it.

The app features a number of amazing features which makes it one of the best video chat app. For starters, the app is absolutely free to use and you don't have to pay a single penny to video call other people. You will also find many beauty filters and beauty effects so that you can look nice while you meet new people. Charting is also available where you can easily send texts to each other. Instant messages also found to make your chatting experience fun.

The app will provide you an absolute random match which makes this app one of the most interesting app. Here you can select the gender and country and the app will provide you with good matches according to your preferences.
2. Lamour Love All Over the World Android / Iphone

Lamour Love All Over the World is also one of the best video chat app that you can find. Just like its name says it also provides you the best people to chat with from all around the world. This app is currently used by 10 million people and it got a 4.2 rating as well.

You can easily chat with random people and talk to them without having to step out of the house. The app uses some algorithms to find you a perfect match and you can easily find good matches as per your preferences. And the best part about the app is, you will get an auto-translated so language won't be a barrier between you and the other person. Overall it's a nice app with an intuitive interface and simple options and it will definitely impress you when it comes to having video that with strangers!
If you are looking for the most popular video chat app with strangers then our answer will be Azar! The app has over 100 million users which are by the way happy with its services and gave a few positive responses, which results in a rating of 4.1 on Google Play Store.

Furthermore, the app has over 70 billion matches worldwide. So you can easily explore and connect with new people. It works fine with Wi-Fi, 4G, 3G connection. Translation is also provided to ease your communication with foreigners. You can select your preferred region and gender. Its privacy policy is also great as your information is not directly seen by other people. It's popularly used and that's why we are recommending it to you as well.
4. BIGO LIVE – Live Stream, Live Video and Live Chat Android / Iphone

Our next choice for the best random video chat app for iOS and android is BIGO LIVE. This one also features over 100 million downloads and a good rating of 4.5 with many many positive responses from its users.

It's a multipurpose app that has many great features apart from just chatting with strangers. And it is best known for its Go Live feature where you can go live and gain your followers. It's also a free app and you can also learn many great stuff. Speaking of its ability to connect you with new people and make new friends, it will simply impress you with its wide range.

You can also stream live videos when you are bored and explore many great things. It's a fun app and you should surely download it.
5. FaChat: Video Chat with Strangers Online

Fachat is also a popular random video chat for Android. This one is a simple app with easy to use interface where you get to meet new people and find new friends. It's all about finding a meaningful connection. And for that it will easily provide you some match and you can see if they are perfect for you and worth your time.

The app has got a strong privacy policy where your personal information will be taken care of. And users who behave incorrectly will be immediately banned. Overall the app ensures you an effortless experience when it finding a good match. You can also chat with them first and then decide if you want to video chat.
6. ParaU: Video Chat and Make Friends

ParaU is also a fine app when it comes to chat with random people. This one also has received many great responses from it's 5 million users (and more) for its ability to get them a fun date and provide the best platform to video chat.

You can easily that with new people and also keep the chat history. It's so easy to discover new people and interact with them with its user-friendly interface. You will find a good collection of emojis to make you're that experience more fun. The app also features a translation option so that language won't be a problem between you and your overseas friend.
7. ZAKZAK

ZAKZAK Pro is a new random video chat app for android which is slowly emerging and becoming popular day by day. This app has over 5 million downloads and they are already praising it. It is one of the best platforms to have random video chat. As the app will automatically find matches for you using some algorithm and you can do video chat with them for free. You can also send instant messages via chat or during the video that as well. Beauty effect and filters are also available so that you can look more pretty on the camera.
8. HOLLA

Our next favorite random video chat app would be HOLLA, for many many reasons. For starters, the app is so easy to use and reliable. You can either do texting, voice chats as well as video chat. It's a young social app where you possibilities to find new people and make new friends would be high. And lastly, the app is safe to use so don't worry about your information being misused.
9. Chatspin

Chatspin is as fun as it sounds and that's why it has managed to be on our list of best random video chat app for android. You can chat anonymously and also do random video chats for fun. Face filters are also available and you can have lots of fun with emojis as well. Overall it's able to make you have a good experience it's worth a try.
10. Hinow

Hinow has also made it to our list due to its ability to provide you a good experience when it comes to have fun with random video chats. The video quality is pretty high so you can enjoy HD video calling.
11. Live Video Chat

Our last recommendation for the best video chat app is Live Video Chat app. It's pretty fun and we leave it up to you to explore it and find new people! Have fun.
Conclusion:

So these are the best 11 random video chat for iOS and android in our opinion. Just make sure the privacy policy of a video chat is good enough for a safe experience. Have fun with strangers and enjoy meeting new friends. We hope you liked our article and found something useful for yourself. Thank you for visiting the page.