We all know the importance of TV apps in our life. The days when we used to sit in front of the TV and fight with our siblings/spouses/parents for remote are gone. Nowadays, just download a free TV app and watch anything you want, from movies to your favorite shows.
But there are people who still hesitate to download a Free TV app due to many reasons, some think there aren't enough content on tv apps, other thinks free TV app is just a myth. So if you think any one of the above statements is true then you are wrong! Because Free TV apps provide a wide range of content and sometimes more than a TV itself. Although just one platform may not be enough, but whatever you are looking for will definitely there in one of the leading free TV apps!
You can easily find tv shows as well as movies apart from what you watch on tv! All you need is to download the best Free TV App for iPhone and Android. But how to choose the best one? Well that's why we are here! We have picked up the best free tv apps for you on which you can always rely on.
Best Free TV Apps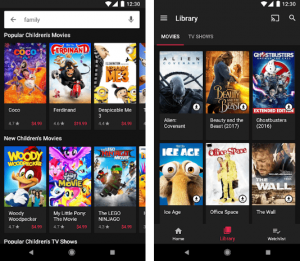 1. Tubi Free Movies and TV Shows Android / Iphone

When it comes to the best free tv app for android, Tubi TV never fails to impress us. We are putting this on our first soot because this one is absolutely free and provided great content to watch. Due to this reason, the app has over 50 million downloads and they have all given it some good responses which results in a high rating of 4.6.

This one is a 100% legal unlimited streaming platform which won't require any subscription. The best thing about the app is its wide range of content where there is something of everyone. You will find a good collection of movies from each genre, drama, action, horror, comedy, and so on. Kids will also find something for them, as there are many kids shows as well as anime available on the platform.

The app features HD quality videos and TV shows so you won't have to worry about that. There will be ads but fewer than what you watch on regular TV. New movies are frequently added along with the TV shows as soon as they are out. It's easy to navigate and you can easily find what you are looking for. Overall it's a must-try free TV app for Android and iPhone.
Hotstar is also a leading Free TV app for iPhone and Android. Here you will find the biggest collection of Indian TV shows along with a few Hollywood shows as well. The app has become one of the most downloaded app in India with over 100 million downloads.

The app provides a good collection of TV stuff, whether it's movies, TV shows, news, and even sports. Although the app requires a subscription but it also features some tv shows and movies to watch for free. And even it's free collection is good enough to make the app our 2nd favorite on our list.

You can easily find a number of other Indian language programs. Overall it's a pretty good app to watch free tv on your phone so it's reliable!
YuppTV also makes a good Free TV app for Android that you can watch when you are bored. Here the app has a number of Indian channels which features all of their content. All the famous Indian channels like Sony, Colors, etc are present. The app also features a subscription where you can watch more content then what you can watch on the free version.

This one is also an overall package where you can find a number of great content for everyone in the house. Here you will find, movies, tv shows, news, kids shows, and content in other Indian languages too. Although people have complained about the ads but it's still better than TV ads! It's a decent app to explore the range of content and keep yourself entertained for free.
IMDb is another trustable free TV app for Android and iOS. The app has got over 100 million downloads worldwide and they have loved it which resulted in its 4.6 rating on Google Play Store.

This Free TV app provides many Hollywood movies and TV shows to watch for free. There are many new features too which makes it different than other free tv apps. Here you can rate what you have seen, put movies in your watchlist to watch later and you will get personalized recommendations for movies and TV shows for you to watch.

You can also see the movies which movies are currently running in your nearby theater and it will help you to buy movie tickets as well. You will find many award-winning movies on this platform with minimal ads. It's undoubtedly one of the best free tv app to rely on!
5. Google Play Movies and TV Android / Iphone

Google Play Movies and TV is another great Free TV app for android. Although it's popularly know as a platform where you can rent or buy movies. But not many people know there is a great chance to get free movies and TV shows as well.

You can get points and use them to rent a movie or TV shows. And many times google provides movies and TV shows to watch for free. So it will be a great opportunity. The quality of movies and videos in HD. And here you will find numerous movies and TV shows from all over the world. Apart from this, you can also find which apps are streaming your favorite movies!

With this TV app, your favorite movies are just a few taps away, so yeah it won't be wrong to say this app is one of the best you can find!
6. AirtelXstream

AirtelXstream would be a considerable Free TV app for android and iPhone! It is becoming one of the best platform in India where you can easily find a large number of movies and TV shows from all the popular channels of India.

It's not just famous for Indian content as you can easily find several Hollywood movies and TV shows. You can also find south Indian channels and enjoy their movies and TV shows. Some kids channels are also present. The app has over 100 million downloads which means people are liking the app!
7. Amazon Prime Video

Amazon Prime Video is a free to download TV app for Android and iPhone. As you would know it's not entirely free and requires a subscription. But the app features a great deal of content and at a very reasonable price so you can check it out. The reason we have included this one in our list is, it provides a free trial for a month. So you can try it for a month and watch your favorite movies and TV shows for free.
8. Discovery Plus

The app is for those who are a fan of discovery channel. This app provides all the shows form the discovery channel. You can watch the most popular show Man vs. Wild with Bear Grylls, apart from this food factory, Gold Rush, American Chopper are also available!
9. Jio TV

Just like AirtelXtream, this one is also a leading Free TV app in India. The app provides leading tv shows form popular channels, latest movies, documentaries, and original web series. It also a complete package where you can find something for everyone, it includes news channels and sports channels as well.
10. Vodaphone Play

Our next choice for the best Free TV app is Vodaphone Play. This one is also becoming more and more popular due to the availability of good content. You can easily a few latest movies along with good tv shows as well as web series.
11. Tata Sky Mobile

Tata Sky Mobile is also one of the best free TV app to have on your phone. To our surprise, this platform also has a good number of movies and TV shows from both Hollywood and Bollywood! It's reliable and easy to use with a good user interface.
Conclusion:

So these are our top free TV apps for iOS and Android phones. So don't wait anymore and bring tv on your phone ASAP! There are so many benefits of having a TV app on your phone such as you don't have to worry about the privacy, you don't have to wait for long ads to end and most importantly you can whatever you want and whenever you want! The best part would be you can also play these apps in your smart TVs! So that was our article about the best Free TV apps and we hope you liked it. Thank you for visiting our page.