We all experience some issues with our house appliances being broken or get damaged and the only solution is to repair them. Although it's convenient to call up a handyman or any technician who can repair whatever needs to be repaired in your houses. But there are times when it's not an option. Some times we need to act on it as soon as possible like repair a broken tap and sometimes we are not able to get a handyman for many reasons. Whatever your reason is to not get a handyman, some fixing is necessary.
So what will you do? You might think, okay I got it but as soon as you start with the thing you realize it's not as easy as it seems and that's where the problem starts. Thankfully we have got so much via growing technologies that we can do anything and it goes with being a handyman too. Although some apps provide you some tips and tricks to do it on your own and others get you a handyman whenever you want. How? Well, there are plenty of handyman tools available for Android and iOS.
But how to choose the best from the hundreds of apps that are available? That's where you need our help! We have gone through a number of handyman apps and found you the best handyman apps for Android and iOS. Let's get started with it so that you can have handyman's assistance through your phone to tackle with home issues.
Best Handyman Apps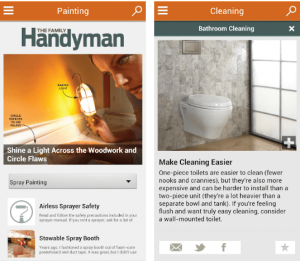 1. Family Handyman DIY Tip Genius Android

Family Handyman DIY Tip Genius is one of the best handyman app for iPhone and Android to have. This app does justice with its name as it provides many handyman tips for various kinds of house stuff. For example, you can easily find tips for washing windows, carpentry, paintings and pests, woodworking, etc. You will find pictures with a full description of what you are looking for which makes it easy to understand.

Here you will find much information related to household issues and these are genuine and trusting tips which will help you to save your time, energy, money, and other resources by fixing anything you want in the house. Here the app is very easy to use and you can easily search for any kind of tips. You can also mark the tips that you find useful for later usage. The app's assistance will help you to improve your work and make it more efficient and effective!
2. TaskRabbit Iphone

TaskRabbit should be your official handyman and it's the kinda app where you can always go-to for any kind of assistance. Whether it's house cleaning, assembling furniture, or even delivering groceries, the app got it all.

With the help of this app, you can hire a handyman whenever you want and wherever you want (not anywhere though!). The app only takes like a minute to get you a handyman who can do it all and that too very effectively. Just describe what kinda job you want and you will be provided a handyman at your doorstep. It is currently available in the UK, US and Canada!
3. Thumbtack Iphone

The thing with Thumbtack is here you can find assistance for pretty much everything. From learning paintings, planning a birthday party, crafting something to fixing your broken TV, you will get it all in one place. People are loving the app as they can find a professional assistant and specialist for pretty much everything.

Using the app is pretty simple too, here just launch the app and find the service in which you need assistance (or you can just search one) then the app will provide you 5 handyman's profile, where a short description about them with their experience and expertise will be given. You can choose the one you want the most and your job will be down before you know it.

It's that simple to use and has over 1000 kinds of services for which you can find a handyman for. This handyman app is available for both Android and iPhone to download.
BrightNest is also an informative handyman app where you will find useful tips for doing many small tasks. This is one of the best handyman apps for Android where people can find how to do fix stuff and that too without paying much.

Here you can find tips for cleaning, decorating, how to change the car filter,  unclog a showerhead and so much more. The tips are given with pictures and a full description for convenience. It has a simple interface and it's well organized, what more you want? Ho and download this handyman app for android on your smartphone!
UrbanClap is also a very reliable and trusted handyman app for iPhone and Android. With this app, you can find good electricians, plumber, massage therapists, yoga trainers, makeup artists, etc. Overall the app provides you professionals for the services you are looking for.

The app has 9 different services and you can choose any one of them and find a good service professional for that near your locality. The app is all about saving money and time of yours when it comes to finding a handyman.
6. WikiHow

Want to know how things work? Wanna know how to fix, clean or decorate something? Well, WikiHow should be your go to place for that. As its name suggests the app is just like a mini Wikipedia where you can know anything you are looking for.

The app is one of the most popular DIY apps that we have. This is because they provide reliable tutorial for many stuffs. You can find help for almost anything and the app has the best instructions and illustrations which you can easily follow and make it work. The app also features several videos which makes it easier to learn how to do stuff. You will be surprised that the app has over 15000 articles for different topics. So you will find pretty much everything. This handyman app for Android and iPhone should be your first choice if you want simple instructions for almost everything.
7. Takl

Takl is another popular handyman app where you can find good handymen for providing any kind of service you want. This America based app has 55k servicemen which will provide assistance in 79 metro areas. You can find a handyman for cleaning apartments, fixing something broken like tv or refrigerator, installing big appliances, organizing stores and so many other services.

This handyman app for iOS and Android is all you need for your last-minute emergencies where you don't have time to find a good handyman. As mentioned above, you get professional help at a decent price.
8. Home Advisor

Need someone to help you with home projects and services? Home Advisor has got you! The is also a leading handyman app which helps you to find good handymen around your area who can come and fix or help you in anything.

You don't have to make an appointment, as the app is able to get you a handyman instantly (instant booking option is available). Just like other apps on the list, you will be given handymen's profile from which you can know what he is capable of doing and also his price. The app has easy to use interface and its layout is also very amazing, so overall you can rely on this one.
9. Mr. Right

Forget the hassle of finding a right handyman when you have Mr. Right app! This handyman app for Android and iOS has become everyone's favorite with its intuitive interface and reliable services. As its name suggests, the app will help you find the right handyman for the service you are looking for in your locality. Just open the app and turn on the GPS.

Now the app provides handyman for over 300 services. So just pick the services on which you need help and rest will be done by the app. This handyman app covers varies cities in India which makes it one of the best handyman app in India.
10. Handyman

The says it all, after all that's what you want right? But unlike other apps, it don't provide you with an actual handyman instead it helps you to do the work. It will help to measure things, and know how to do stuff. It's for the people who want to have fun.
11. Helpr

Helpr is another great handyman app to have on your smartphone. Because it make sure you get a handyman whenever you want and whatever you want it for. It offers many services which help you to get things done in your way.
Conclusion:

Here our list of best handyman apps ends. We all need handyman's assistance every now and then. And these apps are a big help to do that. We hope you liked our article, so thank you for visiting our page!