Into sports? Well then you must know the importance of timers right? Although just like everything else, our phones are equipped with an inbuilt timer too! But when it comes to intense exercises and fitness workout, you may need something more than a stopwatch! And that's why you need interval timers.
Interval timers help you to do an organized workout and easily manage it with the help of their ability to use the timers as per your preferences. Although if you go and search for interval timer apps you will find plenty of apps. And choosing one of them for yourself can be overwhelming and that's why we have come to save you from the trouble.
We checked out a number of different interval timer apps for Android and apps and found you the 11 best interval timer apps for iOS and Android. Let's take a look at our list so that you can find a perfect interval timer app for yourself.
Best Interval Timer Apps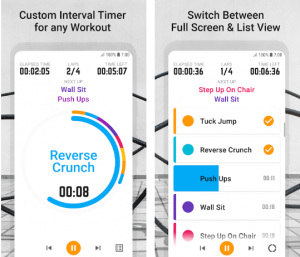 1. Interval Timer Android

Our first pick for best interval timer app for Android and iPhone is Interval Timer! More than a million people are currently using the app and they are also praising it which results in its high rating of 4.8. What made it our first choice for the list is it's easy to use interface and simple options to set the timer.

The app is suitable for almost all kinds of training and it was designed to help in organized training and intense gym sessions. You can take its help as a boxing round timer, circuit training, HIIT training, etc.

The app has many customization settings for high and low-intensity training, adjustable rest intervals, support for multitasking, and it also features a kick screen mode. Furthermore, you can also play music from the playlist you have selected. You will be also able to share workouts on Facebook or Twitter. You can also save your presets to quickly switch between different activities. Overall it's a nice interval timer app to have on your phone.
2. Exercise Timer Android

Exercise Timer is also a great app to rely on when you need an interval timer for your intense workout sessions. The app has been used by more than a million people globally for several fitness workouts and it got a 4.6 rating too.

The app is highly customizable and it will help you in different kinds of work out sessions like HIIT Training, Tabata and even Yoga. And you can customize the app for workouts, warm-up, group exercise, interval Period etc. People have loved the options provided by this app, such as you can easily set your rest intervals and intervals between two different exercises and then start the next one.

It also works as a stopwatch for emom workouts, it works great as a plank timer too. It also features an intuitive interface and easy to use customizable options and that's why it's one of the best interval timer app for android.
3. Tabata Timer: interval timer Workout Timer HIIT Android / Iphone

Tabata Timer is also a popular interval timer for Android that you need to know about. Millions of people around the globe are using the app for their Tabata Training and left their positive reviews. The app has got a 4.9 rating on google play store which means it is reliable.

It's perfect for those who have never used an interval timer before as it features a beginner-friendly interface. And it also works best for high-intensity workouts. And its features will definitely impress you with its feature-rich experience. There are several customizable features like you can adjust the screen colors, add your own sounds and music too and you can also add images too.

It works in the background as well.  You can also write descriptions about the workout and add intervals as per your preferences. Overall you will find many great features which makes it one of the best interval timer for Android!
4. Tabata Interval HIIT Timer Android

This one also is an amazing interval timer and you would be happy to use it as well. It's very lightweight and provides you some really great experience while you do some intense workout. You can also create a timer with different phases such as warm-ups, workouts, pause, rest time, cool-down phase and many more.

The app also works as a workout planner where you can easily plan your workout and it will also give you real-time notifications for lock screen. You can create your own timer and use it again and again. Lastly, the app also provides a great user experience as well. So overall it's a great app to trust when it comes to your strict workout session.
5. Seconds – Interval Timer For HIIT and Tabata Android / Iphone

Seconds is one of the leading interval timer app and it is one of the most popular app too. The app features easy settings and customizable features which makes it easy to have an organized workout plan.

The app features a bigger screen which makes it easy to know the time. It also has a color-coded display which makes it easy to read from a longer distance. The app has templates for Tabata, HIIT and circuit training. And you can also create a custom template with intervals along with a compound editor where you can combine many interval timers into one. It also speaker your interval names which makes it easy to follow your workout session. Bell and beep alerts are also available!

Lastly, you can also add music to enjoy your workout sessions. You can also share your timer with your friends and followers.
6. HIIT Interval Training Timer Android

If you are looking for the best interval timer for HIIT Training then this one might be your top choice. This simple and efficient workout interval timer will always be your best companion through your intense exercise sessions.

You can easily load your presets which have created before. Saving your presets is also an option. It also features 3 seconds warning clicks. Step counter also included in the training screen. It's easy to use and it has all the necessary features which would help you in your High-Intensity Interval Training so yeah, you should try this one!!
7. Interval Timer – HIIT Training Android

Internal Timer has also made it to our list of best interval timer for Android because of its user-friendly experience. Hundreds of thousands of people are currently using the app and they find it very helpful in their workout sessions.

The app can be customized with your high and low-intensity workouts along with the rest period as you want. Its customizable features include a number of sets, countdown time, set time, low interval time, high interval time, auto-lock and so on. So overall it's all you need for your HIIT workouts!
8. Impetus Interval Timer Android

Impetus Interval Timer is also making its mark in the list of best interval timer apps for Android. For starters, it's an advance interval timer which has everything you need during your intense workout sessions. You can also use it for Tabata training, Crossfit, running, Breath and hold the training, martial arts, yoga etc.

You can build your training plans and get your training fast. You can also use your presets over and over again which saves your trouble for making new presets each time you use the app. You can also customize your cues and get help from its audio alerts.
9. Interval Timer- Fitness Timer for Tabata HIIT Gym Android

This one is also a popular as well as a reliable app for interval timer. And the best part is, it suits for every kind of exercise from HIIT to yoga! And it also goes perfectly for cardio workouts. The next best thing about the app is it's simple yet beautiful design and intuitive interface. People have liked the app and you can also try to out.
10. Interval Timer HIIT Training Android

Another interval timer with the same name, but a little bit different in functions. What you will like the most about this app is its big screen which makes it easy to read the timer from a distance so you can completely follow up your intervals and time periods. You can use the timer for muscle training and even for study hours as well.
11. Boxing Round Interval Timer Android

Last but not the least, Boxing Round Interval Timer is also a great option for an interval timer app for Android. Just as its name suggests the app is perfect for boxing training and other intense exercises. It kinda looks like a stopwatch.
Conclusion:

So these are the best interval timer apps for Android and iPhone that you needed to know about! We have listed them in our list on the basis of their popularity and effective working and their good ratings. We hope you found the article helpful. So download your favorite interval timer app now and thank us later!