Project management can be a big task to do and it doesn't matter what kind of project management it is, be it a school project or a professional project. You need some assistance in one way or another so that you can easily manage your project. And that's when we need the help of project management apps.
The project management apps help you to easily schedule your projects and organize them. It will also help you to assign responsibilities and work to the right persons. It will also help you to be a better leader. Overall there are numerous things which would help you to easily manage your projects.
Since there are many project managers apps available on the play store and apple store you may feel overwhelmed by the choices. And that's why we are here to save you from the trouble of going through all the project management apps and finding the best one. We have done that job for you and chose the best project management apps for iOS and Android.
Project Management Apps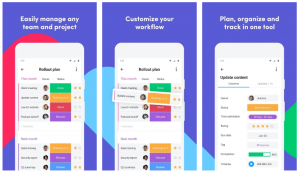 Our first pick for the best project management app for android and iOS is Monday.com. This one has been widely used by professionals as well as students which helps them with their ongoing projects and assists them to make their management easy and effective. This app will help you with the calendar, reporting, time tracking, planning, etc.

This app is also loved by the leaders as it helps them to easily navigate with their teams and help them to understand and explain the need for the projects in a better way. It helps everyone to keep in loop in real-time updates as well as help you to contact your team members. It will also help you to track the success of the project and see the bigger picture with all the data in one place.

Apart from this, the app is highly productive as you can easily see the progress in multiple views, there are also filters so you can see what's more important, you can keep track of which team member is working on what. You can also easily prioritize your customs and edit the templates. There is a lap drag and drop mechanism for more ease and this is what makes it more intuitive and user friendly. Overall this is one of the best project management app to trust.

You will get a free trial but you might have to use the pro version for more advanced features of the app.
2. Smartsheet: project, team, task and work management Android / iPhone

Smartsheet is another great project management app that you need to know about. This app is currently used by hundreds of thousands of people and some of them have given positive responses too. The app has been appreciated by leaders and project members as well because of its ability to keep everyone on board and let you share your ideas and stuff with your teammates.

You can use the sheets to oversee the tasks and automate workflow, plan projects, etc. All this helps you to increase productivity. Furthermore, you can easily work with other apps as well. The bottom line is, it's getting quite popular so you can try it out once and see how it works for you and your project management.
3. Wrike – Remote Project Management Android / iPhone

Wrike is one of the best free project management app that you will find on the Google Play Store. Even though the app is free you will find it extremely professional as well as easy to operate. There are a number of things that you can do such as quickly accessing folders and projects. You can also easily assign and schedule tasks.

There is also the feature of the inbox as well as notifications which you can check and see if there is my update for the project from your leader or teammates. Users can also attach files and images within the app to navigate more easily to the team members or just for planning the whole project. You can also track the time spent on the project and see the progress as well. The app also features many customizable features so you can use it as per your preferences.
4. Task & Project Management – MeisterTask Android / iPhone

MeisterTask is our next choice for our list of the best project management apps. And you will definitely find it useful and easy to use. The free basic plan of this project management app includes creating an unlimited task and inviting others to collaborate. Dashboard where you can get quick access to all your tasks in one place. Notifications and real-time communication across all devices. The activity list and time recording are also available.

There is also a pro plan as well as a business plan where you can use the features like statistics and reports and custom fields and the making of templates and dashboards as per your requirements. Overall the app definitely worth a chance so take a look at this one.
This is quite a different project management app. This one actually tells you how to manage a project instead of assisting you. People who had no experience of managing a project have downloaded this app and loved it as it provides a strong knowledge of project management.

As you will open the app you will find a number of topics such as what is a project, how to manage a project etc. And when you click on them you will get plenty of information on the subject. Son of you are new to all this and looking for some guidance then this is indeed the best project management app to download.
Just as its name suggests, Project scheduling is a free project management app for android that you will find. There are many useful features present such as exporting the PDF Gantt diagrams, task lists, and resource and work management stuff. You can also export the excel sheets and synchronize project tasks with the device calendar.

There is also a notification system that will help you to notify for particular tasks and work that you have assigned. Users also get a device backup. It supports many formats and you can also find different plugins as well. Overall this is a decent app that you should try and we hope you will love this.
Management 365 is also a great project management app for android. This app helps the users to communicate with their teams and further plan their projects with ease. You can add members easily and make a channel as well where you can discuss your projects and issue guidelines with the whole team.

Furthermore, the app comes with 3 different modules that project, in this, you can create projects, tasks, assign the tasks, add work hours, displaying the Gantt charts, and displaying the report. The next one is a communicator where you can create a channel and discuss the project and the last one is reports, where you can display vital information about the project and track the progress as well. We would like to tell you that the app has received many positive reviews so it becomes very important that you visit the app and try it once.
If you are keener on tracking the progress of your project then we have found you the best project management app which is made to suit the requirements for people like you who constantly try to track their progress.

You can include multiple projects at the same time and fill their details such as how much work is done and what is left. And the app will provide you precise statics to give you data in percentage form so you have an idea how much your project has progressed. There is also a graph page and you can also export the task list in text.
Zoho is another popular as well as professional project management app which is widely used nowadays and everyone kinda loved it for its number of features and amazing project management tools. The first thing you will need to do is to download the app and sign up your account and from there you can easily use the app and its features.

Here you can take participate in an ongoing discussion about the projects and also comments on the tasks and the progress of a project. People just loved the app as they can find all their project related information in one place. And as we have said earlier users will find a lot of project management tools and customization features so you can choose from a number of templates and add the little customized information.
With 10 million downloads, Trello is definitely among the most used project management app for android that you can find. The reason behind its popularity is its ease of managing stuff and organizing the projects from anywhere in the world. People have said that this app has helped them to relieve their mental stress about the project and it is able to help the users with their projects in multiple ways.

All you have to do is yo turn on the notification and you will be always aware of what's happening with your projects and what needs to be done. The most amazing thing about this project management app is, it works offline too. You can also add power-ups such as your calendar, checklists, labels, and the due dates. Overall you will definitely find it appealing and this will help you to come up with a great project.
As its name suggests this one is definitely made for professional use and that's why PMP is considered as one of the best project management apps. The app is capable of handling your projects in a number of ways. This app was meant for beginners in the professional field and boost their confidence in their own projects so that they can do their best. So if you are looking for a professional app then try this one.
If you are one of those people who are creative and like to plan their projects in a creative way, that is adding a lot of charts, diagrams, and statics then this one is for you. You can create unlimited categories, tasks, and projects. And that too from any level. Lastly, you will be able to see the progress of your project as well.
Beesbusy is another leading project management app that you will love to use. Create, plan, design and work hard on your project with the best project management app for Android. You can easily view your own as well as another schedule regarding the project.
PoofHub is also a highly rated project management app that is said to be very useful for people. You will find all the necessary features which you would love to work with. Overall this is a must-try app!
Agile is also a trustworthy project management app that you will love. Here you will find all the essential tools that you need to plan your project and this will also help in estimating and completing the projects. This one is definitely a high-quality app that you should have on your phone.
Conclusion

So these are the best project management apps in our opinion. We have chosen these apps on the basis of there downloads, ratings, and reviews. We hope you liked the article for the best project management apps for Android and iOS and we hope you have found the perfect match. So thank you for visiting our page and keep coming for more such articles.