Ever since GST was imposed by the government of India, people were confused a bit and they have complained about how complicated it is to understand or even calculate. Some of us may or may not have completely understood the process of GST billing but the sector that is most affected is the corporate or business sector. As they have to calculate the GST in order to get things done in a specific budget!
It's not only takes too much time but it, not an easy calculation either which results in lots of miss calculations in final billings. And that's where GST billing software comes in handy.
Luckily we have a number of GST billing software but are they all good and worth your time? I guess not and that's why we have picked the top 11 GST billing software on which you can rely on!
Best GST Billing Software In India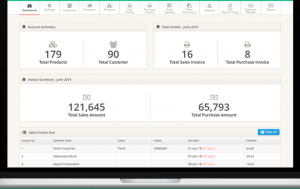 1. Vyapar

If you are a small or medium business owner then Vyapar is a perfect GST billing software for you. The software comes with all the basic tool and it has been considered as one of the best free GST billing software to download.

The best thing is this software comes with a number of features like aiding the invoices and billings. It is a smart software that also takes care of the automatic tax calculations, financial reporting and it also helps managing POS machines.

Another area that needs a little bit more attention is for filing for GST returns and managing client data and Vyapar helps with all of them too. Some of its additional features include managing the budget, customer management, barcode integration, expense tracking, etc!

The software is also available as a mobile app so people can directly download the app on their phones. Although the app would require a subscription if you wanna use its premium features!
2. ClearTax

ClearTax definitely deserves the second spot in our best GST billing software list. The best features of ClearTax is that it helps businessmen to create customize invoices with their respective business logo! ClearTax is a free GST billing software so you won't have to spend a fortune in order to get correct GST calculations during billings.

The software is made in such a way that it complain perfectly with the new GST regulations imposed by the Indian government! The software includes many great features such as audit trail, dashboard, MIS report, VAT/CST/GST reports, emails, and SMS notifications and so on!

Although the standard software with basic features is free to use but if you still looking for its advanced features such as balance sheet management, then you may like to buy its subscription!
3. Marg ERP GST Pro

Third, in our list of top GST billing software is none other than Marg ERP GST Pro software. It does matter if you are running your individual business or franchise you would like to have Marg because of its impressive tools that will satisfy the needs of both!

The best thing about this GST billing software 2021 is the fact that it provides different modules for different sectors, it doesn't matter if you are looking for a GST software for retail, ERP, manufacturing, distribution, payroll or even accounting, if you have Marg then you are good to go!

Some of its unique features include purchase order management, quotations, and estimate, expense management, multi-user login, payment user gateway integration, recording invoices and many more! The software also works within multi-currency so if you have a business that deals with foreign currency then it might be your best option!
4. Tally.ERP 9

Tally.ERP 9 is also leading GST billing software for PC where you can handle all of your billings and GST calculation all withing a single platform. The thing about this software is it is suitable for both small-medium enterprises as well as big enterprises.

The software is best known to handle the payrolls, banking, inventory, accounting, and other GST related stuff in an easy and seamless manner! Email integration is available in this software so that you can always be updated about your finances!

The software does come with a free version that has all the basic features but if you still want more advanced features then you might wanna upgrade it to its silver edition that has accounting management tools, statuary capabilities, tally banking and so on.
5. Go GST bill

Go GST bill definitely desserts a place in our top GST billing software list because of its amazing and easy to use features which are required to calculate the GST billings by any business person!

Go GST Bill has a receipt generation tool and it also helps to handle all the loss and profit statements of your business. Overall it does have all the basic features with make it one of the best GST billing software free to download. Although it's advanced version does require you to buy it's a premium subscription!
6. Saral GST

Saral GST is one of the best GST billing software for retails shops or small and medium enterprises. The software helps businessmen to calculate GST, fill return GST forms, and tax calculations.

The software also supports e-payment, and it's some of the best features include data security and accuracy, online GST portal, etc. It comes with a limited period free trial after that you will have to buy its a subscription!
7. Busy GST

Busy GST software is all you need when you are looking for a software that makes your GST calculations and billings easy and accurate. The software is also known for compatible accounting software and POS machine which makes your transactions efficient!
8. Sleek Bill

Sleek Bill is also a popular GST billing software and the best thing about this one is you can easily use it offline too. The software has many unique features such as, it handles payments, will help you in billings and so on! Overall it is a best-suited software for SMEs.
9. Hitech Billsoft

Hitech Billsoft is preferred for all types of business so it doesn't matter if you have a small business or enterprise, Hitech Billsoft won't disappoint you with its tools which will help you to easily calculate the billings! And it too comes with an offline service so you can perform the task even without the internet!
10. Gen-GST

If you are looking for a GST billing software that can look after managing and generating bills and invoices, filing reports, managing ledgers and other stuff like this then Gen-GST is the best choice for you! Its free GST billing software is available with basic features but you can also buy it by getting its annual subscription!
11. Zoho invoice

Last but not the least, we have bought you Zoho Invoice software which is also known as a top GST billing software for PC. The software has many advanced features and all the basic features required for GST billing!
Conclusion

So these are our top picks for the best GST billing software. So get these software now and say bye-bye to all difficult calculations and mistakes when it comes to GST billing! We hope you have liked our article and find it helpful!