We are surrounded by technology and it never stops wondering us. The latest thing is Inverter bulbs! Yes, they have become a thing lately. So if you live in an area where the power cut is a regular thing than these inverter LED Bulbs would be no less than a treat for you.
The bulbs work just as normal with only one exception that is, they will continue to light up even when the power is cut! Buy these bulbs and you will never go dark!
So if any electric line isn't connected to your inverter then you can easily place these bulbs there instead of spending money on mechanics and equipment!
In this article, we have picked the top 10 inverters LED bulbs which can trust when the power goes out!
Best Inverter Led Bulb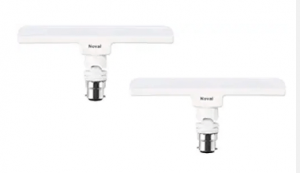 1. Phillips inverter bulb 9 Watt rechargeable emergency LED bulb

Phillips is one of the best brands we have, so it's obvious for us to put the Phillips inverter 9 watt LED bulb in our best inverter LED bulb list! The best thing is the bulb will automatically charge if the switch is left 'ON' whoever the electricity is available. The bulb has a battery capacity of 2200 mAh and it takes about 8 to 10 hours to charge.

So whoever your electricity is out and you are experiencing complete blackout the switch will start operating on its internal battery and you can have access to light. The bulb works just like the regular bulb will work.

Other reasons to buy this inverter LED bulb is its easy installation and its durability (this will last for years!). The bulb is more energy saver too so your monthly electricity bill is easy on you too. The light is really comfortable which will enhance your productivity and provide you a cozy atmosphere at home. People have also loved its flicker-free lightning which prevents any kind of discomfort to your eyes. Overall this inverter LED bulb is worth buying!
2. Halonix Inverter LED bulb

Halonix is also one of the top inverter LED bulbs we have. If you want a low budget yet the best inverter bulb then Halonix is what you need. The bulb is designed for universal fit so you can easily install it and it will fit the regular socket and you will be good to go. The bulb will take 8 to 10 hours to charge and after that, it will automatically stop charging and save the battery from overcharging.

The bulb is highly energy efficient which means it will not only saves energy but will also save the environment! The bulb will be automatically light up when the power goes out and it can last for 4 hours straight. The bulb will provide you with bright light without glaring or flashing. Its battery capacity is 2600 mAh and its one best budget-friendly inverter LED bulb we have!
3. Wipro Garnett Emergency LED Bulb 9W 6500k

Wipro is our next pick for our top inverter LED bulb list. This is too comes at an affordable price and you can easily buy it online. The bulb comes at a price of regular LED bulb and that's why we have included in our list. The bulb comes with a built-in rechargeable battery of 2200 mAh which will charge it with the current model and it also comes with the overcharging protective features that make sure it won't damage from overcharging. This one also takes 8 to 10 hours of charging and lasts for about 4 hours at dim mode (50%). So say goodbyes to darkness when powerful happens in your area by bringing this amazing LED bulb.
4. Syska SSK-EMB-07-01-B22 7-Watt Rechargeable Emergency bulb

Syska is a leading brand and also one of the most trusted brand and that's why you have to believe us when we say, this one is indeed one of the best inverters LED bulbs you can find. This one too looks just like a normal bulb and it can fit in a regular socket too. The bulb will automatically charge when it is in its current mode. And if any powercut happens the bulb will last for 3.5 hours so that you can do regular activities even in a complete blackout. It has a 2000 mAh battery backup.

The light has a wide beam angle so your whole room will light up with its brightness. The bulb is completely made for emergency use it can also work as a normal bulb too. So you can either use it at home and office or take it with yourself at camping. It's charging time is too 8 to 10 hours.
5. iMee 9W Rechargeable LED bulb

iMee is another best company of bulbs which was established in 1945 and people are trusting it since then. The company has also made a rechargeable bulb which will help you during the blackouts. The features are basic with this one too, it can fit in regular socket and it will take about 8 to 10 hours to charge. The battery will last up to 4 hours and you can do your work without interruption when the power cut happens. The bulb is 80% more energy efficient and it on your eyes too.
6. ASGTRADE Polycarbonate Inverter LED bulb

ASGTRADE will be our next pick for our top inverter LED bulbs for the same reason. This one too can be easily git in regular B22 socket and it will take about 8 to 10 hours (standard time) to charge. The bulb features 2600 mAh battery which will give you continue backup of 4 hours. The bulb has the auto-charge ability so this is going to be just fine.
7. Murphy Inverter LED bulb

Murphy is an energy-saving bulb that saves up to 85% energy while you use it. The bulb will charge for the standard charging time which is 8 to 10 hours and it will give you a battery backup of 4 hours as well!
8. C&S inverter bulbs

C&S is another reputed company which is now producing one of the best inverters LED bulb. It has 2200 mAh battery capacity which will last for four hours. It will work for 500 cycles of charging which means its durable.
9. Urban king 9W rechargeable LED bulb

Urban king is one of the cheapest inverter LED bulbs that you can find. The best part is its recharging time is only for 4 to 6 hours while its battery will last for about 2-3 hours. It features cool white light. This could be your choice if you are looking for a cheaper yet effective LED inverter bulb.
10. RK Blumoon

Our last pick is RK Blumoom which is quite impressive too. This one also has standard features as it takes 8 – 10 hours of charging and lasts for 4 hours! You can easily get it online and it will too last for years!
Conclusion

So these are the best inverter LED bulbs that you can easily buy online or from stores. These bulbs are most bought and they have excellent features that you can look for in an inverter LED bulb! We hope you have found this article helpful, thank you for visiting our page.