Searching for the best Air Conditioner? Well, we don't blame you, with our weather constantly turning to extreme everyone needs an air conditioner in there home. But extreme weather conditions isn't the only problem we are facing, we all know what the cool breeze of an air conditioner will bring- the electricity bill!
People think twice before buying the new ac because of the electricity bill they are gonna throw at us. But we have a solution for that too, and this is an inverter AC!
An inverter AC is different from that of normal AC when it comes to consuming power. An inverter AC will adapt the speed depending upon the heat load in the room which means it will adjust its speed according to the requirements. By adjusting the speed of the compressor it will automatically control the flow of refrigerant flow rate which eventually means they will consume less power and energy.
Unlike the regular ac, as you would turn it off when the room gets chilly after a while it will feel a little warmer than before, the inverter ac will be constant with their temperature and you won't even realize if the compressor is running or not.
All these are reasons are enough to make people wanna buy an inverter Air Conditioner rather than the regular one. But now the dilemma would be which one is the best inverter ac? Which inverter ac is worthy of our money and how much it will affect our budget? It's natural to think about these things if you are going to buy a new AC!
And that's why we are here to help you out and make you decide which inverter AC is best and which one you should buy. So we have gone through a number of Inverter AC that is available in the market and narrowed it down to the top 10 inverter AC! So take a good look at the list of our and find the best inverter AC to bring home!
Is inverter AC worth buying?
We have discussed how energy efficient and less power consuming inverter ACs are, but if you are still in a dilemma of whether you should buy it not and then we have a few points for you.
They consume around 30% less power which would mean they will be easy on your monthly bill while with regular AC you will have to spend more.

People think inverter AC costs way more than regular AC but that's not always true. In reality, the difference is just about a few thousand ( 2 to 5k ) which is totally fine if you look at the bigger picture. For example, in exchange for a few thousand, you are gonna get less power consuming AC and you gonna save way more through the electricity bills! So in the long run, inverter ACs are worth buying!

They are suitable for longer hours; which would mean if you need your easy for a longer time then it becomes a necessity that you buy an inverter AC rather than the regular one.
Which is the best inverter AC brand?
There are a number of leading brands available in the market which make inverter AC but still, there are few brands that need our special attention. In our opinion, LG is one of the best brands for inverter AC.
In LG inverter AC, you will find a number of advances and useful features such as have micro dust protection filter, condenser and so on. Of course, you can still find such features in other AC but when it comes to LG the quality of features is supreme.
There are other brands also available which are as good as LG, they are Whirlpool, Panasonic, Hitachi, Samsung, etc! These are some of the top brands we have and you can totally rely on them for your power saving inverter AC!
Best Inverter AC In India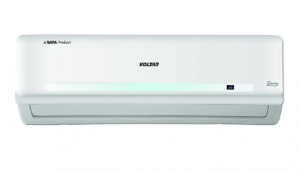 1. LG 1.5 Ton 5 Star Inverter Split AC KS-Q18YNZA

As we have mentioned, LG is one of the leading inverter AC brands and this model is one of the best 1.5-ton inverter AC! The AC features many amazing features like a dust protection filter, it's the ability to eliminate bacteria and at the same time providing you a cool and comfortable environment in your room.

This is also one of the best 5-star inverter AC which means it's performance is par excellence and you will save a high percentage of energy while using the AC. The AC features a dual inverter compressor which cools faster as well as save more energy. It's Ocean Black Protection makes the AC more durable as it protects the AC from dust, pollutants, and smoke.

With just a click you will get a comfortably cooler environment due go it's Himalayan cool technology! You will be surprised to know that this one saves as much as 57% more energy with this inverter AC. It will automatically adjust itself for providing you optimum cooling. Overall this one should be on the top of your list when you wanna check out the Inverter AC to buy.
2. Hitachi 1.5 ton 5 Star inverter split AC- KASHIKOI 5 100X RSB518HDEA

When it comes to AC we just can't complete our list without mentioning Hitachi! This Japan-based company has always impressed us with their advanced technology and they haven't failed us with their best inverter AC either. It is best known for its high-speed compressor which automatically adjusts its performance level according to the heat load in the room.

This one is also popular for its low noise making technology that makes its lowest noise as well as it also features the highest energy-saving components. Its copper consensus coil make sure you get a cool room as soon as you turn it on. And the other notable thing is, the copper coil is low maintenance.

Its expandable angle deflector will make sure you get the highest quality output and every corner of the room will be equally cool. The AC also has an On/Off times which makes sure you don't have to compromise your sleep as well as get the optimum temperature. The AC won't need a stabilizer as it works within the range voltage fluctuations. The last and most important feature would be it's environment-friendly nature as it does not have any ozone depletion potential.
3. Samsung 1.5 Ton 5 Star Inverter Split AC- AR18NV5HLTRNNA

Samsung is to a reputed brand when it comes to best inverter AC! This 1.5-ton inverter AC model is definitely a more suitable option for any household. The AC features a digital inverter compressor that will maintain the optimum temperatures without you bothering about constantly turning it on and turning!

With its Fast mode, the AC will provide you instant cooling as the compressor fan will be at its maximum speed for the first 30 minutes. And later it will gradually change to the comfort cool mode so that you won't have to change its settings. Due to this 2 step cooling mode, the AC will consume way less energy than they are expected!

The AC also has automatic temperature control features which will keep your room cool and comfortable according to the requirement. It also has Durafin technology which has higher corrosion resistance so that your heat exchanger will become more durable. You don't need to worry about short circuits, voltage surges, or severe voltage drop because it has triple protection plus technology that eliminates the needs of a stabilizer. The AC is also suitable during the humid climate as it controls the moisture too! It's comfortable, it's convenient and it's definitely something you wanna buy!
4. Whirlpool 1 Ton 5 Star Inverter Split AC- MAGICOOL PRO 55

If you are teaching for the best 1-Ton Inverter AC then Whirpool should be your top choice. 1.5 ton AC seems too much of a big deal so we are here with the best 1-ton inverter AC that you can find. Just like above inverter AC this one too features a technology that will be responsible for keeping your room at the optimum temperature while saving energy.

It has 4×4 evaporator circuit design which will enhance the cooling capacity by rapid heat exchange. Furthermore, the AC also has sleep functions that control the temperature during the night!
5. Voltas 1.5 Ton 3 Star Inverter Split AC 183V/DZU / 183V/DZU2

Next 1.5-ton inverter AC on our list is from Voltas, which is also a popular brand. This is best known for its ability to cool the room even if the outdoor temperature is more than 50 degrees. The AC also features an advanced air purifier system that removed the harmful odors.

The copper consensus will last for a longer period of time as well as it will significantly improve the cooling. Because of its dehumidifier, the AC is also suitable for monsoons. Lastly, it can easily work under a wide range of voltage fluctuations too.
6. Blue Star 1.5 Ton 5 Star inverter split AC IC518Q-ATX

Blue Star is India's own inverter AC brand and they have been impressing us with their advance and energy-efficient technology lately! Its dual rotor inverter technology provides faster cooling as well as longer durability. The brushless motor is the reason you will have the noise-free cooling.

The AC can easily detect the indoor temperature and its compressors will automatically adjust itself as per the requirement. It also features a self-clean technology so that you can breathe in cleaner air without any dirt or molds.
7. Panasonic 1 Ton 5 Star Wi-Fi twin cool inverter Split AC

The next best inverter AC 1 ton is from Panasonic, a company that has been accepted worldwide. The AC has a dry mode which is best suitable during the rainy season and it acts as a dehumidifier as well.

Its 100% copper tubing ensures fast heat transfer as well as longer life and resistance to corrosion. The AC has twin cool inverter that features two rotors in the compressor which effectively balance the load while consuming less power.
8. Daikin 1 ton 5-star inverter split AC

Daikin 1 Ton 5 Star AC features smooth rotation which decreases friction and vibration as well as prevents the leakage of the refrigerator during the compression. Its echo mode or power-saving mode enables an efficient operation while consuming less power.

You don't need to worry about extreme heat because of the AC quickly chills the room as soon as you turn it on. The next best thing would be its low operation features that quietly keep the room cool without making much noise. As the AC can work under voltage fluctuations you won't need the stabilizer either.
9. Carrier 1.5 Ton 3 Star Split AC

Carrier is too a reputed brand that has never failed us with their amazing power-saving technology. First of all, you would be impressed by its P.M 2.5 filter which will eliminate all the dust, pollen, and pollutant particle so you can breathe in fresh and clean air. It is also able to trap the visible dust impurities.

You will also find it's sleep mode helpful as it will automatically adjust the temperature while keeping it quite. The AC features many amazing and advance features that can surely make you wanna take it home!
10. Sanyo 1.5 Ton 5 Star inverter split AC

Sanyo is another Japan-based company that is popular for their energy-efficient invert ACs too. The AC features a dual cool technology that provides you cool temperatures using much lower power than other regular AC!

The is AC also has the P.M 2.5 filter so that you don't have to worry about pollutants getting anywhere near you no matter what is the outer environment. Furthermore, the AC also has Copper Condensor which ensures it's longevity as well as corrosion resistance ability! Lastly, the AC is environment-friendly too as it uses R32 refrigerant!
Conclusion

So these are the best inverter AC we have and you can easily go for any one of them and they won't disappoint you.

I guess we have brought you everything you need to know about the inverter air conditioners from the best brands to why they are worth buying.

These inverter air conditioners have the best technology that will save you from hefty electricity bills and you can always enjoy their cooling without worrying about electricity consumption.

We have included different sizes of inverter AC so that you can easily choose the one that suits your needs the best. We hope you liked our article and find it helpful. Thank you for visiting our page and we hope you found the perfect inverter AC that you were looking for!