We all need our computers to run faster and work faster and for that we need some external software to make our computer run at a comparatively faster speed. And that's where overclocking software comes in handy!
–
What is an overclocking software?
If we define overclocking software, we can simply say that these software are meant to fasten your computer by adjusting the power, core, voltage and even the memory settings, which will ultimately enhance the performance of processor, motherboard and RAM of your computer.
–
Can you overclock your CPU with software?
Most people don't find it believable that you can fasten up your CPU with an overclocking software but that is true. Yes you can overclock your CPU with software and we are gonna tell you which ones are the best!
Although it has seen that overclocking your CPU may not be a wise idea as they do slower the lifespan of your CPU in general. But similarly, it will fasten the processing of your CPU and you can unleash it to its maximum potential. And that's the reason why we are not fully against it, so don't go extream with overclocking and you will have what you have wanted from your computer!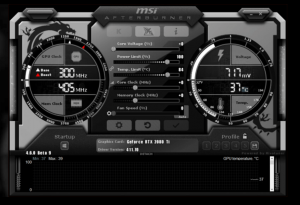 Best Overclocking Software
10. Intel GMA Booster – overclock Intel integrated graphics

Intel GMA Booster is one of the greatest overclock software for netbook users. It is also a free overclock software which you can easily download. If we talk about what this overclock software can offer you then you must know that you can fasten up to 2.4 processing powers for your computer's graphics engine.

For the people who are highly into 3D gaming, it's a must-have. It can be also useful if you have highly professional applications in your computer as it can help your performance gain. This overclock software is available for Windows, Mac and Linux!
9. ATI Tray tools

As you may have guessed from its name, ATI tray tools is designed for ATI cards only. But it might be the best choice as it has many great features. First of all the software is best known for its regular updates and small size. And the best thing is it's one of the simplest and easiest software to use.

So if you need to overclock your card, ATI Tray tool is where you go! Not just it, the app can be used to overclock per application mode!
8. Riva Tuner

If you are looking for an overclock software which has the ability to tweak systems and create profiles for a number of profiles that you run on your computer. Riva tuner is also known for its low-level hardware access for more effective profiling system.

The software supports both the ATI and Nvidia cards. You will be impressed by its unfettered control of GPU and memory and it will speed up the usual fan controls too. The software uses real-life monitoring capability which keeps an eye on your system performance.
7. MemSet

Mem Set is a great overclocking software for memory tweaking. It is a lightweight tweaking system which is capable of changing the memory timing to improve system performance to better suit your needs and application. Although it may not be the easiest overclocking software but it surely is one of the most powerful one. You will have to know system optimization to make this work effectively.
6. CPU Tweaker 2.0

CPU Tweaker 2.0 is another lightweight overclocking software which is greatly used to improve speed and the performance of the processor. Its integrated memory controller helps to enhance the memory timing on your CPU. The only drawback this overclocking software has is that it not that easy to control and get used to! So there you will have to work hard otherwise its a great choice for overclocking software. Its surely have other great features like VDimm and Vcore support that helps its users to monitor the performance!
5. AMD Ryzen Master

AMD Ryzen Master is solely designed for AMD products for performance tuning and overclocking. With this overclocking software, you can easily do personalization performance for various applications. But keep in mind that its utility only provides for four different profiles. It's status monitoring feature will give you a real-time status report of your system and its performance. Sony this one you will know whats the temperature of your CPU and clock rate of each core and many more. You will get an improved RAM performance with this one.
4. Intel Extreme Tuning Utility and desktop control center

This one is the best fit for intel processors and it has been widely use in overclocking, performance tuning and even performance monitoring of CPU. People have found it extremely useful for monitoring the performance and enhancing the capabilities of their processors. And as its name suggests it is best suited for intel products!
3. CPU-Z

CPU-Z is a free overclocking software and it is designed to profile and monitor systems. Which includes RAM, CPU, motherboard, and other components! It's relatively more easy to use and it is best known for gathering information of memory size, timing, type, etc. The software can easily monitor the core frequency, CPU temperature and load along with fan speed.
2. AMD Overdrive

AMD Overdrive is a popular and one of the best overclocking software right now. It has the ability to fine-tune your CPU memory and boost the RAM performance. It is also known for automatic overclocking and clock tuning functions. The monitoring features also great which helps you to monitor the voltage, memory timing, get you real-time memory clock performance and so on.
1. MSI Afterburner

No other overclocking software deserves the number one spot other than MSI Afterburner. It has many great features and you can do a lot of things with it. It can also be used to control the graphics!
Conclusion

So these are the best overclocking software which you will find. And they all work best and you might wanna try them out.