There is no argument on how important video editing software in 2021 is, some use it for making videos for commercial and marketing, some make short films while some just like to make videos for their social media account.
But is making videos is that easy? The answer is no but that's for video editing are for! To make your process of video editing and making easier. And you know why professionals prefer this software? Because the adds quality in the videos and it looks really great instead of what you do on your smartphones.
We have listed the best video editing software that is popular and reliable and yon can definitely trust this software with your videos. Check them out and pick the one that suits you the most.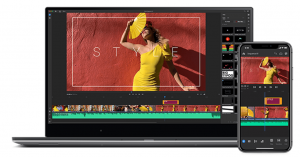 Best Video Editing Software
Adobe Premiere is the best video editing software for Windows and Mac. It is not only a reputed brand but it also assists you in making professional videos for different purposes. You will find many great features such as its ability to handle a number of video tracks and that too from various sources such as files, tapes, camera roll, and even VR!

The automatic sync is a blessing where you can shot multi-angles and end product will awesome like never before. You can also do multi-cam and 3D editing.

Free trial is available for adobe and after that you can buy its subscription.
Final cut pro X is one of the best video editing software for Mac. It can be considered for all the professional work and best suited for enthusiasts so if video making job a part of your job and you are crazy about it then you should definitely go for final cut pro.

You will be able to do the versatile editing that is powerful and make your video as of the next level. Its amazing interface will make sure you get to perform all the tasks very smoothly and efficiently.

You may find it a little expensive but trust me all of its features are worth it and you won't regret!
Another platform for video editing by adobe but its surely different from the first one we have discussed. Although you can try it for free just like its Pro CC version. It wouldn't be wrong to state this video editing software one of the best for windows and Mac.

Its unique features include video stabilization, face detection, automatic motion tracking and some more. It provides unlimited access to video tracks and you can definitely use it for professional works.

It is also a perfect choice for beginners who are looking for an easy to use video editing software for Windows and Macs. It is less complex and comes with loads of features that will make it easy to edit or make new videos. Its soundtracks are also remarkable and you would definitely love it.
Light works is also a great video editing software for Windows, Mac, and Linux as well. We are calling it one of the best because of its numerous features such as its well-designed interface that will let you do all the tasks smoothly and seamlessly. You will get many advanced tools for editing along with real-time effects.

Light works is a free video editing software that makes it easier to get the professional video editing tool without breaking the bank. You may take some time to get along with it but considering its amazing and powerful video editing tools its definitely worth it.
Cyber link is also one of the best video editing software for windows platform and the main reason behind that is it has 8k support and 360 support. It only takes seconds for wizard optimizes videos.

If you wanna quickly piece something together to publish or social media that its the best choice for you. Once you have started exploring this software you will realize how flexible and easy it is with its intuitive interface. It is fun to use and it will lead you to an amazing end result so you should definitely try out this one.
Core video studio is another platform for windows where beginners can easily edit and make videos. With a long list of fabulous features, it is becoming the top choice for a video editing software for the people who have just started. It is really easy to pick up and you will easily learn how to use this software to edit videos.

You may fascinate with its inexpensive price considering what a long list premium features. There are lots of cool effects and of course, as we mentioned earlier it's 360 degrees VR video supports are just phenomenal.
Filmora9 is another video editing software for windows and Mac. One great quality of it is its cheap subscriptions and you can find its free version too.

It has amazing features like built-in titles, effects, and filters which is just loved by YouTubers.
8. Cyberlink power director 17 ultra

As we have mentioned its another video editing software earlier it's the next version of that. It is specially developed for windows so windows users will find it really helpful.

It is a really powerful tool for video editing and is not suited for beginners. You will definitely find its price reasonable after exploring its premium features.
Pinnacle studios is also a great choice for video editing software for windows. It is a simple to use and beginner-friendly software.

You will get 1500 effects, titles, templates and with that 6 track HD video editing. You will also find lots of tools including stop motion features. This software is definitely a treat for YouTubers!
You will thank us for introducing this free video editing software for windows, mac, and Linux. It has many great features including specialized color and audio editing. It's color correction tools are exceptional and you will definitely love its powerful audio editing tools for post-production. Its really amazing how all the premium features are available and that too for free. So if you are short on money than you should definitely go for this software.
Conclusion

We have listed all the 10 best video editing software for different categories and for different platforms. You will find everything you will ever need in these software for video editing apps. So do try them out and find your perfect match and become a pro at video editing!