If you have an inverter then you will know the importance of a good battery. A good inverter battery will provide you uninterrupted power source for long hours whereas a cheap battery will definitely make you frustrated with their poor performance.
Choosing a battery for your inverter is no piece of cake, you have to look at variable factors such as battery type and size and then choose the best one. And that's where people often go wrong, most of the time people only look for one factor and compromise one quality than others. And as we said, choosing an inverter battery is not an easy job that is why we have bought up this guide which will help you choose the perfect battery for your inverter.
To help you more, we have listed out a few factors which you need to look into an inverter battery before buying it!
Battery type-
This is one perhaps the most important factor, most of the batteries in India are lead-acid ones but further, they are categorized into 3 types and they are –
Flat Plate Batteries-  if you live in an area where power cuts are not frequent and you can only have to use the inverter occasionally then Flat Plate batteries are the perfect match for you. Just keep in mind that this type is not very suitable for the areas that have frequent power cuts but it's good enough for occasional use.
Tubular batteries- Tubular batteries are best suitable for the areas that witness more frequent power cuts. And their advance built construction makes it most suitable for areas that get power cuts more often.
Sealed Lead-Acid Batteries- this battery type is the highest and critical workload. Although they are hard to find but some top companies are still making these types of batteries.
Battery size-
As we have mentioned earlier, battery size is one of the key factors and you have to choose the right battery size according to your power needs. If you are unable to know which battery size will be enough for you then you can easily calculate it by this simple formula!
Battery size = inverter VA rating× usage time (hours)/ input voltage.
It's really easy to calculate and it's really important that you calculate this so that you can make the right choice while buying the perfectly suitable inverter battery for yourself!
So these two factors should be your criteria when you go on a hunt for the inverter battery for your inverter.
Which is the best brand for an inverter battery?
People often ask this question as they always want the best brand that serves their power needs for their home or office.
Although there are a number of great inverter battery brands we have but if we have to narrow it down to the top brand then it would be Luminious!
Luminous is one of the most trusted brands we have in India. They are serving millions of families right now with their excellent service and advanced technology. The reason they are leading the market is because of the variety of batteries they have.
You need the best inverter battery for home, you will find it here. You need the inverter battery for business you will get it. You can easily find the right battery type and size with luminous and that's what makes it one of the best inverter battery brands!
Best Inverter Batteries In India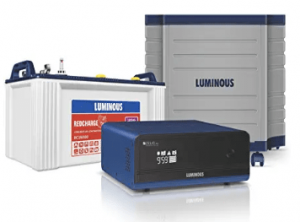 1. Luminous RC 18000 150A Tall Tubular Battery

As we have mentioned earlier, Luminous is one of the best inverter battery brands we have. The batteries are made up of alloy components which guards the lead against corrosion and this is an exclusive technology of the company as they have even registered a patent for it. Its homogeneous gain structure is void-free that ensures excellent performance.

The battery provides longer backup and fast charging which makes it an energy-efficient battery and reduced overall consumption. It's made by using the High-Pressure Die Casting machine which makes it look stronger and maintain its void-free uniform gain structure.

It's corrosion-free so it will last longer and the battery has pure components which makes it low maintenance. The battery is of tubular plate type which allows the uniform distribution of power. The battery also has a puncture resistance separators which minimize the chances of internal short circuit.

The battery is will last over 1250 cycles at an exceptional 80% depth of discharge. As we have mentioned earlier the battery is of tubular plate type which is best suited for the areas with frequent power cuts.

The battery has a capacity of 150Ah and it weighs about 60kg, it uses 12V. The fast charging and tall tubular battery is what makes it one of the best inverter batteries. The battery comes with 36 months of warranty and it's best for the home use. The battery backup is long and suitable for the areas where the power cut is frequent.
2. Amaron inverter 150Ah Tall Tubular Battery

Amaron is another best inverter battery you can find. The battery features superior quality design to prevent the acid-spewing problems and mist formation. Serrated separation is present which prevents the acid stratification. The battery needs water replacement once a year and you can easily monitor the water levels from outside.

The battery has a uniform, coarse-grained, single directional void-free structure which results in a longer shelf life. The battery also has a Panoptic spine which prevents the tube from rusting and they also reduce the lead corrosion as well. Chances of leakage is also very low.

If we talk about specifications than the battery has 150Ah capacity, it also supports fast charging, and it weighs 62 kg. The battery backup will last for 15-24 hours which is quite impressive. The battery is also suitable for solar panels which adds an extra reason to buy it. Additionally, the battery comes with 48 months of warranty.

Overall the battery has a high heat tolerance capacity which makes it suitable for extreme weather. The battery is quite impressive and you can totally go for it.
3. Exide 150Ah New Instabrite Inverter UPS battery

The next best inverter battery for home use will be Exide as it is made up of thick faure plate gride that prevents internal short circuits and it also lowers the mist formation which means water consumption will be low. A dual plate also prevents which prevents the battery to undergo the shocks and vibrations and the battery is low maintenance too.

The battery provides 3 to 5 hours of backup while withstanding the voltage fluctuations. It is also suites for the areas which witness extreme weather. It's also energy-efficient and the shelf life is longer.

This 150Ah battery is a weight around 40kg which is quite impressive too. The battery is designed using superior technology and it comes with 36 months warranty. This is good if you don't wanna spend too much money but still want a high-quality inverter battery.
4. Luminous Extra Charge EC18036 150Ah tall tubular battery

We are here with another Luminous brand inverter battery. Since we have discussed the features of the brand above, we are gonna talk about the model. The battery has 600VA along with 36 months warranty.

This is too designed for the areas that suffer for longer power cuts. The battery features inter partition connections that protect resistance and charge acceptance. The battery has a balanced plate design which improves the charging. The battery also features corrosion resistance which makes it more durable. Although it's a bit pricey but if you want the quality design you gotta spend some few extra bucks!
5. Exide 12V 26AH PowerS are sealed UPS Solar Battery

Exide batteries are popularly known for their lightweight inverter batteries which provides great power supplies. The usages of this inverter battery different from spray machines, lab equipment, solar, power packs and more.

The battery comes with a one year warranty and it's inexpensive so anyone can afford it. This one is definitely one of the best inverter batteries under 10000. If you want value for your money then it's should be your top choice.
6. Amaron 165Ah battery

Amaron 165Ah battery is one of the best inverters battery for home use. This one zero cost maintenance long tubular battery. You can easily run 2 tube lights and 3 fans with it's continuous and long power supply. Its super vent design provides spill protection. The metal and plastic body will effectively prevent the corrosion.

It also has a high heat resistant calcium grid. Other features will include rust-free, fast chargings, panoptic spine and low water consumption. The battery comes with 48 months warranty. The price may be higher but you will also get higher reserve capacity so it's a good deal to take.
7. Luminous ILTT 18048 150Ah battery

Luminous ILLT 18048 150Ah battery is also a great inverter battery that you can buy and you won't regret a single penny that you have to spend on this one. The features of this battery are quite similar to any standard luminous inverter battery.

Although it weighs about 43 kg which is quite less compared to other luminous batteries. It can too last for over 1250 cycles with 80% Depth of Discharging. Its tall tubular technology provides more battery capacity and you get an excellent charge acceptance. The backup lasts for about 4 hours.
8. Exide Inva Master Tubular Battery 150Ah/12v

If you are looking for one of the best inverter battery for office use then Exide Inva Master Tubular Battery 150Ah/12v would be a perfect choice. The battery is designed to tolerate the extreme weather that would mean it's high heat tolerant. You can easily check the state of charge g with the help of its magic eye feature so no need to unscrew it for the very same reason.

Due to its high battery capacity, the battery weighs around 40 kg. The best thing is it also comes with a 36-month warranty. So if you want the best quality features at a pocket-friendly price then this one should be your first choice.
9. Genus Invomax GTT56048 PP 150Ah tubular inverter battery for home and office

Genus is another leading brand that is popularly known for its best inverter battery for office and home. And this is one of the best models of the brand. It is designed to serve for a longer period of time and you can easily get reliable power when a power cut happens. They are heat resistant and also resistant to corrosion which makes them durable.

The battery also comes with 48 months warranty and they are designed for reliable and efficient power supply during long and frequent power cuts. So for the people who want the battery for their offices, this one is highly recommended for them.
10. Luminous RC 16000 tubular 135Ah battery

With all the standard features of a luminous battery, this one is our last pick. As you can see the battery capacity is of 135Ah which is quite less and that would mean it's perfect for occasional use. The price is also affordable, so you can take a look at it and see if it has what you need.
Conclusion

So this was our guide for the best inverter battery for home and business use you can get. These are durable, powerful, and will serve you for a longer time with their 100% potential. We have put them in our list based on their popularity, reliability and their technology and that's why you can completely trust these batteries for your use.

Inverter is anyway a useful invention but you gotta admit that a good inverter will need a good inverter battery so if you wanna choose the best one! So don't make a mistake of buying the wrong one as it will good for nothing!

We hope you find the article helpful and now you can easily buy your next inverter battery without the king twice with the help of our list of best inverter batteries.