You know what would be great to pass your time when the boredom strikes at its peak? Some of the best puzzle games! You must agree to the fact that solving puzzles is the most interesting thing and it gives our mental strength some boost. We have listed here the 10 best puzzle games in the world that you will simply love to solve! Find out which are the best puzzle games for kids and adults and try them out.
Best Puzzle Games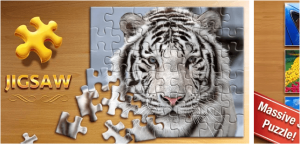 You must be aware of the classic jigsaw puzzle game well who isn't? We all have played jigsaw puzzles at least once in our lifetime. And now this classic puzzle game for Android & Iphone are available for you to play on your smartphone. The rules of this game are simple you just have to assemble the interlocking picture pieces and make it a whole picture! You will find tons of different pictures to solve and you can choose the level for yourself ( hard or easy). After solving a puzzle you will receive rewards. You can play this game offline with your friends and family and you will have a good time while solving jigsaw puzzles!
2. Roll the ball – slide puzzle Android / Iphone

It is officially the best puzzle game in the world with over 100 million downloads. People have given their positive response to the app and they sure have recommended it, all this reflects in the overall rating of 4.4 of the puzzle game! Give yourself a chance to solve these roll the ball puzzles and know if you are as smart you think you are!

You have to make a way for the ball by sliding the tiles and making the path for the ball to the goal! Make a record by earning a 3-star rating. There are no penalties or time limits meaning you can totally enjoy your own pace. You will find some help in the hints and through the bonus rewards.

Improve your agility and hand-eye combination with it's thought proving brain teasers. It surely seems simple at first but as the level increases so is it's difficulty and the next thing you know, you will be addicted to this game! Yes, it's that good.
3. Smart puzzle collection Android

If you want a puzzle game with a collection of different games that this should be your best choice. It has a really impressive collection of puzzles that you will surely enjoy. If you have space issues then you don't have to worry about it as it takes less space and gives you so much more (many puzzle games for adults and kids).

Test your brain with this amazing brain games and logic games. You don't need an internet connection to play this puzzle game as it totally works offline. Train your brain with more than 5000 levels with different games and test your logic skills. It is a brain developing puzzle game for kids as it can be even played by a 3-year-old. It is being divided on the basis of complexities and anyone in your family can play this game.
4. Kids puzzles games free Android

Introduce this puzzle game for kids and let your children learn the basic brain developing skills and increase his logic ability. It is specially made for kids and the complexity and difficulties levels will make them think more and improve their memory and concentration power.

It is an educational game that will let your kid learn about geography, basic science and much more in a fun way. This puzzle game for Android is the best choice for your kids.
5. Word search games in english Android

Yet again a classic puzzle game, you must have played a word search game before but the developers of this game have taken it to the next level. It is easy to play and you can play it for hours without getting tired or bored. It has many difficulty levels that will ensure you, you get different kinds of experience with each level.

This puzzle game is also suitable for both adults and children. This game is available in different languages including French, German, Portuguese, Italian, Polish, turkey, Spanish and of course English. This puzzle game for Android will surely increase your vocabulary.
6. Puzzle game Android

Sharpen your brain with this puzzle game for kids/adults. It is basic block game that is simple and fun to play. The basic rules of this game are, you have to drag the blogs into the boards and make the lines horizontally and vertically to clear bricks. Make sure you don't fill the board to the top else you will lose the game.
This is one of the best puzzle game out there with over 50 million downloads. It is a highly rated game too with a 4.6 rating. It is a light sized game but offers you so much more than it's size. You will get over 18000 puzzles to improve your cognitive and problem-solving skills. There are 4 different modes including daily, multiplayer, challenge and relax. Play whatever you want and you won't be disappointed. It can be played both online and offline
8. Smart – brain games & logic puzzles Android

Improve your IQ and reasoning skills with it's 28 different and amazing games. Totally these game has over 600 levels that will surely keep you engaged for a really long time and you will be thankful that we have introduced you this awesome puzzle game for adults and kids. You can play this game offline too that means it can be your best friend during long journeys or low connection areas.
9. Rural houses puzzle Android

It is a jigsaw puzzle game where you have to bring all the pieces together and make the picture of rural houses, luxury houses, and more. It is simple and easy to play. The gameplay and design are really great and the pieces are easy to move.
10. Brain it on – physics puzzles Android / Iphone

Are you into physics and love to solve the puzzles related to the physics? Well, you can thank us as we have bought you an awesome physics puzzle game for Android, it will test your brain with it's many challenging and tricky physics puzzle. They are not as easy as they seem, so use your brain to its maximum capacity to solve these puzzles.
Conclusion:

We hope you will like all these best puzzle game listed above. You can enjoy them with your friends and compare your brain skills with them or you just improve your logic and reasoning skills, either way, these are great to play and have fun!