Everyone have watch the Sumo wrestling. This ancient Japanese game is really popular these days. All the new techniques the wrestlers use to smack down the opponent is quite a delight to watch. Now this traditional Japanese game is available on your smartphone where you can have the fun playing the game in your own space. Here we have to 15 sumo wrestling games (android /iOS ) which are entertaining and fun to play.
Best Sumo Games
1. Sumo Wrestling 2019 :Live Sumotori fighting game Android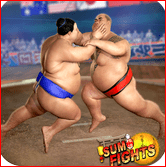 This sumo wrestling game do justice with its fancy name. If you want to compete with the world famous sumo wrestlers and become the world champion then this game is for you. Level of difficulties rises with every stage that is starting levels would be easy then that of final shutdown. Each sumo wrestler have it's unique move. Background and graphics are different for different levels. You have to come up with your moves to smack down your opponent to win the fight. Sudden moves, take advantage of your weight are some tricks to tackle with your opponent.

This sumo wrestling game is for androids. You can fight with every world famous wrestler and become world champion!

Get ready to smack down your opponent and excite the crowd with your moves.
2. Sumo Wrestling – Grand Sumo Game : Revolution Android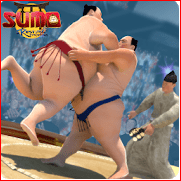 Ready to wear mawashi sumo wrestling belt like an armor and ready to defeat the opponent by choosing the heaviest and biggest sumo wrestler. By defeating every sumo wrestler you gain more power and become the strongest wrestler.

Career mode is available if you want to defeat every sumo wrestler and become world champion.

Different moves like pushes, throws, take-down, pins joint locks etc. More you fight more strength you gain. You have to be sumo athlete to win the world championship.

You can create your dream sumo wrestler by customization. There will be multiple moves and customized championship belt.

The graphics and background are really cool to play.
3. Sumo Wrestling Fighting Game 2019 Android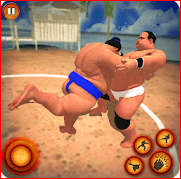 This Sumo wrestling game is highly specialized for martial arts and sumo wrestling. It will surely give you the experience of sumo wrestling fight and compete with the world's finest sumo wrestlers. This sumo wrestling game comes with revolutionary moves and tactics which will helpful in defeating the professional sumo wrestler. Do participate in world championship with Japan's most famous sumo wrestlers. Sumo wrestling will happen in a ring where you have to knockout the opponent and win the battle. As you come closer to become the world champion, you're opponent's strength increase significantly. This game is designed for martial arts and wrestling lovers.
4. Royal  Wrestling Cage : Sumo Fighting Game Android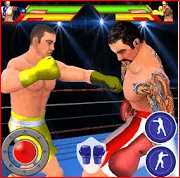 If you are a fan of street fighting and wrestling then this game is for you. Experience the ultimate showdown with famous wrestlers in a cage and fight like a hero. The opponent in this wrestling game are stronger than ever and gives you some really hard time. Fight with some very famous moves like joint locks, Takedown, clinch fighting, piledriver, Choke slam, etc. You can get help of your manager in the game, it's just to add some drama in the game. This sumo wrestling game has the intensity and excitement of a real wrestling. Easy game play and full control of game.
5. Sumo wrestling  superstars : heavyweight champions Android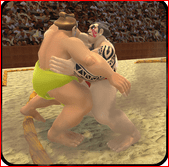 If your interests are in heavyweight championship than this sumo wrestling game will be your first choice. Not only it is exciting game but it's HD game play is a delight for you. Defeat all the world famous wrestlers from all event and become world champion. It's 3d game play is also very interesting to play. Knockout your opponent with classic sumo moves and proof yourself best in the world.  This game is designed specially for sumo lovers. Just hit the game and enjoy this game. Try not get addicted but that will be hard, once you have won a battle and your wrestler is stronger than ever.
6. Sumo Fight ! Android

Wrestling is much fun when you are playing it with a joystick and have full control over the game. Really easy to play with simple game play. Just pick your wrestler and opponent. Try smack down the opponent out of the ring and win your sumo wrestling. Celebrate your victory with higher scores. Flaunt your victory and highest scores by sharing your result.
7. Wrestling Revolution 3D ! Android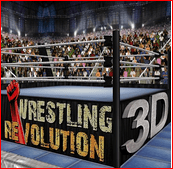 This wrestling game may not a classic sumo wrestling but it's worth playing if you are a wrestling fight lover. It features the third dimension of wrestling the business world. This game shows you the both aspects of wrestling that is the ring and behind the curtain where you deal with business and profit-loss. This wrestling game doesn't allow you to get bored of this. Becoming  world champion wasn't enough because you to deal with so many other things and choices, that's where this game show it's uniqueness. Performance of this wrestling game is very efficient and comes with cool in game controls. Give this game a try if you want more than just wrestling.
8. Sumo Party! Android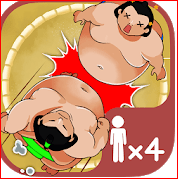 The name says it all, developers of this game have bought you an intense sumo wrestling game where it features every aspect of sumo wrestling including revolutionary moves and tactics to defeat your opponent. Either you can play alone or may want to ask your friends and family to give you a fight in this game as this game comes with both single and multi-player mode. Enjoy the game and become world champion.
9. Wild West Sumo Academy ios / android
We often wrestle with our siblings and friends at our home and then some ask as to remain quite, well don't get sad and have fun with this sumo wrestling game. Challenge your friend and have fun knocking him out without harming each other. For iOS this is the best sumo wrestling game as it comes with easy game and controls. Show some unique moves and smacke down the opponent to win the fight and become champion.You and your pals definitely have fun playing this game.
10. King of sumo pro! Iphone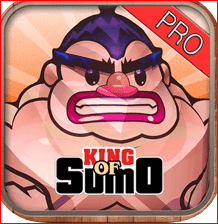 Three types of rings to keep the game fresh, comes with beautiful graphics and cool sound effects doesn't let you get bored of this game. Addition to all that funny sound effect is really entertaining.

Challenge your friends to be an opponent of yours and wrestle until one of smacked down or thrown out of the ring.

Really cool sumo wrestling game for iOS. Give try if you are a wrestling lover.
11. Kick the sumo-smash the buddy! Iphone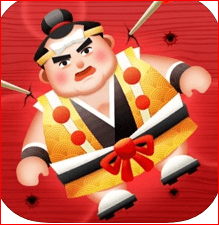 This sumo wrestling game is as interesting as it's name. Gain the first position by defeating all world famous wrestlers from all event and become world champion at sumo wrestling. Try cool tactics like joint locks, piledriver, throws and pins etc to throw the opponent out the ring. Each wrestlers comes some unique moves so you to be brilliant at your moves to defeat the other player.  difficulty level rises as you get close to finals. Game play is easy to understand with full controls.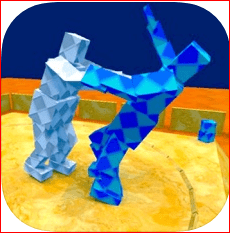 You will fall in love with this game with your first wrestling game. This sumo wrestling game really honors the ancient and traditional Japanese game of sumo wrestling. Play your dream sumo wrestling game with your favorite opponent and smack him down at your very first opportunity otherwise you will regret. This game is delightful to watch and play. Don't hesitate to challenge your friend and have fun with this game.
13. Grand sumo Official App Android / Iphone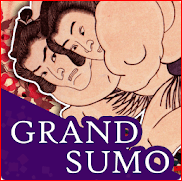 This game is perfect match for martial arts lovers and crazy about becoming a world champion sumo athlete. Just manage to throw out the opponent out of the ring and do that until you remain last wrestler. Martial arts are really cool to watch and even cooler to play, try some of your favorite moves against a world famous sumo athletes and become master in martial arts.
14. SumoRoll- Road to the Yokazuna! Android / Iphone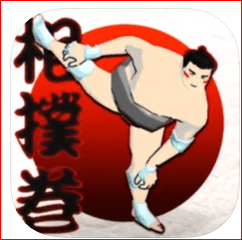 An intense sumo wrestling game which will full you the adrenaline rush thee moment you step your foot in the ring. Hustle until you throw out the opponent out of the ring and defeate him with raw emotions. Make sure your opponent touch the ground before you so that you will be called an ultimate world champion.

Give this game a try and fine your martial arts moves with every upcoming stronger than ever opponent.
15. Sumo slap! Android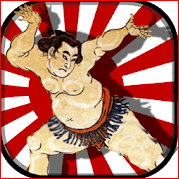 This sumo wrestling game brings you yet another form of sumo wrestling where you have to slap your opponent out of dohyo. It's something different than other sumo forms yet it is as interesting as it sounds. Try out this game and explore the variation form regular wrestling. Slap hard and become world champion!
Conclusion:
Here we present you the list of top 15 sumo wrestling games. We hope  you enjoy the game and become world champion! Don't wait to try them out if you're a wrestling fan.