Rpg is undoubtedly one of the favorite genres of today's generation and luckily we have so many great RPG games for ps4!
RPG games are those where you get to play a character and the game has a full-fledged story based on your character. We get a different kinda satisfaction when we play RPG games. And that's why a large number of gamers obsessed with RPG games.
Although you will find a number of RPG games yourself but we have picked the best thing among the bests, so take a look at the article and find out the 10 best RPG ps4 games that you should never miss out on.
PS4 RPG Games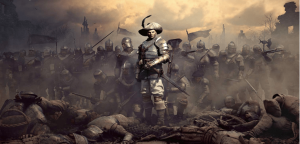 If any game deserves the first place on our best ps4 RPG games list then it should be any other than The Witcher 3. The game was released in 2015 and people are still going gaga over it. You must have heard the name of this game but if you haven't played yet then we can only tell you that this game deserves every bit of hype it's getting!

The witcher is based on the novel by Andrzej Sapkowski. The game has got many levels and its most adventurous game you can find. If we talk about its gameplay then the game features a third-person perspective with an open world where you can roam and explore so many things.

The story revolves around the main character that is Geralt of Rivia, who is in search of his missing adopted daughter. Her life in danger as the otherworldly creatures wants to capture her and use her powers. And you will have to save her and complete the story. It has the main story along with many side quests. You will battle against your enemies with some huge weapons along with magic. As we have mentioned earlier, the game has got everything that you can for in a ps4 RPG!
If you are looking for some action RPG for ps4 then Fallout: New Vegas might be a perfect choice for you. This ps4 RPG is based on a post-apocalyptic scenario. The game is basically a spin-off of fallout series which I think you must have heard of.

This is also an open-world game where you can explore many locations in the game even when you are not on a mission. The game also features a survival element where you will have to make it without dying from unknown sources in the game!

The game has got improved combat which features several new attacks. Along with that the character creation also takes less time than fallout 3, so that's a plus point. Fallout is definitely a game that you would like!
GreedFall is the latest entry in the best ps4 RPG games as it was released just a few months ago in 2019. This game is a perfect choice for those who love to play fantasy drama, the game is set in the 17th century. The game takes you to a remote island where players will explore so many unusual things.

What you will find is people fighting off invaders to protect their land and they are eventually protected by supernatural beings. The gameplay of this game revolves around stealth, diplomacy and combat.

The fascinating thing about this game is, players' every action will affect the story and how it's gonna end. The game can only be played in single-player mode but players have enjoyed it!
Assassin's Creed Odyssey is another great ps4 role-playing game which you will find pretty amusing. The game is set in 431 BC where they have featured the war between Athens and Sparta. The interesting about this game is that you will be fighting from both sides as your character is trying to unite the family. Players can take control of either male or female mercenary

You will explore some great things about Greek mythology. This RPG game for ps4 will definitely impress you with its combat, story, visuals, etc. So overall you can pick this game when you are in mood to play an amazing role-playing game on your ps4!
Get ready for some hardcore battles with Final Fantasy XV. The game offers an open-world environment where players will get everything they can imagine. It has got magic, weapons, and so many great element that makes it one of the best ps4 RPG game. Players can also get other features like vehicle traveling and camping.

Final Fantasy XV basically features royal drama and lots of magic which makes it unique from other RPGs! Find your way to battle and survive as long as you can and get your castle back that's all the game is about! And you are gonna love it!
We couldn't complete our list of best RPG games for ps4 without mentioning Monster Hunter. The game was released in 2018 and it has been everyone's favorite since. The game basically features the character of Hunter who is on a mission to track down the monsters and hung them down. You can also create your weapons by looting several elements in the game. The game is available in both single and multiplayer mode (play up to 4 players).
Bloodborne might the best RPG game for ps4 by Sony. Here the players will enjoy combating against gothic backdrop. This action-adventure game is all about unfolding mysteries and finding about the sources of plague an abnormal blood-borne disease. Well that's not it, you will also find some not so good looking beasts which will give you a hard time during the gameplay.
Persona 5 is undoubtedly one of the best ps4 role-playing game. This Japanese inspired game features some of the best characters that handles the story really well. The gameplay also features some special powers which is one the highlight features of this game.
Diablo 3 is all about amazing characters and how they progress the story of the game. Diablo III features a dark gameplay and ultimate action. You can also play it with your friends on its multiplayer mode.
Fallout 4 is the latest and fifth installment to the Fallout series. Just like other games of series, it also features a post-apocalyptic action role-playing genre. The players will take control of "lone survival" it's main lead of the series.
Conclusion

So these are the top ps4 RPG games that you should play! We hope you would enjoy playing these games!