Horror games are always a choice for video game. You get everything in horror games from action to adventure and from weapons to even magic. Some of the famous horror games have been adapted from the movies and they are considered even better than movies.
Although people may get confused while picking the best horror games for ps4 and they end up choosing the game that makes them hate the entire genre! So here we are to help you by bringing you the best ps4 horror games! So take a look at the article and choose the best horror game for you.
PS4 Horror Games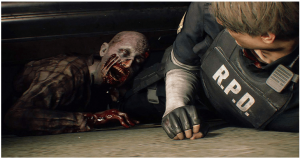 Resident Evil is not only the best horror game for ps4 but it is considered as the game for the year. Resident Evil has impressed everyone from critics to players and even those who don't like to play horror games in the first place.

Capcom has actually taken their standards of horror games to the next level with this game. The storyline follows the character of police officer Leon S. Kennedy and a college student Claire Redfield. They are trying to escape the city after it has witnessed a zombie apocalypse.

The game is basically the remake of the first resident evil. Capcom improved its camera angles and re imaginary features and it presents a third-person shooter gameplay. Players are supposed to do everything to survive the game, the game also include some weapons and safe rooms to save you! To sum up we can only say that's this ps4 horror game is definitely a must-play game!
The Dark Pictures Anthology is the latest entry for the ps4 horror games. It was raised in 2019 and it was developed by Supermassive Games. The developers of this game have planned a series of 8 games and it is the first one among them.

This is an impressive survival horror genre game that you would enjoy playing if you are into interactive drama kind of stuff. Players will experience third-person shooter gameplay and here players can play this on either single-player mode or multiplayer mode.

The game takes a turn from traditional ps4 games where you will have go shoot or fight but here your decisions and actions will play a great role in your survival. The game will make you choose between the heart or mind of the character. Overall it is worth playing and you would find something different here!
Although the game is yet to be released but it definitely deserved a place in our best ps4 horror game! It's a survival horror action role-playing game which is developed by Techland. For those who have loved its prequel, dying light would be super excited for it. The game actually follows the story 15 years later of dying light.

The hit element of the game is its lead character, Aiden Caldwell who is super skilled and performs actions like climbing ledges, sliding, wall running and more. The developers gave additional skills to the main character than its first part. Some melee weapons would be also featured in the game. You can play the game with up to four players in a cooperative manner. We hope the game turns out even bigger than its first part, but you should definitely check out the game when it will be out!
Resident Evil: Revelations is also a great survival horror genre game which you would like to play! Although the game features action gameplay but you can't forget the fact that the players will be fighting against enemies which may or may not be human!

The game revolves around a counter-terrorism act as they find a way to help themselves against bioterrorism which has infected the whole ocean with a deadly virus! The game features a single-player mode and multiplayer mode, in its single-player mode players will be given a number of episodes to complete which includes solving puzzles, tackling different scenarios underwater and of course the ghost ships.

What you will like in this game is its stunning graphics, sound effects, and horror settings. The game had truly delivered what has been expected from a resident evil series game and that's why we have put it in our best ps4 horror games list.
The sinking city might be a top choice for a ps4 horror game as the game is the latest addition in the horror genre games. The game is developed by Frogwares, where the story follows the character of Charles W. Reed, who is a private investigator and war veteran. The game is set in 1920 which explores the fictional city of Oakmont.

The lead character is in search of the cause of his terrifying visions and he also wants to know unrelenting flooding. The game only supports the single-player mode but it features a very interesting storyline that is worth playing.

This is one is might be the best horror game for ps4 because of its many sudden and disturbing scenarios throughout the game with a hint of action-adventure gameplay. It is also an open-world game so you will explore many things, try to collect clues and evidence and solve the mystery(if you can!!).
6. Blair Witch

Blaire Witch is also the latest entry in the ps4 horror games 2021. The game features a psychological survival horror game based on the film The Blair Witch. This game features the events after the film. The story follows the characters of a policeman who is in search of a missing boy.

This first-person game features a stealth-based gameplay. During your journey in the game, you will find many strange and out of the world things which are anything but normal. Although the game had received mixed reviews, people liked the atmosphere and sound design or the game whereas some people find it too difficult.
The game is yet to be released but we couldn't resist ourselves to put the game on our list of best ps4 horror games 2021. Capcom had decided to release it in the first week of April 2020, the game is gonna be a remake of Resident Evil 3: Nemesis. Out expectations from this game is pretty high after Resident Evil (2019).

The lead of the game will be Jill Valentine and the player will control her in her journey of escaping the zombie apocalypse. This is gonna be a third-person shooter gameplay and players will expertise improved camera angle and tank controls. The game can be played in both single-player mode or online multiplayer mode.
8. Daymare: 1998

Daymare is also a great ps4 horror game to play and it has been impressed by its fans with its design and horror atmosphere. This is a third-person horror survival game. Daymare is full of stunning graphics and realistic environment, it also features an original soundtrack and over the shoulder camera. Although it only features a single-player mode!

The game features a hardcore survival mechanism, it has been widely praised by its players for this. So next time you are looking for a survival action-adventure horror game you might wanna try Daymare.
Hunt: Showdown is a great first-person shooter horror survival game. This game takes you to the late 19th century where you will have to hint various monsters who are invading the world. The game only features single-player mode!

What you will find music is it's never seen before monsters! And they will demand your full efforts if you want to hunt them to save humanity. One thing is for sure the game isn't easy and it frequently gives you creepy feelings at many moments in the game.
We can't blame respondent evil series because it is one of the successful series in ps4 horror games! Although the games take a more action-based game rather than a full horror game but still you can expect a bit of horror from this game.

You will take control of the character Ethan Winters who is in search of his missing wife. The gameplay includes solving puzzles and fighting off different kinda enemies. The game's atmospheric setting might give you chills and that's what the best thing about it! Overall Resident Evil 7 definitely worth a shot!
Until Dawn is another leading ps4 horror game which you will love to play. The game features eight young adults who are struggling for their life and they are doing everything to survive in the game. The fate of the characters is entirely based on their choices and actions made by them. Your one move can lead to your survival or your death in the game! The game also involved a mystery which you will have to solve along with the game's journey!
Outlast might be the best horror game for ps4 and all the credit goes to its many horror elements and atmospheric settings. The player has to investigate a mysterious psychiatrist asylum and how it works and what really happens. Trust me you are not gonna find what you have expected!
The Evil Within is a third-person survival horror game that features the character of Sebastian, who somehow ended up among the weirdest characters at chilling horrifying place. Join him on the journey and enjoy this horror game for ps4.
Layer of fear is as amusing as its name suggests. The game gets more and more scary with each level! The gameplay mainly features puzzles solving and a horrific environment. You won't be disappointed by this horror game for ps4!
Silent Hill is also a great game to play if you love horror games. The game has got everything that you can expect from a ps4 horror game that is, incredible storyline, some action and creepy things happening around you!
Conclusion:

These are the best ps4 horror games that you can find. Although the resident evil still dominated out list but every other game is equally incredible and you shouldn't miss out on them!