We all love playing sports games on ps4 don't we? And since you are on this page you must be searching for the best ps4 sports game, well you are at the right place. W have gone through all the sports games that are available for ps4 and selected the best ones.
Be it cricket, golf, tennis or football we have gathered them all and brought you the best one from each category of sports. Let's head to our ps4 sports game list so that you can get what you have been looking for.
PS4 Sports Games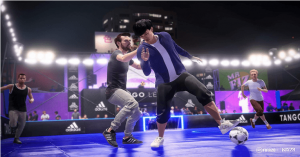 Only true FIFA lovers find the importance of this game! If you are one of those people who are just crazy about soccer and waiting for the latest FIFA game then your wish has just granted! Fifi 20 is the latest addition to the series and its fan couldn't keep calm. The game has everything that you can expect from it.

The latest things that have been added to this game include new VOLTA football feature along with traditional 11v11 gameplay. The games have a touch of FIFA Street series which you will find interesting go play. The game features a total of 17 locations including Amsterdam, cape town, Paris, New York City and so on,  where you will have a different experience!

You will be playing with more than 80 iconic players and among them 15 are newly added to this series. Overall you will have fun if you like football fan.
Madden NFL 20 is a famous American football fan. The game has been widely popularised as it features many great elements that makes it one of the best sports game for ps4. Madden NFL features a new personalized career campaign which features a college football playoff.

The game takes it's gameplay to the next level when they added features for visually impaired people. It has some easy controls and stunning graphics so you will enjoy playing this game.
We have brought you the best hockey game for ps4 and that is NHL 19. The game has added several new features and improved it from the series previous releases. The game has become more challenging where you get to play off against 200 iconic hockey players. The developers have not just introduced a couple of features but they have also made it better regarding its gameplay, graphics, and controls. This ps4 sports game is one of the most realistic game and you will definitely fall in love with it!

In its new World of Chel, feature players get to live a life of hockey player and work hard to progress in the game. You will also find a One's mode where you get play 1v1v1 game.

This one is surely more aggressive, has more action and shows more speed in the gameplay. For hockey lovers, NHL 19 is the best sports game for ps4!
The next ps4 sports game on our list is NBA 2k19. It is a basketball game and it is very popular among basketball fans. This one might be the best game of the whole NBA 2k series! The game has gained appreciation from its players and it he been praised by critics as well.

Players have loved the new ball stealing features which have been newly added in the game. Its streetball feature will allow players to taunt and throw shades at their opponents. Another thing that has stolen the attention of players is its awesome soundtrack which has been recorded by Travis Scott along with other artists like Marshmellow and Bruno Mars.
We haven't forgotten about golf lovers that is why we have picked the best golf game for ps4 and that is The Golf Club. We know there aren't many great golf games present for ps4 but this one is definitely among the best! The game will let you live a life like golfer and get every opportunity to make your mark in the game as the best golf player!

Participate in the new PGA tour and play the career mode. You will get a chance to play on famous courts it different locations of the world. You can play with your friends or other online players across the world in its online multiplayer mode. Ace the game and become the top golf player!
The next game on our best ps4 sports game list is for wrestling lovers! EA Sports UFC3 is a mixed martial arts fighting video game. You will get the feel of real-life fighting experience on this game thanks to its realistic physics, sounds and movements.

You will get the knockout feature which was featured in UFC 2. But the latest addition to this game is its new type of multiplayer mode where the player can engage in quick fights and make fun of opponent! Other than these, the game features more than 200 hundred fighters along with different weight classes. So be ready to experience the ultimate fighting championship with this game.
For those who are looking for the best cricket game for ps4, we have just found a perfect match for you and that is Cricket 19. Cricket 19 is one of the most popular cricket game and the reason could be its gameplay and realist graphics.

The game feature both men and women tournaments that is t20, ODI, and test world cups. Although you won't find ICC tournaments here but other features worth playing for.
Rocket league is a popular ps4 sports game which feature vehicular soccer genre. The game was a success where players get to choose their favorite car and they try to put the huge soccer ball in the opponent team's net. This is a super fun game where you get to hit the ball even when it's in the mid-air. It's not as easy as it sounds, you will have to control the car and dodge the cars to avoid crashes!
NHL 20 might be the best ps4 sports game 2021. It is an ice hockey sports game which features some famous players and you get you play with them too. To find out what this latest game of the NHL series offer just go ahead and play it, you won't get disappointed.
The last game on our best ps4 sports game list is WWE 20. This fighting game has grabbed the attention of its female and male career stories as a WWE fighter!
Conclusion:

So these are the best sports games for ps4 in 2022 that you should definitely play!