When it comes to drafting and art, one thing a professional won't take for granted is the drafting pencil! Yes, they are still very popular and even become more advanced.
What is a drafting pencil?
If you have never used a drafting pencil then you must think about how is a drafting pencil different from a regular mechanical pencil. For starters, they are made up of more durable material like brass, aluminum or high-quality plastic. They also feature a good grip for improved design and writing style.
In a drafting pencil, you will mostly find long lead sleeve which makes it easier to draw. The lead sleeve can easily be retracted when not in use. You will also find lead grade indicator. The best thing is, you will find many lead sizes ranges from  0.3 to 0.9 which can be used at different levels of drawing and drafting.
There are many great brands present which makes some of the best drafting pencil and many of them come from Japan. Here it's important that you find a perfect drafting pencil that features a perfect size and style which will compliment your drawing skills and make your drafting fun and exciting.
We know how hard it is to choose the best drafting pencil because of the number of choices we have right now. But we are here to save you the trouble of going through hundreds of drafting pencils and finding one for yourself. We have picked up the 7 best drafting pencil for you and you can choose one from them.
Best Drafting Pencils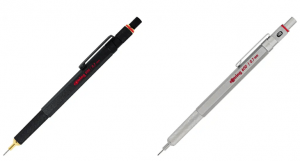 Rotring is one of the best brands when it comes to mechanical pencils. For years, Rotring has been introducing us with some of the best mechanical pencil as well as drafting pencils which brings grace and elegance in writing as well as drawing.

Speaking of Rotring 800, it is definitely one of the best drafting pencils you can find. The pencil is made up of metal and it features a retractable mechanism. It also features a unique twist and click mechanism. Its weight is ideal for drafting, so it is its amazing design. It features a non-slip metal knurled up grip. You can find different sizes too.
Platinum Pro Use 171 makes an excellent choice for a drafting pencil and that's why we have given it 2nd spot on our list of best starting pencils. It is highly sturdy and reliable featuring a high-quality plastic body along with a knurled up grip for extra stability and control.

It also features a lead grade indicator along with Kong and narrower lead sleeve. The best part is you can change the lead sleeve if you didn't like it. It's spring cushioning tip mechanism ensures minimum lead breakage. The lead pencil is available in all the sizes except 0.4. Overall the pencil will make sure you get a solid, rattle-free writing experience.
Just as its name suggests, this one comes as a whole set and that's why we thought it deserves your attention. The Pental Arts Drafting Pencil Set is all you need when it comes to drafting and drawing. This superior pencil set is best for draftsmen, architects, and artists and they all prefer it when it comes to exploring the art.

You will find a 4mm tip design which makes it ideal for use with rulers and templates. A unique dual-action retractor is also seen which prevents the breakage of lead. It features a metallic grip that is padded with latex-free pads which ensures long writing sessions fatigue-free. Furthermore, the pencil comes with a lifetime warranty. You will have a good time while drafting and sketching with this pencil.
If you are looking for a more affordable drafting pencil then Pilot S3 should be your first choice. This inexpensive and budget-friendly pencil is all you need for your sketching or artisans work. Even though it comes at a cheap price, it's features surely stand against all the premium drafting pencils.

This one features a high-quality plastic body that is smooth and sturdy along with a center of balance. It feels very comfortable in the hand and you would definitely find it easy to work with. It features a removable pocket clip. Lastly, the pencil is available in all the sizes from 0.3mm to 0.9mm, so you can choose the one which is perfect for your work or even all of them.
5. Rotring 600

As we have mentioned earlier, Rotring is one of the best means you can find when it comes to mechanical pencils and that's why we have included yet another Rotring pencil in our list of best drafting pencils. Rotring 600 is definitely one of the best drafting pencil that you can find. Although it lacks a retractable mechanism like Rotring 800.

It is made up of metal and features Rotring's premium design which feels very incredible. It also prevents lead breakage and a hexagonal barrel design which ensures fatigue-free design. You will definitely like it and that's why we have included it in our list.
6. Staedtler Mars 780 Technical Drafting Pencil

Staedtler Mars is also one of the best drafting pencil you can find and this one will definitely impress you with its amazing design. This Germany made pencil features metal clip and push-button advance. And it's used by many architect students worldwide.
7. Alvin Draft-Matic Drafting Pencil

Our last but not the least pick for best drafting pencil is Alvin and you should definitely try this one out. It's sleek and sturdy design will encourage you to work more and out your ideas on the canvas. Overall this one worth a shot!
Conclusion

So these are the best drafting pencil that you can find. We know the importance of the right drafting pencil and that's why we have listed the best of the best ones in our list. We hope you find the article helpful. So thank you for visiting our page.