Some may think that the Fax Machines have become outdated or they are not that much of use as they were before! But this statement is completely false by every means!
Let's take a look back and know why machines were invented! As we all know how important communication is and when it comes to business the fax machines have created a milestone as multinational companies needed to connect and communicate with each other.
The invention of fax machines was done in the way back 1924, it soon going to complete a century! The invention was one of the most important inventions in the history of communication and it helped us to connect to people in different parts of the world!
The fax machine can easily send or receive documents/images/files via telephone lines which made a mark in history! The fax machines have also taken a revolutionary step as they were slowly used by houses, schools and of course in offices!
Furthermore, fax machines have become advance and nowadays we can easily find many promising advanced fax machines and they are available in different types for different uses as given below!
To buy the best fax machine you will need to which is most type is most suitable for you! We have written some common fax machines types for you in this guide, so let's tale a look and know which fax machine is used for which purpose!
Laser fax machines:
Laser fax machines are considered the most advanced, most prominent and faster and more efficient than any other fax machines types. Due to these abilities the laser fax machines are widely used by the top companies in the world and they are pretty common for the business world too.
Laser machines feature clear print quality of images and text, unlike the old thermals which could be easily scrubbed off or rubbed off. They are multitasking laser machines which the reason every top multinational companies or firms prefer laser fax machine over any other.
Due to there advance technology they may be a bit more expensive but given the features, they are totally worth the money. In conclusion, they are the best fax machine for offices and for business.
Fax copy machines:
Other popular fax machine would be Fax Copy Machine which works in two ways, for example, the machine works as a fax machine as well as a copier machines! The machine is widely used by the copies which have large inputs into making copies as well as using the fax!
There are different types of fax copy machine are available in different types such as they come in inkjet, thermal transfer and laser printer. Although the thermal transfer printer is used in most of the fax copy machines. These fax copy machines are suitable for home use and small offices.
The fax copy machines also have some additional features such as caller ID, automatic paper feeder, quick scan and so on. As we have mentioned earlier, the fax machines come with different types of printer that would mean they will also vary in prices. Although the laser printer would be the most expensive one!
Plain Paper Fax Machines:
Plain paper fax machines are a combination of scanner, printer and of course a fax machine! The best thing about these fax machines is that their printing quality would be high and clear, unlike the thermal transfer printer. This quality is what makes it one of the most efficient fax machine.
The plain paper fax machines use laser or inkjet printer for high-quality print. And as we have mentioned earlier, these machines have a scanner, printer and works as a fax machine too, this makes it a multi-tasking fax machine which is used by high-end companies. They work systematically without crashing so people from big firms that have heavy workload prefer them!
Portable Fax Machine:
If you are working from home then your requirements would be a little different for your fax machine and that's where Portable Fax Machines comes in handy! They are capable of multitasking and they usually come with a phone and copier.
These are ideal of home offices or even for home use where the workload isn't that much as it will be in a full-fledged office. These are cost-effective and serve best with the needs of a fax machine.
Printer Fax Machine:
Printer Fax Machine is one of the oldest types of fax machines we have. They are also the most commonly used fax machines too. With time the printer fax machines have gone through changes and nowadays they are designed to meet the requirements of today's world.
Originally printer fax machines came with thermal transfer technology but since they have poor quality print they are not used much by the people. So nowadays the printer fax machines come with laser as well as inkjet printer which makes it efficient as well as high quality!
The price range would depend on the type of printer, as we have mentioned a laser printer would be costlier than the inkjet printer due to their heavy-duty workload efficient feature as well as the ability to not crush under a heavy workload.
Phone Fax Machines:
The phone fax machine is one of the basic types of fax machines we have. They are used by the people occasionally need to use the fax machine and send or receive fax from a limited number of people. Another advantage is they are really small in size and you can easily install them too. So it's ideal for occasional home use. Other advantage would be they are the cheapest model so it's perfect for the people who don't need the multi-functional fax machines.
So these are types of fax machines which are available in the market and you can easily choose the one that best serves your needs! Furthermore, you need to check the portability, technology, design, speed, size, print quality and price when you are going to buy a fax machine for yourself.
If you go to a store and look around online then you will find hundreds of models of fax machines and choosing one of them could be tedious work and you can easily get confused. So we have jumped in to help you. We have gone through a number of fax machines and found out the best fax machines for office, home, and business use! So take a look and find out which one is the best fax machine to buy!
Best Fax Machines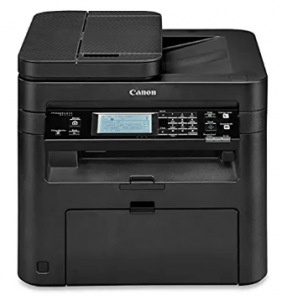 1. Epson WorkForce WF-2750DWF Check Price

Epson WorkForce WF-2750DWF is one of the best fax machine for home and mid-size offices. The best thing about the fax machine is the fact they also come with a printer, copier, and scanner which will help the people who wanna do multitasking. Furthermore, the fax machine is cost-effective too. So you can have all the advanced features at a budget-friendly price!

The fax machine can print 33 pages per minute and it weights only 6.6 kg! The fax machine uses economical ink and it also has an LCD screen. Overall the fax machine would serve the best purpose of a fax machines with printer, scanner, and copier. It's small so it would fit easily and you can easily install it given it's lightweight!
2. HP M477fdw Laserjet Pro Check Price

HP is a well know electronic company and they are already known for the best products around the world. And this fax machine would also impress you with its high-end technology features. The fax machines are wireless and it comes with a printer, copier, scanner and you can also send emails via this one.

The fax machines come with both black and white and a color printer which makes it more eligible for home and office use. The laser print technology ensures high print quality. The fax machine gives a speed of 27 pages per minute and weighs around 23 kg!
3. Generic Black and White fax machine Check Price

This one is from Samsung company so you won't have to worry about its quality as we all know how efficient and effective the technology of Samsung is. This one is suitable for small offices. The fax machine is popularly known for its high-quality print of text and clear images.

Although this one only supports black print so for the people who are looking for a color printer with the fax machine this one is not right. Other than this the fax machine also comes with print technology of inkjet monochrome and it can easily make 50 copies in one go! It's durable and doesn't cost that much.
4. Samsung M2885FW 4 in one multifunction Xpress laser printer Check Price

Samsung M2885FW is one of the best fax machines for companies and business use as it is capable of multitasking. The fax machines show both wired and wireless support and it can easily do photocopying, printing, and scanning too. The printing speed is 28 pages per minute which is quite impressive. The fax machines will definitely give you value for money as it can easily handle heavy workloads.
5. Brother MFC- L6800DWT Check Price

If you want the fastest speed fax machine then Brother MFC-L6800DWT should be your first choice. The fax machine comes with 48 pages per minute printing speed and it also features high-quality printing. This is also one of the best fax machines for office use and it can easily handle a busy workload.

It features a laser printer which means it's fast and most effective when it comes to print quality. It can be connected by USB as well as the network! The fax machine also has automatic redialing and group dialing features too.
Another one from Brother but unlike the former model this one is designed for home use. This one does a great work for fax machine and it's most suitable for the people who need a fax machine occasionally rather than daily! Although if you want you can update it and turn it into a multi-functioning fax machine too.

You will get a 20ppm print speed which is ideal for home use. The number of features is less that would mean the cost will be less too.
Samsung FX-760p is another best fax machine for office and you will get some great print quality as well as at cost-effective price. It's really easy to use which means kids can also use it and it weighs only around 6 kg which makes it perfect for easy installation.

With this model, you will get 20 pages per minute print speed which is ideal for home use. Although it also features the functions of printer as well as a scanner it is widely used as a fax machine only.
8. Canon i-SENSYS FAX L170 Check Price

Canon is another well-known company and its i-SENSYS FAX L170 model is one of the best fax machines we can find in the market. It is suitable for small offices as it is capable of doing some multitasking such as the fax machine features a copier, a handset, and a printer.

Although the print speed is only 18 pages per minute but other than this, you will get a great deal of high-quality features. The fax machine has monochrome printing utility which makes it inexpensive at the same time very effective.
9. Canon FAXPHONE L190 Monochrome Laser Fax Check Price

Canon FAXPHONE L190 will impress you with its speed and quality as it features laser technology. It is also a multitasking fax machine which makes it ideal for mid-sized offices and business. It also features a monochrome utility that makes it inexpensive. Overall you will be satisfied with its service.
10. Brother FAX-2840 High-Speed Mono Laser Fax Check Price

If the quality is all you are looking for then Brother FAX-2840 should be your perfect match. As its name says it uses laser technology which means it will give you high-quality print! Even the print quality is pretty high the price will simply impress you.
Conclusion

So these are our best picks for the fax machines! We hope you found our guide for the best fax machines!