We can guess you are looking for the best cat games that are available now and we can assure you that you are in the right place. We know the struggle of searching for the best cat games out of hundreds that are available online. But to help you with that we have found the best ones for you.
We have tried to include many kinds of cat games that can be played by any age group and you will surprised to know that how fun are they. Take a look at our best cat games list and find a perfect game for yourself.
Cat Game Apps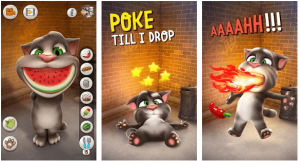 There is no way that you haven't heard about talking tom and you can get the idea about how popular this cat game is with the fact that it has over 100 million downloads. Talking Tom is one of the best and one of kind cat game that has started the trend of virtual pet (it was the first virtual pet game!).

You will be surprised to know that this cat game was released in 2010 for Android and iPhone and since then it had gained itself huge popularity among all generations.

This free cat game will allow you to talk to tom and laugh with him. It's one of the amazing features of this game. Get him food and he will eat it in a hilarious way, and you will get to laugh with him too. This is a kind game that you can enjoy with your whole family and make the little kids laugh. It's animation effects are just phenomenal and you would definitely enjoy this one!
My talking Angela is also a popular cat game that is being developed by the makers of talking tom. It also has more than 100 million downloads and its trending too. What's make this game different from talking tom is, in this cat game you will take care of a sweet little kitty and its the best choice for girls.

She is pretty, she is elegant and she is sure cute that you will just get addicted to her! You can do all sorts of things which you wanna do with a real kitty like you can bath in a lavish bathroom and bathtub which is exclusively made for her, you can also give her her favorite food(she is a little pocket about her food!). You can also pick some of the best and unique outfits for her.

Another thing you will like about this cat game is that you will find lots of side games that will check your relaxes and other skills and you will definitely enjoy them. Collect unique stickers and share them with your friends. Overall this is a great choice for a cat game for girls.
Don't confuse this game with talking tom cat, it is different from or in its own way. My talking tom is a cat game where you will adopt the cat named Tom but it's not the end, as this game will surely tell you about all the responsibilities of being an owner of a cat and you will have to do all the stuff that you would do for a real pet cat.

Test your skills with many of its mini-games when Tom is sleeping or you get a minute away from him. These games are super fun to play and you won't get bored of them. The games include- puzzle games, action games, sports games, and adventure games. These games will definitely give you an opportunity to test your relax skills, so gear up for the best cat game for Android and iPhone and download it now.
4. Cute cat – my 3D virtual pet Android

Download the best cat game for Android now and be an owner of the cutest cat in the world. Play with her as long as you want and have unlimited fun. But don't forget the responsibilities of her in between all the fun. As you will have to feed her with her favorite food and make her go to bed when she is sleepy (she just like the comfortable bed so care about that too), bath her and play her favorite games with her.

Earn points and find hidden coins in the living room, but most importantly you will have to upgrade your cat to unlock new features like new tools and food items. It's a really cute cat game that you will surely enjoy if you love cats.
5. Cat runner: decorate home Android / Iphone

If you love cats and running game then this would your best choice for care games available online. You will get many features and fun things in this game. It is one of the cat running game and the fun you will have in this game, we bet you can't find it anywhere else.

If you think that's all this game offer than you are wrong, here you will be decorating your house and for that you will have to earn more and more coins. To earn coins participate in the fastest and dangerous run, where you will be running in the middle of the roads, race with the cars or other vehicles. You just have to follow one rule that is run as fast as you can and don't get robbed by robbers. The faster you will run the more you will earn. As you earn you can buy more and more props for decorating your house. It's a fun cat running game that you just don't wanna miss out on.
6. Talking cute cat Android

We can't get enough with cute cats, can we? Here is another best cat game for Android where you can get the cutest cat right in your phone as your pet. We guarantee you won't get bored with this cat game as you can watch the cat's activity the whole day!

Poke her on her arms, feet, tail and watch her pretty amusing reactions, and what you will love the most is the dancing ability of this cat and trust me no one can get enough of watching her dancing. Explore what else can this cat do and download this free cat game from play store right now!
7. Cat simulator – kitty cat run Android

Kitty cat run is one of the best endless running cat game where you will earn many prizes and have lots of fun. Bring the rush in your life with the cutest kittens in the town and have ultimate joy in playing this running cat game.

Play to unlock many cute and magical kittens so that you can run with them too. As you run you will earn lots of coins and prizes that will be needed to upgrade the cat. You will get the daily prizes and each one of it will make your day. It has the best controls and graphics so that it will a treat when you play this free cat game.
8. Cat simulator: kitty craft Android / Iphone

If you are looking for a cat game is different from the above-listed cat games then this one would be your favorite. It is an arcade game where you play as a cat and you will be given so many tasks and quests to complete the level. Here you won't have to take care of the cat or run on the road but you have to help your cat to unlock new features and houses from playing some of the interesting quests.

You will get many different houses with gardens to buy and make a beautiful house for your cat. But for that you will have to go earn coins. You can earn coins by completing some tasks as jumping here and there or finding the coins in jars or anywhere in the house. Irritate and interrupt others while they are talking or doing their work. You can also get tasks like catching the mice or scratch carpets.

If you are still not convinced to play this game then we totally recommend you download this cat game as its totally worth a try and most probably you will change your mood after that (it can be an addictive game).
9. My little cat – virtual pet Android / Iphone

It is one of the best free cat games for kids to play with and their chance to know what it's like to have a pet. You will get a small kitten and as always you will gave to take care of her. Make your cat feel loved and give her the warmth of family by taking care of her.

Since its a small kitten you will have to care for her a little extra and in a different way than what you usually do. So have fun with this amazing cat game and download it now.
10. Crazy cat vs mouse 3d Android

If you love cats then you would definitely love those cat and mouse fights too. For the people who are great fans of the show tom and jerry, we have bought you the best cat game ever. If you are bored with the regular vat games then this one is a perfect choice for you.

You will be playing as the cat with long and snuff mouse who is on the mission to trap the mouse and get him away from the house. But do you think its gonna be that easy? Well, just like those classic cat and mouse combat tales you will surely get some troubles catching the mouse but who loves the easy tasks anyway right!

Experience the hunting in the best cat simulator and it comes with the best graphics and super-smooth controls too. You will be in a big and beautiful house, which is a challenging part as the mouse can be anywhere so gear up and download this cat game for free and have fun chasing him.
11. Cat sim online: play with cats Android / Iphone

This one is an adventurous cat game where you will be playing as a cat and easing your own family of your favorite breed. You will get many adventures while you are exploring the big world.

You can also play this game in multiplayer mode so don't wait to invite your friend to play this amazing cat game for Android.
We have talked about talking tom earlier in our best cat games list but this one different in many ways. For starters, as you can guess, you will have an adventure on the beach with the jet ski. But here its more kind of a running game where you will hop on the jet ski with tom or Angela and earn stars as many as you can.

This cat game is definitely recommended if you are a great fan of talking tom.
13. Talking tom cake jump Android / Iphone

With this cat game, you will get a chance to make the tallest cake but with a twist! The cat will be on the top of the cake and as you have to add an extra later you will have to make him jump to do that. If you think its that easy then try yourself out and download this cat game for Android now.
14. Talking tom pool puzzle game Android / Iphone

It's another pool game that features Tom the cat but here Tom doesn't want you to take care of him but instead, he will give you some puzzles to solve and proof yourself as a smart kid.
If you love water fights then this is the best cat game for you. Get yourself in the crazy water fight have fun playing with water.

It will test your strategic skills as you will have to plan your attack so be ready to get wet!!
Conclusion:

So these were the 15 best cat games for Android and iPhone that we think you will enjoy!