Dog games are really fun to play and most importantly they feature the cutest dogs ever. You will find a wide variety of dog games online but we have picked up the 10 best dog games for Android and iPhone that you will simply love.
Each game is different from each other so don't wait for anything and check them out.
Dog Games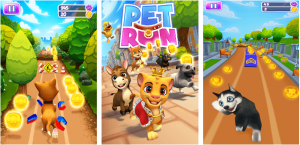 1. Pet run – puppy dog game Android

Pet run is one of the best dog game at present and you won't find any other game which features the cutest dogs and puppies like this one do. It is a running game where you get to choose a perfect pet for yourself and take him for a fun and adventurous run through the city and parks.

Your dog won't be alone because he is too friendly and has friends like ginger the cat, and many others. you have to take them to the walk around the parks and city and even get to train them.

City includes various fun sites to explore like suburbs or forest areas. You will surely have fun while playing this game. Its graphics are really cool and colorful.

Download this dog game for android and don't forget to collect the coins and dodge the obstacles.
2. Dog run – pet dog simulator Android

Dog run is also a great dog game for girls and boys of all ages where they get to do so many stuff with their favorite pet dog.

The only rule this game has is run as fast as you can and don't stumble upon the obstacles. To dodge the obstacles you can slide, jump or roll and show off your dodging skills in the most adventurous runway. To make this game a little extra they have added a few fairy tale adventures too.
3. My dog game simulator for free Android

This dog game is for those who love wild dogs and enjoy the wild races. Not only you have to race to win but also to survive.

The minute you will slow down you give other wild dogs a chance to attack you, so beware and run as fast as you can. This game has very realistic graphics which gives you a great feel and its controls are really smooth too. You will also love its sound effects and background music too.
4. Dog town: pet shop game, care & play with dogs Android / Iphone

You are a dog lover then you would love this game, here you can collect the dogs and puppies and train them. But you won't be just training them, they will be your full responsibility, from feeding them to take care of them you will be in charge of them.

As they grow, you can take them to different pet contest and win reward. The best thing about this dog game is you won't be just handling one dog! The dog shop will have so many dogs and puppies and you will enjoy with them like you never have.

There will be different breeds of dogs and each dog will have different traits, like some will be sleepy and the other ones will be jumpy ones.
5. Dog sim online: raise a family Android / Iphone

Dog sim online is one of the popular dog games with over 10 million downloads. You can play this game in multiplayer mode online and you can live a dog life and explore the 3d world where you can meet other puppies and raise a family.

Just choose your favorite breed of dogs and invite your friends to play with you on its multiplayer mode and together you can fight enemies and go on different adventures. You have to unlock several dog breeds until you become the most powerful dog, so keep playing!

Fight dangerous bosses to protect your family and hunt specific enemies to show off your fighting strengths.
6. Virtual dog pet cat adventure family game Android

This dog game features a virtual family where you will adopt a cute pet dog and a cat. Do all the stuff that you do in real life with your pets but here everything will be a little adventurous. So make sure you have all the qualities that are needed to keep a pet.

It is a fun dog game to download and you will live a life of pet owners and have all the responsibilities like a grown-up person!
7. Pet hospital vet clinic animal vet pet doctor game Android / Iphone

You know who is the great hero for dogs? The pet doctor! Who works so hard to save all the cute puppies who are an important part of someone's life.

In this very first doctor dog game you will have the honor of saving and treating the dogs and cute kittens and make them happy and healthy. You will have so many different pets to treat and some of them may be a difficult choice for you! So download this one of the best dog games for android and save the precious life of wonderful dogs and kittens.
8. Dog hotel – play with dogs and manage the kennels Android / Iphone

There isn't anything better than playing with your dog the whole day and have a relaxed time. So be ready to play with your pet dog in this best dog game 2020. But the best thing about this game is you will be handling and managing a whole dog hotel! What never heard of them? But there is a dog hotel which has different kinds of dogs and guess who is in charge of them you!

There will be several kinds of missions to complete which will keep you glued to the game for hours.
9. My puppy friend – cute pet dog care games Android / Iphone

This is the best dog game for girls and boys of all ages, where they get to adopt a cute puppy and take care of him. We all know there isn't anything better than having a cute puppy as your pet.

You will have to feed your dog and you get to dress him up too! With all those cute and different styles make your dog the most stylish dog in the town.
10. My virtual pet shop – cute animal care game Android / Iphone

It is also a care dog game, where you will have do to all the stuff that is needed to be done in order to keep your dog healthy and happy. Make him bath and tap his fleas off so that he will remain healthy.

You will get to do so many stuff so download this dog game for Android now and live a life of a dog owner.
Conclusion:

Here our list of best dog games ends, we hope you will enjoy these games.