Who doesn't love playing with bubbles? Sure we all do and if you wanna give your kids a treat then you will surely wanna buy a bubble machine.
Whether it's a party or your kids are just being bored, throw them a lots of bubbles and they will love you. A bubble machine is truly the best gift you can give to your children, of course, there were days when we would be happy to blow the bubbles with ourself but the time has changed and everyone needs more.
A bubble machine is capable of producing thousands of bubbles at a time and your kids can have fun with them as King as they want. All you need is a bubble machine and the solution (some times a simple soap solution works too).
There are like hundreds of bubbles machines present in the market and these choices are enough to make you confused about which bubble machine you should buy in the first place! When you go shopping for a bubble machine you need to look at many things like how many bubbles they can blow at a time or how much their battery lasts and so on, these factors can easily be too much to find the perfect bubble machine.
We have gone through a bunch of bubble machines and found you the top 10 bubble machine which is good enough to make your kids happy! Take a look at our list of best bubble machines and buy the one that you find best for yourself!
Best Bubble Machines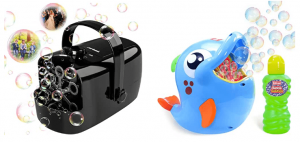 Gazillion Bubble Hurricane Machine is as good as its name says and that's why we have put it on the number one position in our list! The machine will literally take you to the storm with its amazing number of bubbles in one go!

The best thing is, it is suited for kids from the age of 3 and up. The machines come with a bottle of bubble solution which is non-toxic and won't harm your children. It is really easy to use too, so you don't have to make a bubble for your kids as they can easily do themselves! The machine will require a 6AA battery which can be easily found! So don't think twice before buying it because who doesn't love to play with thousands of bubbles at a time?
Citra is one of the leading bubble-making machines we have and who wouldn't love making thousands of bubbles in one go without putting much effort right? Although you are not gonna get any liquid solution with it but you can easily make bubbles using the soap solution.

The machine works quietly and it makes thousands of bubbles per minute due to its high-performance rotor and high-velocity fan. All you have to do is fill the reservoir and plug the machine in and you will be good to go! The machine is quite lightweight so it can easily be carried around. Furthermore, the body is made up of metal with a handle so it is durable too.

It's manual and doesn't run on batteries, but you cant use it for more than 8 hours continuously. Overall the bubble machine is a perfect fit and you will definitely like it!
The looks of the ADJ Products machine will give you the feel like you are using a toy weapon, instead, you gonna blow up some beautiful and fun bubbles outta it. This bubble machine features high velocity and high-quality bubbles so you can get hundreds of bubbles less than a minute. You will also get a remote with the machine by which you can easily on/off the machine and blow up the bubbles at your will. The machine comes with an 8m long cable so you can easily blow up the bubbles in the whole room. The high-velocity bubble fan will rise the bubble to the largest height. It's easy to use and you can easily clean it. Although you will need one liter of solution every two hours. So bring this one home and make your party more fun!!
Little Kids Fubbles is everything that its name says. It's suitable for the 3-year-olds and more and they can have fun with bubbles using the machine. The machine also comes with a non-toxic solution that won't harm little children as they can easily play it along. The machine will require a 4AA battery. It's really easy to use so you can easily blow the bubbles by turning on the motor.

So if you have a toddler at home then you can easily buy the machine and let them play with it. You won't have to pay much either as it is cost-effective.
5. CHAUVET DJ Bubble King Bubble Machine | Special Effects

CHAUVET DJ is a professional bubble making machine which is used in bigger parties because it features high-end technology that can blow up bubbles high in the air. As the name says it might add some special effects too so it will be perfect for cocktail parties. The fan speed is quite impressive too as well as the velocity, it would blow up thousands of bubbles in one go! The whole room can be filled up with the bubbles and you can create an aromatic atmosphere as well. The only drawback of this bubble making machine would be its price but other than it it's quite good and worth buying.
6. ProSource Turbo Deluxe 16W and professional High output automatic bubble maker!

ProSource is another best bubble making machine we have at the moment. This machine is all you need if you wanna make your party fun and memorable with full of bubbles. The design of the machine is impressive as it comes with a handle so that you can easily carry it around and it's adjustable too. It also features a metal case that makes the machine durable so you can enjoy it for years.

The filling of the reservoir is easy so that anyone can fill it up without going through any trouble! It is able to produce non stop bubbles for nonstop fun! Just plug it and play it, it's as simple as that! It's compact and portable too, so no matter where the party is, indoors or outdoors, you can enjoy bubbles with this bubble making machine.
7. Toysmith bubble party machine

Toysmith is another best bubble making machine for little kids as it is lightweight and even kids can take it around and play with bubbles as they want! This one run on two C sized batteries which you can easily find anywhere. The machine won't even make much noise so that is its another plus point!

However, the machine may look small but it is capable of making hundreds of bubbles in one go and it will definitely cheer up your kid! It's definitely something you wanna buy and it's not even gonna cost much.
8. Lightahead Portable Hubble Bubble Blowing Machine

Planning an outdoor party? Wanna make it fun? Well, Lightahead is all you need to do that! The machine is suitable for both indoors and outdoors uses, so no matter if its a closed party or you wanna have fun at the beach, its all you need to make bubbles and create a fun environment!

The best thing is it can be operated by battery (two C sized batteries) as well as an AC adapter.  It will create a constant stream of bubbles with only one bubble, so you can enjoy it fully. It's really easy to operate and fill up the liquid due to its compact and easy design.
9. Kidzlane Bubble Machine Automatic Durable Bubble blower for kids

Its cute design is what makes kids wanna play it with it. Kidzlane is surely children's one of most favorite bubble making machine. This is made for little kids to play with bubbles and it has surely won the hearts of children! It may look small but features a powerful motor which makes thousands of bubble in one go! Its kids friendly design is what you wanna buy it in the first place!
10. 1byone bubble making machine for kids

We have saved the best one for the last, you will be surprised to know that the 1byone bubble making machine can make 2000 bubbles per minute which is quite impressive. It can be operated with battery as well as by plugin! The machine has a 6m long cord as well as a powerful dual-motor system.
Conclusion

So these are the best bubble machine you can find at the moment. Choose any one of them and you won't be disappointed!

We hope our article has helped to make a decision about which bubble machine you wanna buy! Thank you for visiting our page!