If we ask you what's the most relaxing thing for you as a gamer then it would be playing your favorite game on ps4! In this article, we are particularly gonna talk about the best ps4 anime games that you can find.
Anime games are a popular category of games and luckily we have a number of great anime games for ps4. We have gone through a bunch of popular games and found you the best anime games for ps4.
We have tried to list out the best ps4 anime games which are popular, fun and exciting to play in our top ps4 anime games list! Don't wait anymore and check out the list of best anime games for ps4.
PS4 Anime Games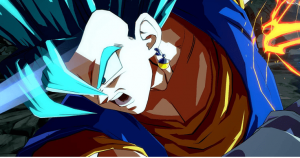 It would be a crime if we don't put Persona 5 at the top of our best anime games for ps4 list! Persona 5 is a popular role-playing anime game and it is the 6th installment in the Persona series. Although it's also true that you may have heard of this game but for those who still haven't played it, we can tell you that it is indeed the best ps4 anime game that you can find.

The game takes place in Japan, and its story follows Joker. He has some special powers which makes him experience some supernatural things in his life. His school life is also not normal and unimaginable events happens. There are a number of levels present in this game that players will have to complete in order to progress in the game.

The game has been critically acclaimed for its gameplay and it has sold millions of copies till now. So if you haven't played this game yet, its time that you go for it!
Dragon Ball FighterZ is a popular anime game for ps4. It's a fighting game with both single and multiplayer modes! There are a number of things which you would like in this game, for starters the game has some excellent characters (21 playable characters and 3 additional characters). Its music, visual effects, and fighting system are praised too.

In this game, players are required to choose 3 characters to form a team, to win the fight players need to defeat all the three characters of the opponent team. The gameplay consists of different moves and fighting styles. So if you are a fan of Dragon Ball already then it is a must-play game.
Tales of Berseria is an action role-playing game that was released for ps4 in 2016. It's a third-person perspective game where players interact with the world through its characters. The game features different kinds of scenarios from serious to comic and its totally fun to interact through skits, animated clips, and battles.

The game features a linear motion battle system (LMBS) which is quite popular and interesting to play, where players can freely move around the battle arena and the camera will rotate at their will. Attacks involve both the physical and magical powers of the character. Overall this ps4 anime game will definitely impress you!
If you are in a mood to play a high octane action hack and slash ps4 anime games then Attack on Tintin 2 might be the perfect game for you. The game covers 50 chapters on Attack on Tintin and the first two seasons of its anime adaption. The exciting part about this game is that it has an original ending which different from anime as well as manga!

The graphics are superb and the battle arena is too very impressive. There are a number of new features available such as the story mode where you can play as co-op! Players would also be able to create new characters.
With One Piece: Burning Blood, players will control the character of Luffy, who has gained the powers of a rubber after he has accidentally consumed the Devil Fruit! It was released in 2016 and it has been a popular ps4 anime game since then.

Players will find a number of other characters that they can control along with Luffy. The developers of this game have tried to give it a realistic feel just like the animated series by presenting the game with cel-shaded animation.
Naruto is a reputed name when we talk about top anime games for ps4. You would want to play this game for its excellent narrative and graphics. This fighting action game got very positive reviews and it was well-received by the audience.

Here players will have to fight in 3D arenas, its gonna be a full-fledged battle so players are expected to be good with the game and have good battling skills! The battles are basically a part of the Fourth Shinobi World War. Understands the characters and complete the game by defeating the villain!
Jump Force has recently released and it is one of the best anime game 2021 which you can play. Its a crossover game that features a number of characters from various manga series. This fighting game has both single-player and multiplayer mode. Its a 1v1 fighting game where the player will control 3 characters from the game who will defect the opponent's team by using several fighting combos and attacks!
BlazBlue is too a crossover anime game that features characters from persona 4, BlazBlue, Under Night In-Birth and RWBY.

The game has been praised for its visuals, music, online features, etc. If you like crossover fighting games then this might be the best choice!
Dragon Quest XI definitely deserves a place on our best ps4 anime games list. It's a role-playing game with only single-player mode. Here players are not only supposed to fight with other characters but some monsters too. Its 3D graphics are too very impressive!
One Piece: World Seeker is a popular ps4 anime game. Its an action-adventure game and the unique thing about this game is that it's one of the first anime game which has featured an open world!
Conclusion:

So here our list of top ps4 anime games has ended. We have tried to include every popular game which worth your time and energy. So pick any of the games that we have listed in our article and you won't get disappointed! Thanks for visiting our page, we hope you liked our article!