Most people would be confused by this, what would be a virtual boyfriend simulator app would like and why would anyone use them? Well, there are people who need some practice before talking to there love interest and these apps might help them.
These apps will help you to start a conversation, suggest some witty replies and improve your talking skills. There are a number of virtual boyfriend apps present but not all of them are that great! That is why we have gone through some virtual boyfriend simulator apps found you the best ones!
Take a look at these top 9 virtual boyfriend simulator apps for Android and iPhone and pick the one that you find best for yourself.
Virtual Boyfriend Simulator Apps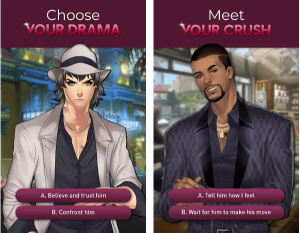 1. My virtual boyfriend free Android / iOS

If you are looking for something fun and flirty then go to My Virtual Boyfriend Free app! There are a number of features present in this app which makes it one of the best virtual boyfriend app for young people, who wants to have some fun. Take slow steps at a time and progress your relationship with this boyfriend simulation app!

First, you will need to choose the man that you find the most interesting and then slowly takes things to the next level. There are a number of options available like Alpha male, Urban, Greek, Metrosexual, and the Lover! Each one has a different personality and you can look whatever you have been looking for.

You can do interact with your virtual boyfriend like tickle, touch, and even slap. This is a progressing app, meaning, there will be a number of levels and he will achieve something new with each level (there are a total of 35 levels, and you will also get special Halloween and vampire boyfriends). Additionally, you can customize the boys according to your taste.
2. Boyfriend Plus Android

Boyfriend is too an amazing boyfriend simulation app for Android and iPhone. The boys are really good looking and they are great talkers too. What you will like here is, how realistic the behavior of these boys with you.

Although the conversation will end after a while so that you won't get addicted to the app. Overall it's a great app if you are looking for a few ways to start a conversation and improve your talking skills with the people you are interested in!
3. Is It Love? Daryl – Virtual Boyfriend Android / iOS

Is It Love is a unique boyfriend simulator app which you will definitely find interesting. It's an interactive story game where you will become a part of a love story, which has everything from romance to drama.

You will play the role of emerging young star, who cross paths with Daryl! He is not usual, and simple but he is definitely something you would want to be with.

The story will progress according to your actions and choices. It's a thrilling storyline which will keep you glued with the app. The app releases new episodes every 3 weeks So you will have endless romantic fun here.
4. Dream Boyfriend – Astral Days Android / iOS

Finding your dream boyfriend is surely a hard take but making your dream boyfriend isn't look that hard with this virtual boyfriend simulator app. Here you get to make your dream boyfriend by adding several new characteristics like clothes, unique style, and personality.

There are different things which you can experience with this app so what are you waiting for? Just go to play store and download this virtual boyfriend app and have fun with your dream boyfriend.
5. Simulator Virtual Boyfriend Android / iOS

Simulator Virtual Boyfriend is a leading app that makes ladies go crazy about these virtual boyfriends. They are the closest thing to a real boyfriend, the only difference is here you will find a perfect boyfriend!

You can choose the guy you like the most and chat with him about your feelings and yourself and he will never get tired. This way you will learn how to express yourself in front of people you really like. Just keep in mind that this app is only made for fun and you are talking to a virtual person. Overall it's a great app which will make you feel confident while you talk to new people.
6. Smart Virtual Boyfriend Android / iOS

If you are looking for a virtual boyfriend simulator app that has the most intelligent guy in the world then Smart Virtual Boyfriend is where you actually can go! Not only the guys are smart but they are also good looking, funny, and kind!

You can ask them questions and they would answer them honestly. You will receive fast replies, and have a good talk with them! You can rely on this app for a virtual boyfriend!
7. Virtual Boyfriend Simulator (Prank) Android

If you wanna prank on your friends with a virtual Boyfriend simulator app then it is the perfect app for you. Not only it's easy to use but it's also very realistic. The fact that you can totally control the behavior of your virtual boyfriend is what makes this app most interesting.

You can easily chat with him and he will entertain you with his funny behavior when you are bored! It's one of the best app for keeping yourself away from boredom and prank on your friends. Overall you will like this app!
8. Virtual Boyfriend Crush Simulator Android

Virtual Boyfriend Crush Simulator app is an excellent app that will surely won't fail to impress you. It's kind of a story-driven app that features a story and you will choose your fate of what happens next!

The app features so many stages in your romance like you will start the story with your crush and end it with your husband. It's an interesting gameplay and you can blindly trust this app for entertaining you.
9. Virtual Boyfriend Chat Android

As its name suggests, Virtual Boyfriend Chat is everything you need when it comes to having a flirty chat with a new and interesting person. Go for this app and you will learn a number of chatting skills when you use the app and have a chat with your virtual boyfriend.

But don't get addicted to your virtual boyfriend because it will give you fast, and sweet replies which you can never imagine. Use this app when you are looking for ways to start a conversation with someone you like but you have no idea how to start it.
Conclusion

So here are our top picks for best boyfriend simulator apps which you need to download if you are looking for these kinds of apps.