If you are looking for the best girly apps for little girls then you are at the right place. It's no secret that there are thousands of girly apps present but are they all good enough? I guess not! And that is why we are here to save you from going through the trouble of searching the best girly apps.
We have check out a number of girly apps for you and found you the best gems. These girly apps are free and fun, and every girl will love to play these games. We have tried to include an app from each category such as fashion, cooking, etc which are the most favorite categories for little girls! Go ahead and read our article to find out which are the best girly apps.
Girly Apps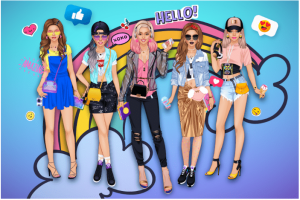 1. Rich Girl Crazy Shopping – Fashion Game Android / Iphone

Now who doesn't like shopping? We all do right! So there is no better choice for a girly app for iPhone then Rich Girl Crazy Shopping- Fashion game. The game features 6 girls from different races and the player can help these girls to style them as they would want!

There are a number of things present which girls can do. It's kinda a dress up game where you shop, you style and you get to flaunt your style. Here players will get choices in hairstyles and makeup too followed by the accessories and shoes.

Live a life of fashionista or a supermodel and never miss a chance to bring out the best style. This fashion game is all a girl can want, that's why this girly app worth a try!
2. College Girls Team Makeover Android / Iphone

We can't get enough of fashion games when we are talking about top girly apps and that's why we have listed College Girl Team Makeover in our list. As you can guess by its name this game it's a makeover game.

This game features a group of 5 girls who are the popular girls of the school and they are all people talk about mainly because of there high sense of fashion. Just like the above game, here you need to do a full makeover. Choose the statement dresses and shoes. Makeup is too an integral part of the game. You get to choose between several hairstyles and accessories, bags etc.

There are over 200 items present from which you can choose and it's one of the fun girly app which can play!
3. Beauty Queen Dress Up – Star Girl Fashion Android

If your girl wants to be a part of a beauty pageant then Beauty Queen is an ultimate girly app for her. There are a total of 12 girls present in the competition all come from different games. The game respects every religion too, so you can also find 'hijab' too.

The game is all about winning and how the player leads her model to win the percent with her own fashion and dress up skills. Choose your style and conquer the competition. This is a perfect and totally free girly app where you can style with your own sense.
4. Design It Girl – Fashion Salon Android / Iphone

If your girls want to be a fashion designer then it is undoubtedly the best girly app for your little girl. Here players will help Lucy as she has opened her own boutique. It's a dressmaker shop where you will work with different kinds of patterns, colors, and clothes types.

There are a number of minigames present too which makes it more interesting than ever. The unique feature of this girly app for android is its different type of tailor tools from which you can make your own design and make an outfit.
5. Girls games: painting and coloring Android

This girly app 2021 is for the girls who are interested in paintings and coloring! It's easy to play and yet it is one of the most fun app present. Here users can pick up any design and start coloring. All you need is to use your imagination!

There are over 120 color pages present to choose from. Users can also share their drawing via Facebook, email etc. This girly app is a pretty great choice for toddlers and little kids!
6. Fashion Model 2020 – Rising Star Girl Android

Fashion model 2020 exactly what you can imagine! It's a fashion show where players need to show their creativity and fashion sense. Users will be able to design outfits for 6 different models and make them glamorous. There are over 160 items present to choose from (I.e hairstyles, dresses, tops, skirts, jewelry, accessory, etc!).

It's everything you can imagine of a fashion show and red carpet. Just download this girly app and become the most popular celebrity or supermodel!
7. High School couple: girl and boy makeover Android

You know what's annoying about high schools? It's the fact that some high schools have uniforms which is super annoying, but with this girly app for android, you will get a chance to do a makeover for high school students (both girl and boy). It's a perfect app for teenagers and here you get to make your own high school style statements!
8. Shopping Fever Mall Girl Cooking Games supermarket Android / Iphone

It's a fun and progressive girly app where players will have more than 200 mall levels. Here you guys get to do a lot of activities to reach the next level and achieve upgrades for various features in the the the the the game. Try out this unique and fun girly app.
9. Super Market Grocery Shopping: Mall Girl Games Android / Iphone

In this free to download girly app, kids learn the basics of shopping and bill management (like how to pay the bills and what to shop). It can be an educational app where kids learn to do the basic stuff like shopping. There are a number of other activities also present!
10. Hairstyle Girls Android

Hairstyle girls are a popular girly app for android where girls learn how to make different kinds of hairstyles in a few easy steps!

It's a fun app and every girl will enjoy this app for its variety of hairstyles!
Conclusion

Now it's an end for our best girly apps list for Android and iPhone. We hope you would find an app that you were looking for in our list. All the girly apps are popular and loved by girls, and we assure you, you won't be disappointed by these apps! So try out these apps and give your girl a treat by introducing these games to her!