Instagram has become a very important part of our lives. This is the first thing we see in the morning and probably would be last too. So it won't be wrong to say that almost everyone is crazy about Instagram. From posting cute pictures to getting lots of likes and followers, everything is very important which is associated with Instagram.
And almost everyone wants to get popular by getting more likes and followers on their Instagram. But is it that big a deal to get more likes and followers, I think it is and especially for millennials. But for some people it can be hard to get the desirable likes and followers on Instagram but don't you worry because there are several apps that can help you with that! Yes, you heard it right, many people use these apps to enhance their likes and followers and so can you.
But for that, you will need to have the best Instagram likes app for Android. And that's why we are here. Not all the apps you will find on the play store will do a good job so we have picked the 8 best instagram likes apps which you would like to use. So let's not waste anymore of your time and start the list!
Best Instagram Likes / Followers Apps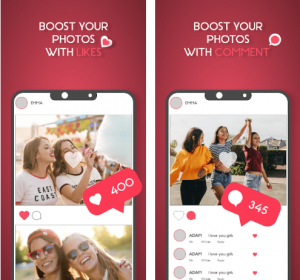 1. Followers and Likes Tracker for Instagram Android

Our first choice for the best Instagram likes app for android is Followers and Likes Tracker for Instagram! Over a million people are using this app for enhancing their likes and followers on Instagram. And it's not just that, the app has received a good rating of 4.5 on Google Play Store.

Now let's see what's special in this one, the app lets you analyze so many stuff about your Instagram page and account. So that you can easily keep tracks of your likes, followers, who blocked or unfollowed you and when they did that. With this analysis, you would know what went wrong and where you gained or lose followers likes. So that you can make better strategies and know what works best for your account which will result in increased likes and followers.

The app does much more than that, such as you can also watch the stories of a person without letting them know. Overall we would suggest you to download the app and have fun because that's what all about on social media is, right?
Our 2nd best Instagram likes app will definitely help you if you want to enhance your likes and want more and more people to watch your posts. This one also is downloaded more than 1 million times and has a good rating of 4.2!

The reason people are using this app is that the app provides the best hashtags which helps them to get more likes and enhance their reach to a much bigger audience. The app not only provides fresh hashtags but it also provides some easy to use tags. You can also copy hashtags with just one tap and paste it under your post for more convenience. The app also provides several categories of hashtags so it becomes easy for you to find a perfect hashtag for your picture.

As you know the importance of right hashtags, so if your account is public and you want to expand your reach then this app should be perfect for you!
Get More Likes + followers hashtag is also a popular and one of the best Instagram like and follower app for android that you should know about. Over a million people have downloaded the app and liked it for its amazing features which helped them to enhance the likes and followers.

This app also works on the basis of getting you the best hashtags to increase the chances of your most to be seen by more people. The best part is you can also create your own cool hashtag and save it with the help of this app. The app also claims to provide more filters and manage to attract more people to your account which help you get more likes and followers.
4. Followers and likes for Instagram – Neutrino Android

Our next best Instagram likes app for android is Followers and Likes for Instagram- Neutrino! This one also a really cool app and you can definitely rely on this one for getting more likes and views for your Instagram posts.

This one finds you the trending hashtags which will increase the chances of getting more likes. You will also find suggested tags that are popular and which will get you more popularity on Instagram. The reason why people love this app is because of its ability to find the perfect hashtag which is relevant to your pictures so that when people make that search through their Instagram account, they find your posts too.
5. Likes+followers Android

Likes+ followers may not be as popular app as the above-listed Instagram like apps but it will surely serve your needs. The app has been newly launched and steadily increasing its popularity among Instagram people. And that's why this one also made it to our list of best Instagram followers app for android! It's very simple and way to use with its intuitive interface. So overall the app deserves a try if you are looking for an app that can help you increase the likes for Instagram posts.
Wanna become an Instagram influencer? Well, it's not hard though and especially if you have this Instagram followers app for android! The best part is the app is fun too. Where most of the apps require some charges to provide you the best and trending hashtags, this one only needs you to play the games! Yes, it's that easy to get more likes on Instagram.  The thing is, more you play and win the more trading hashtag this app will provide you. And better the hashtag more will be your social engagement, hence you will get more likes and followers! It's fun and it's easy and it is surely something you would enjoy! So download it now to become an influencer on Instagram!
Likes Hash is another great app that deserves a place in our list of best Instagram likes app! Why? Because there are millions of people using the app and finding it easy and effective. Just like the above apps this one too provides you some of the best hashtags which helps you. The thing with hashtags is they have to be relevant to your pictures and they have to be cool and catchy, and of course trending. So the visibly of your post kinda depends on the hashtags you use and that's where this app helps you to find the best hashtag possible.
8. Liker Analyzer for Instagram Unfollower Reports Android

Our last pick for best Instagram like app is this app which is also an analysis app. This means the app will present you with the reports for your likes and followers. This helps you to know what helps you to gain more likes and followers on Instagram.
Conclusion:

So these are the best Instagram likes and follower apps for Android! Although we would suggest you to not get too worried about your likes and followers but at the end of the day, if that's what makes you happy, these are the best Instagram followers app to rely on!

We have done our part by introducing you to the best Instagram followers apps for Android and now it's your turn to choose any one of them that meets your requirements better. We hope you have found what you were looking for! Thank you for visiting us.