Bored with your regular background? Well, we have something interesting for you! And this is trending Transparent Screen Apps. Yes, that's possible to make your phone's screen background transparent and it looks so much cooler than any regular background. In fact, people are going crazy about it and that's your chance to have something completely different on your phone. Although some people think transparent backgrounds depends on the brand of your phone but it's not because you can easily make your screen background transparent using a transparent screen apps.
There are many transparent screen apps available on play store and for iPhone too. But everyone wants the best right! So if you have no idea which transparent screen app is the best then you are at the right place. As we have gone through a bunch of transparent screen apps for iPhone and Android and picked up the 9 best transparent screen apps which you can completely trust.
But before starting the list of top transparent screen apps we are gonna answer some commonly asked questions about transparent screen apps.
How do transparent screen apps work?
Transparent screens apps use your phone's camera to make your screen appear transparent. Although the functioning of apps can vary from one another!
Do all transparent screen apps work?
Some may work better than others and some may deliver another service like making your apps transparent. And that's why we have bought you the top 9 transparent screen apps for your iPhone and Android phones.
And here we are starting the list of top transparent screen apps.
Transparent Screen Apps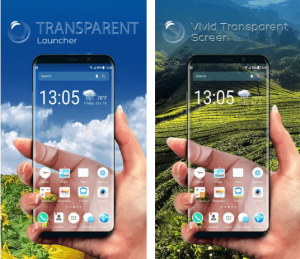 1. Real Transparent Launcher Screen & Background Android

Real Transparent Launcher Screen & Background is our first pick for the best transparent screen app for android. You will find so many great things here which would turn your boring background to the interesting one. With easy customization options and many choices for wallpapers, this one surely deserves the top place in our list.

You can use your phone as normal with amazing transparent background, where you can see through your phone with the help of your phone's camera. The best part is you can easily click photos too, for example if you are using your phone with a transparent screen and suddenly you find something really interesting, all you will have to do is double click on the screen and the photo will be taken.

Another great thing about the app is, it has more than a thousand HD love wallpaper and that too for free. So use the app and find the best wallpaper too. Other than wallpapers you will find more styles too. The 3D effects are too very amazing to have and look at. And with every week, new photo wallpapers are being updated too. So either make your phone background transparent or find the best wallpaper, this app should be your first choice. Here the app is easy to use and takes less space in your phone (35MB), so it won't be a burden on your phone's memory.
2. Transparent Screen Android

Our next choice for best Transparent screen app is Transparent Screen! This one is also a great option is you are looking for some transparent phone background wallpapers. This one too uses the phone camera and make your background completely transparent. So download it for a new crazy experience. Although the app is designed for the phones that use 3D launcher and make their phone screen completely transparent.

Other than making your phone screen transparent, the app has thousands of different themes and beautiful wallpaper which means, no matter what your taste you will find something great in here. The app comes in a small size (3 MB approx) so it's your chance to get something interesting as your phone's background screen.
3. Transparent Screen and Live Wallpaper Android

Transparent Screen and Live Wallpaper should be your next choice, as this one too is a leading transparent screen app for Android and iOS. The app features a rating of 4.4 which is kinda cool. The app provides you a transparent screen as well as live wallpaper which will enhance the background of your phone and makes it appears unique!

There is plenty of live wallpaper available featuring the parallax effect along with the sensor rotation vector sensor. You can make your screen transparent with just one click. The app is easy to use and has an intuitive interface and it comes in a very small size.
4. Transparent Screen and Live Wallpaper Android

Looking for a fun transparent screen app for android? Well, you have got one! This one is also a great option for those who want to have a transparent screen on their phone and the best part is you will have so many live wallpapers too.

Here you will find hundreds of live wallpaper and 3D themes for your phone background screen. This app will turn your phone screen into transparent one using your phone's camera. There are different styles present too. This one is only of 13 MB so you can easily store it in your phone.
5. Transparent Screen Live Wallpaper

Yet again an app with a similar name, but it's surely is different in many ways. Millions of people are currently using this transparent screen app for Android and that's why we are recommending it to you as well.

Use your phone just as you were but with a transparent screen background which makes it fun. This one too rely on your phone's camera for the transparent background screen so you can see through. The app provides a great wallpaper effect and has a fun collection of HD live wallpaper. It's also easy to use and you can set a transparent screen with a few clicks.
6. Transparent Screen and Live Wallpaper

Looking for a great app that features best Live wallpapers as well as has the ability to turn your background screen into transparent? Well here is the perfect app for you. It's one of the best app that you can find and you will be certainly satisfied with its services. See whatever is there in front of your phone to your home screen.

It is really easy to use the app too, just install the app and open it. Then click on Type Live Wallpaper and then click on set transparent Live Wallpaper. It's that easy to use and it's effective too. With its collection of live wallpaper collection, you can certainly find the one that suits your personality. Because there is something for everyone. The app is about 6 MB and it's certainly fast and known for its smooth performance. Overall it's worth a shot if you want to make your screen transparent.
7. Transparent Screen and Background Simulated

Thousands of people are currently using this transparent screen app for android and iOS, so you can try this one too. This one too works on the same principle as other, that is, this will also use the camera and reflect what it sees in your home screen.

It features realistic 3D effects wallpaper which has High HD pictures. This one also has animated effects which moves when we touch them. There are plenty of themes also present so you can easily customize your phone as you want. The best thing is they keep updating new wallpapers on a weekly basis.
8. Transparent Live Wallpaper: Transparent Screen

This transparent screen app by App Bucket will surely become your favorite one since it has so many cool features. You can operate your phone just as normal but with a transparent screen. The app allows you to give you the view which your camera is seeing no matter which phone you have and how many apps you have in it. You can also select the desired camera either front or back! You can also set Live Wallpaper.

Some of the best thing about the app is,  it optimizes the battery usage, it has good effects, it's highly customizable, this one works offline too, and its best transparent screen app for Android! So in doubt switch to this app for fun!
9. Transparent camera screen

Over five hundred thousand people are using this transparent screen app for their phone and enjoying the transparent screen background. So now it's your turn to change your regular background into something fun and make sure you have a unique background on your phone. It's easy to use, it takes less space and it's free to download too. What more you can ask from an app that turns your screen transparent right!
Conclusion

So these are the best transparent screen apps through which you can easily make your phone screen background transparent. We have tried to list out every app that does a fine job when it comes to making your screen background transparent. We hope you find the best one for your phone. Thank you for visiting our page. Keep coming for more such reviews.