Strollers are one of the most important things that you will buy for you and your child. As you know carrying your child through long journeys is not an option. And that's where your stroller helps you. A stroller is useful from day one of birth till your little one reaches their toddlerhood!
Gone are the days when parents have to satisfied with just one type of stroller and didn't have many choices. Today we see plenty of choices in the strollers. There are strollers that are designed for the parents with active life, that is, the jogger strollers! There are strollers designed for twins which is known as double stroller! And there are travel strollers which are life savior for parents who need to travel for business or just love traveling.
The travel strollers are designed to ease your vacation, as they provide a good amount of spaces for shopping, a basket for carrying goods and baby products, and lastly, they are lightweight so that it becomes easy to carry them around. They are easy to store due to their compact size.
If you too are searching for the best travel stroller then you are at the right place. We have not made a list of best travel strollers but we have also made a little buying guide which will help you to choose the perfect travel stroller for your kid!
Here are a few things that you need to look in a travel stroller:-
Size and weight:- When it comes to traveling no one wants to drag the heavyweights with them, and that's why the weight and size of your stroller should be your first priority! The size of the travel stroller is also an important factor to look after, as you know, the compact the size is, it will be easier to pack them in your trunk! So it should be lightweight as well as compact in size so you can it around anywhere.
Durability:- You don't want to purchase a new travel stroller for every vacation you go on, so it becomes important that you invest in a durable travel stroller. This also makes us concerned about the material used in the travel stroller. After all, it has to be strong enough to withstand different environments as well as terrains! When it comes to the traveling stroller, you should prefer the one that's made with a steel frame or aluminum frame. It will make them lightweight, compact, and strong. The fabric of your travel stroller should be made from nylon or rip-proof material! It should be easy to clean with just a wire as well as water resistance!
Age and weight of your child:- Before buying the travel stroller you should check the weight and age limit of the stroller so that it's perfect for your child, we would suggest you to buy the travel stroller with high weight and age limit so that it can make it through the long.
Safety and Comfort:- The next important criterion is the safety and comfort of the stroller. No matter what you buy for your child it has to pass the safety test, after all, we all want the best for our child right. To ensure the safety of your child it needs to have the 5 point safety harness which will keep your baby safe and secure while you are on the vacation.Talking about the comfort, the seats should have a nice padding so that it feels good and absorb the shocks at some extent. The fabric of the stroller to needs to be soft and breathable!
Folding and Portability:- Now, this criterion is a kinda important one from the perspective of traveling. Obviously, you are buying it so that you can take it anywhere so portability has to be there. The folding should be easy which can be operated with just one hand. It should be flips one collapses wherever you are. Some travel stroller comes with a strap so that it becomes easy for you to carry them around. Other travel strollers also come with their own little bag!
So these are the important factors that you need to look in your traveling stroller. There are also secondary features like the canopies, cup holder, or parents tray as well as the ability of a fabric to be machine washed.
Another important features are the price and the brand name. It's true that you should look at the travel stroller withing your own budget but at the same time, you don't wanna compromise the safety and comfort of your child for a cheap price.
Now let's get started and take a look at our list where we have picked the best travel stroller for every parent. We are sure everyone finds a perfect match for themselves!
Best Travel Strollers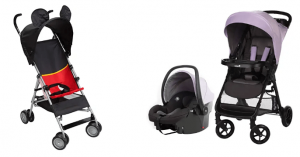 We are starting our list of best travel stroller with the UPPAbaby G-Luxe Stroller. It's already a well-established brand name, so it's easier for parents to trust this one. Apart from this, what you will like the most about this one is its comfort and easy to use technology. This one is the best choice if you are traveling by car. It's lightweight due to the presence of aluminum frame and the carry strap which makes it pretty easy to carry it around on your shoulders.

It can be easily opened and closed so you will be able to use it at your description anywhere! The best part is, it can stand on its own when it's closed so you can keep it in a corner of your hotel room or backseat of your chair!

To make it a comforting and easy-going vacation for your child it features which absorption, four-wheel suspension so your baby won't feel anything and he can even sleep peacefully while you are on sightseeing. Reclining seat is another great feature of the travel stroller along with a large canopy!

Speaking of its storage, you will find a good amount of space along with a cup holder. What's more, it's suitable for children from 3 months age to 55 pounds. It may not be the airport-friendly but if you are going by car then this should be your first choice. With great features, the strollers justifies its price!
If your goal is to find the best travel stroller under $100 then this should be your first pick! This one has won many hearts with its amazing features as well as budget-friendly price. The thing with Summer 3D lite is, it's an overall best pick. Meaning, you won't find anything to complain about it.

For starters, you will find many amazing features that you otherwise find in regular heavy sized, high-end stroller but lighter in weight as well as a lower price. With an aluminum frame, it is stylish as well as features a stylish design! Which makes it lightweight as well as easy to fold. You can easily fold it in three easy steps.

The seat can be reclined and become flat which makes it easier to change the diapers as well as naps. What's more, the height of the stroller is ideal for all kinds of parents. You will be surprised to find the storage space given its ultralight weight. It features a large basket, rear pocket, and a cup holder.

To ensure the safety of your child it features the 5 point harness which can be adjusted at 3 different positions so it will be ideal at different stages of your baby. Its extra padding makes it comfortable and easy to push and steer function is ideal for parents.
We chose Jovial Portable Folding Baby Stroller due to its slim foldable design and the fact that it comes with its own carry bag, so you don't have to make room for it in your trunk. It's ideal to carry around the airports, trains and other public transportation.

It weighs only 16.3 pounds and features a super easy and convenient folding mechanism. It's that good actually! What's more, the stroller is highly versatile meaning you can also use it for jogging, which makes it ideal for parents with an active lifestyle and those who doesn't wanna invest an in separate stroller for jogging!

It features a 5 point harness system for ensuring the safety of your child along with a secure locking system. You will also find easy to use foot pedal. The canopy is large and provides a shield for your baby to protect them from sun or wind. The seat can be reclined to flat which makes it ideal for a vacation where you don't have to use a separate bassinet for your sleeping baby. It can be used from birth till your baby reaches toddlerhood.
We couldn't resist ourselves from choosing a Graco Product! You must have heard of this name since it's a popular stroller as well as infant car seat brand. It's an umbrella-style stroller, which means, it super might in weight with a good stability and durability. It can also be used as a travel system so you may wanna try it out.

Being a travel system stroller it can be easily attached to the Graco infant car seat with an adaptor. Due to this, parents love this one for their long car journeys. It even features lockable front wheels and suspension. It can be pushed using only one hand.

The SPF 50 canopy is all you need to protect your kid from the Sun and its harmful rays. Its cushioned seat is also a plus point along with the 3 or 5 point harness system. The stroller will grow with your baby. And it is ideal from birth of the baby till your baby reaches 50 pounds of weight.
Chicco is our next choice for the best travel stroller. It's also a popular brand that features a number of amazing facilities that make it one of the best. You will find a big room for your baby, so he can relax and be comfortable. It also features two different seat positions so your baby can find a good spot for relaxing. You will definitely find it's one-hand operation convenient during your vacation time.

The stroller also features an all-wheel suspension which ensures a smooth ride for your baby and for you as well! This one too comes with a carry bag of its own. So you can easily hang it on your shoulders using a single strap. The stroller can be useful up to the age of 3 years.
If you are looking for the best travel stroller which is specially designed to meet the airport needs then this one should be your first choice. We know it gets pretty hard to travel on flights with your baby, but this one will actually make it easier (to some extent).

It features a carrying handle, large canopy, and large storage basket! It's made up of high-quality materials that are durable. Five-point harness and adjustable paddings are also present. It's super light and supports a one-hand operation. This one is also ideal for babies age from 0 to 36 months!
This one is also an umbrella style stroller that is lightweight and made with sturdy material. The feature that made it among the best travel stroller is its ultra-compact design. It can be fit in any compartments of trains or planes. It only weighs 9.5 pounds, which makes it the lightest stroller.

The stroller can be folded in just 2 easy steps and the folding can be done by using just one hand. It also features a handle so its portable. UPF 50+ canopy and reclining padded seat makes it highly comfortable for your baby. It is too constructed with durable and high-quality material. The wheels are swivel and feature lock so it will be ideal to use on different terrains.
Mountain Buggy Nano Stroller is definitely made a place among the best travel stroller for many reasons. The first reason would be, it is the infant car seat friendly and that too without investing in the additional adaptors. Its also an umbrella type travel stroller but it's far better than other ones.

It also meets the regulation for airline carry so it suits both the car journeys as well as flights. The compact size as well as the two-fold mechanism is its main features. Features like large canopy, storage, reclining seat, travel bag, and shoulder strap are also available which makes it a perfect pick for a travel stroller. This one can be used up to the age of 4 years of your baby, so it will be a smart investment.
Babyzen YOYO+ is a pretty expensive option for a travel stroller but the thing is, it is much more than just a travel stroller. This one might compatible for everyday use or for the parents who love to take a walk in the nearby park. Using an additional adaptor, you can also use it as a car infant seat for your newborn.

What you will love about this stroller is it will last long! Even longer than most of the other strollers that we have mentioned in the list. So it will be useful for your future babies too. It weighs only 12.8 pounds so handling it would be easy and hassle-free. A storage basket is also present which features a generous amount of space. Lastly, it is ideal for babies from 6 months to 4 years.
If you have twins or two children (infant and a toddler) then this should be your first pick. This one too features some of the best features like the one-hand folding mechanism with a lock system. It can be folded to a very small size so it will easily fit into your trunk.

The stroller features a ventilated panel which will keep it cool. It also features reclining seats, paddings and the seats are also breathable. 2 cup holder, as well as a snack holder, is also present. The front wheels have their own suspension to make the smoother ride along with an easy one-hand push. Overall it's definitely the best option for twins and parents with two babies.
This one is for those parents whose first priority in a travel stroller is the storage space. This affordable travel stroller comes with a number of features including, extra-large storage space, additional basket, one hand fold, removable child tray, parents tray and extra storage pocket.

The canopy is SPF 50 proof yet a peek-a-boo type so that you can keep an eye on your kid. 5 point harness system is present. Another reason why parents prefer this one is because of its affordable price. It is ideal for kids up to 50 pounds.
If you are visiting a big city or want to take your baby on a city tour then, Baby Jogger should be your first choice. This one is designed to provide your baby with high comfort so that he can enjoy the ride with you no matter how long it is.

The UV 50+ sun canopy is present to provide shade, along with it, you will find several convenient options. You can fold it and make the size pretty compact. It also comes with a handle. Although the stroller might not be the lightest but it's surely sturdy and durable. It's ideal for babies from 6 months up to 45 lbs.
Ergobaby too made it to our list of best travel strollers due to the presence of all ideal travel-friendly features. Additionally, it features adjustable leg rest so that your baby can rest their legs without being cranky about it. This one also makes it easy for babies to sleep on the go. It can easily be compacted in a very compact size so that you can store it anywhere.

Additionally, the seat is removable as well as machine washable so you won't worry about the hygiene. You won't require an assembly it's ready to go. Suitable from birth to 40 lbs.
Maclaren is the best choice for people who are traveling in the rainy areas. It is waterproof as well as UPF 50+ canopy is also present. Apart from this, you will also find wind resistance rain covers. It also presents a big room for your child, the seat is breathable and cozy. Overall it's ideal for all seasons. The harness is also present and it can be easily folded too. This one is ideal from 6 months to 55lbs. Making it the long-lasting stroller for your baby.
Our last pick for the best travel stroller is Joovy Groove. This one is the perfect choice for tall parents, so if you are one, go ahead and buy one! This one features all the characteristics that a travel stroller should have. It's ideal for infants to 55lbs babies!
Conclusion

So these are the best travel strollers that you can find in the market right now. See the things is we have tried to list out the travel strollers at different prices, so it will be easier to find the perfect travel stroller withing your own price range. Furthermore, we have selected this one, because they meet most of the criteria of the best travel stroller. And they have also received pretty great review from the patents.

Here we have done our part of introducing the best travel strollers and now it's your turn to pick one from the list. We hope you found the article helpful. So thank you for visiting us again and keep coming for more such content!