People who jogs frequently knows the importance of jogging strollers when they have a baby. Many people don't know the basic difference between jogging strollers or the normal strollers. See the jogging strollers are meant for the people who want to take their child with them when they are jogging. The jogging strollers are a bit heavy and meant to keep your baby more stable than the regular stroller. They feature three wheels instead of four. And most importantly their front wheel will look into a place or remain permanently fixed in the place.
Some jogging strollers can also be converted as a car seat so that it will be convenient for you to carry around the stroller without buying the extra car seat for your baby. Experts says that you can start jogging strollers when your baby becomes 8 month old. This is the time when the baby will be strong enough to handle the speed and bumps and stay stable. Moreover, the jogging stroller can be used as a regular stroller as well but for that, your stroller has to have the swiveling front wheel.
In this article, we are going to introduce you to the 15 best jogging strollers but before we do that we want you to go through this buying guide which will give you a brief knowledge about what to buy and what factors to look in while buying the best jogging stroller.
Safety features: No matter what you are buying for your baby you always want the thing to be safest for your baby. And when it comes to the jogging strollers, safety becomes your first priority. Make sure that the stroller has a locking front wheel. When you have a locked front wheel your stroller will remain in the place no matter what. Swivel wheel is also popular these days, this will keep the jogging stroller in place as well as move when you want them to. Apart from that, safety tether is also important. It's kinda a leash that will circle your wrist and attach to the stroller. It's useful in case when you lose grip on the handle.
Brakes: Brakes are indeed the most important factor of a jogging stroller. A parking brake will be useful when you stop the stroller. The handle should also have a brake which will help you slow down the stroller.
Comfort: Even though you are jogging your baby should be comfortable and shouldn't feel anything. It will be also useful if the stroller has a reclining seat So that they can lay down as well.
Harness: Harness is also important from a safety point of view. You baby should stay stable as well as safe so it's important that all the jogging stroller have the harnesses.
Other than these factors you can also look for a canopy, which will prevent your baby from the sun. And you can also look out for the fabric of the stroller which should be comfortable, easy to clean as well as non-toxic for the baby.
These are the few factors that you need to consider while buying a jogging striker for your baby. We know the options in the market are overwhelming right now and one can easily get confused. And that's why we have decided to go through a number of jogging strollers and chose the best ones among them. Take a look at the list to find out which are the best jogging strollers for your baby.
Best Jogging Strollers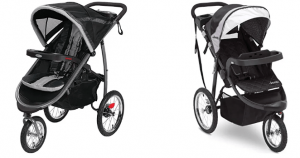 Bob revolution pro joining stroller is our first pick and for many reasons. First of all, the jogging stroller features the swiveling as well as locking wheel. The next best thing would be the presence of both the hand brakes as well as wrist straps so you will be assured of the safety of your child while you jog.

The baby stroller can be used for babies from 2 months of age and up to 75 lbs. This one provides the largest age gap for the babies. If you wanna use it as a car seat then you will have to purchase an adaptor. The nine handlebar positions are ideal for both short as well as tall parents. It's definitely one of the best jogging strollers you can buy and it comes at a reasonable price as well.
Baby Trend Expedition is also one of the best jogging stroller to buy. The design of this stroller is what has impressed the parents as well as the experts. The wheels are large and feature economical shape. The wheels are made up of rubber which can support any terrain. It can be locked as well as swivel to run on smooth surfaces.

Additionally, the stroller features 5 point harness which means you can take a slow jog or a fast run and worried about the baby's safety. The seat are multiposition so your baby can comfortably sit as per their convenience. Parents also like this one for it's like space so they can keep the essential items (two cup holders, parents tray, child tray, etc).

The best part would be, it can easily accommodate a baby trend infant car seat. The canopy can be fully customized as per preferences. The stroller also features a wrist strap and brake. What's more, the stroller is inexpensive, so you are literally getting all the premium features at a very cheap price.
Thule Urban Glide 2 is also a great option when it comes to buying the best jogging stroller. The swivel wheel is present which can lock in place for jogging and an easy and compact fold. The canopy window offers great ventilation so your baby won't feel suffocated. With an adapter, you can use it as a car seat as well. The brakes on the foot are stiff.

This one ideal for babies above the age of 6. Wrist band is present along with a reflective band on wheels and canopy as well as a hand brake. It can be used for regular strolling as well. Lastly, it has a lot of space so you can keep a few necessary things.
BOB Revolution is one of the best brands when it comes to jogging strollers. It is built using lightweight materials. The wheels are wide and made from rubbers which means they can tackle with different terrains. The front-wheel can fully rotate as well as can be locked up. So ideal for jogging as well as sightseeing around the parks.

This one can also be used as a car seat and which means you won't have to invest in an infant car seat. This one can be reclined in many positions so that your baby can be comfortable. A padded 5 point harness is also available. It can be easily folded and the compact size means it's easy to take around when you use the car. A rear-wheel brake system is considerably used by your foot to ensure the easy brake system.

The fabric is durable as well as stain resistance. And it's also easy to clean. This stroller is one of the best because of its feature-rich nature so it can be an ideal match for you and your baby.
Graco has already impressed us with the convertible car seats as well as infant car seats and now they are presenting one of the best jogging strollers. Graco is known for providing comfort and safety and that too at a reasonable price. You will find air filler tires which can be maneuvered in different types of terrains. It also promises to give more stability on rough terrains.

You won't have to worry about the stroller titling on one side which can be harmful for your baby. It is also known for its fast action and one-hand folding. It can be easily folded in a hassle-free mechanism and can be easily stored as well.

Just like other top strollers this one too features the 5 point harness. The extra-large storage basket is a life savior for parents as it can easily keep the diapers, toys, or food for the baby. It is ideal for babies from 6 months and up to 50 lbs. It is comfortable and will keep your baby safe, secure and comfortable.
Buying a travel system for your baby is always ideal as it can do many jobs without you investing in separate stuffs. It can be used when your baby is at an infant stage and it will easy to switch from one thing to another such as from car seat to jogging stroller or even the regular stroller.

It can also be used on many terrains and even on the grass. Cup holders are also featured in the stroller for your convenience. Features like smooth trigger folding mechanism enhance its performance and you can easily store it. The canopy is made from a strong material so that your baby can be protected from the sun as well as from the wind. It's great for regular walks around the parks.
Bumbleride Speed is our next pick for the best jogging stroller. It is made from natural and recycled material. You can also use it as the car seat. It offers adjustable handles so you can easily customize it according to your preferences. A swiveling front wheel is also present. The stroller can be easily folded in which keeps the fabric clean and protected.

Wrist straps and reflexive straps are also available although you won't find a handle brake in this one. And you will need to purchase the car seat adapter separately. The good part would be the fabric free from all the toxin materials such as BPA, Phthalates, PVC and fire retardants, etc. It should be the first choice for those who want an eco-friendly stroller.
8. Schwinn Turismo Swivel Single Jogger

Schwinn Turismo also makes a great option for a jogging stroller and you will be satisfied with its performance. The best part is the stroller's suspension as your baby won't feel anything no matter how bumpy the road will be, he can even be asleep during your jogging session.

The wide wheel is strong enough to handle the wright of babies up to 50 lbs and all kinds of terrains as well. The handlebar can be adjusted as one's convenience. The best part about the handlebar is it's rubberized and slip-resistant, so you won't have to worry about losing your grip.

The stroller features an mp3 player as well which is an advanced feature, with this you can keep the baby entertained. You can also use it with a car seat using the adapter. It features an aluminum frame which makes it sturdy, durable, and reliable. It's overall a good option and you can invest in this one.
9. Baby Jogger Summit x3

Baby Jogger Summit is also popularly used by the parents for their jogging sessions. The best part about the stroller would be it's highest weight limit which is 75 lbs and babies under 6 months can use the stroller as well.

Features like easy fold, hand brake, front-wheel that can either swivel or lock into place are present. Easy foot brake and extra-large canopy are also there. So you can take a look at this one, you might find it good enough for your baby.
10. Joovy Zoom 360 Ultralight Jogging Stroller

Joovy is one of the best jogging stroller which is safe as well as affordable. There are many features which makes us put the stroller in our list of best jogging stroller. This includes a wide seat which is comforting for babies and it also features multiple sitting positions as well.

A rear suspension is present which will be useful when you are taking a run on uneven terrain. Swivel action of wheels is also featured so you can easily use it as a regular stroller. Single action brake is also impressive. Padded handle is another amazing feature of the stroller. Parents will find the extra storage useful wide and adjustable canopy is it's another great feature. Parents have accepted this and given a good response and that's why you should at least take a look at this one.
11. BOB Gear Revo Flex 3.0 Jogging Stroller

We have discussed some of the jogging strollers from this brand, so you already know it is a popular brand and holds a significant value in its name. This one is popular for its high customization features which includes the handlebar which can be adjusted in nine different positions.

You will also find a tracking knob that prevents the tilting of the stroller in one side. It's a heavy-duty stroller so it can be used as a regular stroller. This one also has a high weight limit which is up to 75 lbs. It's also pretty expensive so just take a look and of money isn't the issue, it should be your first choice as well.
12. Jeep Cross Country Sports Plus- Delta Children

This one is the latest entry in our list of the best jogging stroller. It's one of the premium stroller we have that has impressed parents and it feels like a luxury ride. The large canopy will give your baby a full cover and a serving tray is also present. It's definitely a good option for a jogging stroller.
13. Delta Children- Jeep Delux Patriot Open Trails Jogger

Another jogging stroller from the same company, this one vary in style and design. The big air-filled tires are all you need when you take a walk on unpaved paths. Padded seat will keep your baby comfortable and you can also adjust the recline to comfort the baby. This one also features 5 point harness. The stroller is definitely designed for the parents that have an active lifestyle.
14. Chicco Tre Jogging Stroller

We have featured the Chicco's convertible seat as well as infant car seat in our previous review article and now it would wrong go not mention this one in our list of the best jogging strollers. Apart from a big brand's name, you will find many useful features.

The best part about this one will be, you can easily detach this one and convert into an infant car seat so it's the perfect pick for the parents who haven't bought an infant car seat yet! The seat is fully padded and is highly comfortable. Handlebar features 4 settings too.
15. Chicco Activ3 Air Jogging Stroller

Our last but not the least pick for best jogging stroller is also from Chicco. You will find a number of amazing features such as the hand operation, easy fold, compact size, and good suspension. It can be easily converted as the infant car seat too. The wheels are strong enough to handle various terrains. The canopy and handle can be adjusted as well. It's a quite good option for parents who love to run.
Conclusion

So these are the top jogging strollers in our opinion. We have chosen these ones as they meet maximum criteria and also received good reviews from the parents. It's important that you look at the quality of the stroller and spend the money accordingly.

Go through the list thoroughly and then decide which meets your needs the most. We hope you liked the article and found what you were looking for. Thank you for visiting our page and keep coming back for more such reviews.