If you work with wood then you must know the importance of a Wood Router! A Wood Router is a tool that is used to rout an area in the harder material such as wood. Wood Routers are mainly used in wood-crafting and other things which require wood finishing.
There are basically two types of routers available, that is, plunge and fixed. Which serves different cutting actions. When it comes to getting a wood router, no one would want to buy the one which won't perform well or don't do a good job. So it's important that you invest in a good wood router then buying any random wood router which will disappoint you in the long run.
There are a few things which you should look into a wood router while buying, so that you choose the right one and make an informed decision.
Size: Size is one of the most important factors no matter what you buy, and with the wood router, you should definitely consider the size. You will find a number of different shapes and sizes of wood router. You can get the smaller wood router such as palm wood router which will fit into the palm. Although they are made to do smaller tasks, also the plus point is they are highly portable and easy to store.
If you are looking for a wood router that can do bigger tasks then palm wood rooter then you should go for compact-sized routers. They are moderate-sized and easier to transport. Lastly, there are large full-sized wood routers which are suitable for bigger tasks. The size of the wood router directly depends on your work.
Dust Collection Port: It's important that you do your work safely. As you would know working with woods may end up having bad consequences on your health because of the dust particles that may go into your lungs. So if working with woods is your daily job then we would recommend you to buy a wood router that features a dust collection port which will eliminate the dust particles and make it less messy.
Brush-less motor: If you don't want to experience loud and annoying noise then you should buy a wood router that features brush-less motor. A brush-less motor will ensure a quiet operation.
Maintenance: Buying a low maintenance wood router is always a great option and requires less of your efforts. There are many routers available in the market which comes with a tool kit which will ensure easy maintenance.
Speed: You can also check if the router works on variable speed so that it will make your work more efficient.
Other than these factors you can look if the router is cordless or not. And if it features LED lights for efficient working. Electric brakes are also something you should consider while buying a wood router.
This was our little buying guide, now take a look at the best wood routers which we have picked from a number of different wood router.
Best Wood Router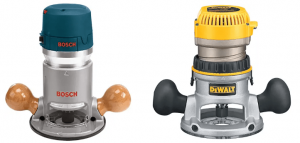 Bosch is a popular and trustable brand that we have and that's why we have listed this one as our first best wood router. This one is highly versatile which can do many tasks. Furthermore, its user-friendly operation has also impressed people.

It features a high-quality aluminum body which is lightweight and easy to carry around. It is a compact-sized wood router which is quite powerful too. Although its a bot experience but in the end, you will have a reliable wood router.
Dewalt is another great pick for a wood router to have. It's compact-sized and does a great job. It features variable speed levels (16,000 to 27,000 RPM). You will also find in-built lights which will be helpful if you work in poor lightings.

Although people have complained that it gets very hot while you work at full power. But other than you will find decent features. Lastly, the price is affordable so you will get value for your money.
Our next option for the best wood router would be Makita. This one too operates on different speed levels (10,000 to 30,000 RPM). Its smooth rack and pinion fine depth adjustment system will definitely impress you.

It features a slim and ergonomically designed body which ensures comfort and control. Its high-quality aluminum body is durable. Overall it does a great job and you will definitely find it helpful.
If you are looking for a user-friendly wood router then Triton should be your first choice. it's highly convenient and features high-end performance. This compact-sized wood router is very easy to maintained. There a few things that you would like in this one. Although people have found that some electronic components are a bit sensitive.
We have already made it clear that we are fond of the Bosch brand when it comes to the wood routers. And that's why we couldn't resist ourselves from listing out another Bosch wood router in our list. It features variable speed levels and soft start for more efficient working.

It's also double insulated and features soft-grip handles. Overall you would get what you can expect from a brand like Bosch, so you don't have to think twice before buying it.
If you are looking for a full-sized wood router then Porter Cable should be your first choice. It's dust-sealed which makes sure its electrical component won't get damaged. It works great with harder material and that's why we should have it in the first place. Lastly, it comes at a decent price that anyone can afford.
Conclusion

So these are the best wood routers on which you can rely and these will definitely make you wanna work with wood since they have lots of different and advance features. We hope you have found our article helpful and you know which one is the best wood router for you. Thank you for visiting our page.