Gone are the days when we used to put the pot full of water on the stove to beat it. And how can we forget the endless struggle of removing the pot from the stove, you just have at least once burned your finger right? Thank God for the invention of the Electric Kettles that we no longer have to struggle with our traditional pots or stoves to warm a glass of water in the chilly season or for cooking purposes.
Although we were already impressed by the electric kettles, as we could easily heat the water and it will be warm for some period of time but since everything is changing so quickly with new inventions and technology that, we now have the smart electric kettles. Yes, you heard it right just like the smart tv, smartphone or other smart equipment in your house, kettles are also present as "smart". But what does exactly mean by smart kettle? Just like other smart devices, this one will also make it easier to heat your water (yeah it sounds lame but that's true!).
For example, the kettle can be fully controlled by your phone from anywhere the AC or Water heater. Moreover, you can also heat the water to a specific temperature and preset the temperature too. It just looks like a dream, when you even do the smallest things from your phone. The smart kettle will also keep the water warm for a long period of time.
And with the emergence and popularity of smart electric water kettle, many renowned brands have started to make these. And that's where our confusion to choose the best smart electric kettle starts. Although choosing a smart kettle won't be that hard when you know what to look for in an electric kettle. So here is our little guide which will help you to pick the best smart electric kettle.
These are the things you should look for in a smart electric kettle:-
Size or capacity: This should be the first criterion when you are choosing the best smart electric kettle for yourself. You know how much water you need to buy your kettle accordingly. So if you are using the kettle for just yourself then go for the smaller ones, similarly, if it's for the whole family then buy the larger one.
Wi-Fi: Not all the smart kettle function via your phone as some may just feature the remote-controlled operation, so go for the one which supports wifi so you can easily control the temperature and stuff from your phone, even when you are away!
Can the kettle keep the water warm? This should be your concern too, as not all the kettle feature this function and it's important that the kettle can keep the water warm (at specific temperature) for your use. The feature is added recently so not all the electric kettle has it. The time range is different for different kettle, and it is usually between 30 minutes to two hours.
Apart from these features, you should also look for some additional " smart" features, such as the kettle should be able to shift off when there is no water in the kettle. It will prevent the kettle from using unnecessary energy and preventing itself from future harm.
A programmable timer is also essential which can make tea or keep your water ready in the morning so that you won't have to do anything in the morning. Cordless kettles are also popular these days, as you can easily take them anywhere you want without being worried about the cord. Safety lock is also a necessary feature of a smart kettle which will prevent the kids from accidentally starting it.
So these are the few important things which you need to consider while buying the smart kettle for yourself. Although finding one that fits in your budget as well as have all the good features is quite hard. And that's why we have decided to come up with a list of best smart electric kettles, so take a look and find your perfect match!
Best Smart Electric Kettles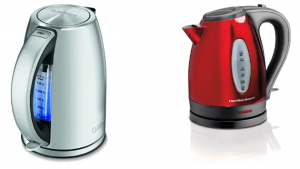 Hamilton is already a famous brand name and you must have heard about since they produce some of the great products in using kitchen appliances. So when we started looking for the best smart kettles we jump on the Hamilton, and guess what? We actually found one of the best electric kettle.

As you know the brand is always coming up with innovations and make our life more convenient, and this innovation of them resulted in this smart kettle. For starters, the kettle looks really highly stylish as well as modern. But it's not all about the looks, as the kettle features six different water settings so you can have it your way.

The kettle also features an auto shut off technology so if you accidentally started it when it has no water, it will automatically shut off. It's is a 1.7 litter capacity kettle, and it maintains the temperature for 30 minutes. Overall it has got some great features and you would wanna invest in this one.
AIMOX is our next top choice for the best smart electric kettle on the list. We have listed this one because not only this will impress you with its great features you can also easily afford it. For starters, the kettle has got an LCD display which lets you know the temperature of the water both current and targeted.

This 1.8L capacity kettle has got 4 different water temperature settings so you will get the water pretty much for everything. Furthermore, it can easily be connected with the wifi and you can control it by your phone, after downloading the app. Some people find the pairing procedure annoying but once you have downloaded the app it's just a child's play.
When it comes to smart kettles we just can't leave Smarter iKettle. Everything g is just perfect about the kettle, from the design to its features. It has got a beautiful yet simple design, although it doesn't feature any controls on the body of the kettle, you can just open the lid and close it. Use the app which is made for the kettle and specify your temperature and it will heat the water up to the temperature within a few minutes.

The size of the kettle is 1.8L and the temperatures range varies from 64°F to 214°F. Furthermore, the keep warm time is 40 minutes.
Breville is also a highly rated smart water kettle that you needed to know about. The best feature for this kettle would be, it will not only heat the water up to your temperature needs but it will also suggest to you which temperature of water is required for different beverages.

The water heating time is also short and you will also get marking for different volumes of water up to the 1.8L which is its full capacity. It features five different water settings and can keep the water warm for 20 minutes. You will also like its stylish design and good interface as well as safety features.
If you don't want to trouble yourself with the cords as you wanna carry the kettle here and there then Epica should be your first choice. It's one of the most intelligently designed smart water kettle which will impress anyone with its classy looks.

Here the kettle features 6 temperature setting along with a 2 hour long keep warm time, which is quite impressive. It's so easy to use and understand the controls. This one will also look elegant in your kitchen slab. So here you are getting a number of other great features like the 2-year warranty as well as BPA free plastic.

The water capacity is of 1.8L and it's also one of the best smart kettle which will boil the water in a few minutes.
Xiaomi never fails to impress us with their budget-friendly yet feature-rich products and now they have come up with one of the best smart kettle. It has many amazing features which will wanna make you buy them more and more. For starters the kettle features, warm-up time up to 12 hours which is the longest. And it has the temperature range from 104°F to 194°F and you can change the water temperature by one-degree increment.

Its quick heat-up time will also impress you as it can heat the 1.5L water under 5 minutes. Its app is also amazing. We can only say that if you want the best value for your money then go for this one.
Our next choice for the best smart kettle will be Fellow Stag, what will impress you the most about the kettle is its high-quality programmable features. The other best thing about the kettle would be its premium looks.

If we wanna describe the kettle in simpler words then they would be, simple, versatile, convenient and reliable. To start the kettle, all you need it to press the power knob and set the desired temperature. It's LCD window will let you know what will is the current temperature. Its temperature range is between 105 and 212 degrees Fahrenheit. It's keep warm time is up to 1 hour.
Willsence Electric Tea Kettle also makes a promising match for our list of best smart electric kettles. The kettle features some advanced technology which will allow you to set up the schedule for the next day in advance.

It has got some good controls too where you can easily handle the kettle and set up your desirable temperature ranging from 110 to 212 degrees Fahrenheit. The capacity of the kettle is 1.7L and it can keep the water warm up to 60 minutes.
Brewista Brew is also one of the best smart kettle that you can find. The one should be the perfect choice for all the tea lovers out there. It promises you to brew the best cup of tea whenever you want. This one accepts both the tea bags as well as the tea leaves.

Another great feature about the kettle is its large capacity which makes it a top choice for those who live in a large family or always have some company. It maintains the temperature of the kettle for 60 minutes. Furthermore, you can also change the temperature unit from Fahrenheit to Celsius if you want. The cord is present at the base so you won't have much trouble cleaning it.
OXO is another reputed name that comes in our mind when we talk about the smart kettles. Its stainless steel look makes it an elegant choice to go on your kitchen slab. It's lightweight as well as has an easy grip. And it can easily keep the water warm for 30 minutes.
Cuisinart is our last choice for the best smart kettle. It features everything from the LED indicator light to the convenience of warming the water as per your needs. It keeps the water warm for 30 minutes. You should take a look at this one, as it won't make you regret buying it.
Conclusion

So these are our top picks for the best smart electric kettles. We have chosen these ones considering their brand value as well as customer reviews. And these received a good customer review and they serve a good purpose. So now wake up to hot water and make yourself a good tea or coffee and say bye-bye to the old kettles.

We hope you liked our article and found it helpful. Go one and choose any of these and you won't be disappointed. Thank you for visiting our page and keep coming for more such reviews.