Stuart Woods is a popular name in the thriller genre. He has written over 60 books in his career and gave a few iconic books. He is mainly popular for his Stone Barrington series. If you are here, you must be his die-hard fan or the beginner who would like to start the amazing novels by him.
If you are new to Stuart Woods's book world then you might be thinking about which book I should start from or which books are the most popular ones. Well we are here to answer all your queries. In this article, we have listed a few books with a little description so it'll be easier for the beginners which book to start from. And for the people who have already read Stuart Woods books, they might find something new as well.
Our article will take a look at the Stone Barrington series books, as we all know he is a popular character of Stuart Woods books. Go ahead and find why these books are worth reading and too good to be missed out if you are a thriller genre fan.
Stuart Woods books in order (Stone Barrington series)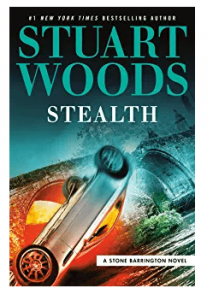 It's the first book of Stone Barrington series and it will definitely interest you. You will be introduced to the character of Stone Barrington and get to know why he is that popular. Being a smart cop, people usually tell him he is too smart to be a cop but little did they know that it's his pure luck that puts him on the streets in the dead of night to witness horrific incidents that turn his life inside out!

Soon he found himself on the front page of every New York newspaper. But that's just another incident which leads to the horrific change in the life of Country's hottest news anchor Shasha Nijinsky.

It doesn't matter where he is or where he is going, he will always find a good case waiting for him. His journey is so interesting and filled with lots of turns and twists, ups and downs that you just can't get over the book. And before you know it, you will be a fan of Stone Barrington.
The second book in the series and one of the best selling books of Stone Barrington series. The book has everything from blackmail to murder, Suspense to love! It's one of the best work of Stuart Woods that you will find.

The story follows the character of Amada Dart who has made quite a few enemies with her writings and cold personality. But the tables have turned and Amanda herself fell the victim. An anonymous faxer is sending her personal details to everyone who can read in the city. And all Amanda wants is to save her reputation from that person.

But what can she do to make it all stop and find that person? Perhaps hiring someone who is known to solve the most difficult cases and who is the best choice to find the dirt on everything that's happening. Well who could that be a person other than Stone Barrington? As soon as she hires him, he gets to the work and almost everyone from journalism is the suspect!

Will he be able to find out who is the person behind all this? Or the things will way out of his hands and worse than he can ever imagine. Well the only to find out is to read the book!
All stone wanted is a water getaway from the chill of New York to the beautiful tropical Caribbean paradise of St. Mark's. But it's the life of Stone Barrington and nothing goes simple here. What he founds is a beautiful young woman who is sailing alone on the yacht. But soon she is accused of murdering her own husband on the yacht and burning him on the sea.

Stone is pretty interested in the case as he believes the woman is innocent and the officer who is accusing her has some unclear intentions. That's an interesting book to read which you would wanna complete in one sitting and it's definitely a worth read Stuart Woods book.
Swimming to Catalina is a story that gets a little personal for the character of Stone Barrington. The story features the character of his former girlfriend bArrington. Although she had left him to marry Vance Calder, the hottest Hollywood star.

On one fine day, Stone receives an unexpected call from Calder who is claiming that his fiance is suddenly missing and he wants him to find her. The city of LA is already a place where you barely trust anyone (according to Stone). But the case isn't easy for Stone as he found empty clues that are leading nowhere and the time is running from his hand.

The story takes some shocking twists and turns that will keep you interested in the book till you reach the last page. Go ahead and you will definitely find what an amazing thriller writer Stuart Woods is!
The name of the book does justice to the story, as we all have a fear of losing our loved ones and for Stone Barrington the worst feats have come true. He soon finds out that all the close people are dying and he must find who is behind it and why he is doing so. Although he suspects that the person behind all this is definitely someone he knew.

He is actually trying to figure out all this by going down to the memory lane but things will get interesting when Stone gets in contact with two of his former girlfriends and a mafia queen who is pretty beautiful but equally dangerous. Even though all this tapping, the stone must find the man but how? Let's see that in the book.
Following the story from its previous book, Worst Fears Realized, the story follows the ride of Stone with the Mafia Princess which turns out to be shocking. The story is filled with romance and suspense at the same time and you might see a high profile murder case that fell to Stone Barrington.

Stone receives a call from half a world away. Which states that a celebrity murder case has been reported in the city of LA. Stone Is overwhelmed by the case as it demands Stones' help in more than one way. The fast-paced storyline is what will keep you hooked and it's definitely something you would enjoy.
The story unfolds several twists and turns for Stone Barrington. The cop-turned-investigator is shocked to see alive someone, he thought was dead. He finally realizes that what he thought of a case as a segment of past and a buried topic is now came alive and he must put his toes into it.

Before he can understand anything the person, who has already shocked Stone is now asking for his help to get rid of several insurance frauds and other charges. Who is the person and will Stone help him? These are the only question that can be answered if you will read the thrill-packed book.
Stones are now in London trying to solve yet another twisting case. Although he thought he understands the case but soon realizes that there is hardly anything he fully understands. He came to London as one of his old clients requests him to come and help him with something.

The story then features two murders which have left Stone all stunned and before he knew the intelligence agency of three nations has involved in the case. There are many more complications than you can imagine, apart from this drama, Stone is also overwhelmed by the love he is getting from his two former girlfriends. It's a must-read book cause it holds thrill in it's every page.
Dirty Work is the next book by Stuart Woods in the Stone Barrington which features him as an undercover investigator. He has been hired to prove infidelity in an Heiress's marriage. But everything becomes complicated when the husband is found dead and the wife is missing without any trace.

He must find out the killer in New York's high society. Before he could start investigating the case, he finds the officer from the British intelligence agency, with whom he got in contact in the Short Forever book. Although she claims that she is here to investigate her own case but Stone suspects her presence has something to do with his case as well. What happens next will definitely interest you and so don't be late to read the book and enjoy one of the best thriller work form Stuart Woods.
Stuart Woods introduced the character of Holly Baker who has come to New York to continue her study of a fugitive case. The story is somewhat connected to the Blood Orchid.

The story features some high profile cases of national security and it is much above what Stone has been solving till now. Why so? Well you gotta know by reading the book itself. This book is for Stuart Woods fans who have read his other books and want to explore something new. Although the book can be perfect for beginners as well.
This one is no less than a treat for all the Stuart Woods fans or the people who just love to read thriller books. The story features a rich Conman and a beautiful prosecutor. The conman is the new client of cop turned lawyer Stone Barrington. And it would be interesting to see what will Stone Barrington do to make sure there is no injustice happens as well as how he will handle his new client.
It's a story that holds many shocking elements and some of them are proven pretty dark for Stone Barrington. The story features the character of Dick Stone who is a cousin of Stone. Although he hasn't heard from him for a long time now. But to his shock, he has been killed and that too by himself!! The story will definitely take you to surprise when you will find that Dick Stone was a CIA agent and what's more shocking is all of his family members are also found dead. Who did this and why did this are some of the questions that make Stone Barrington take part in the investigation and find out the truth.
What started as a fun night at Elaine's has ended with putting Stone Barrington in dilemma. Stone has somehow ended up dealing with the Mafias and they have somehow dragged him to the underworld. How and why? the questions that must be spinning in your head and the only way to find out the answer is to read the amazing piece of excellent work by Stone Woods.
The story again takes you to the beautiful island of Caribbeans St Mark's but for a different case and different reason. This time Stone is joined with both Holly Baker and Dino Bacchetti. The case revolves around Tedy Fay, who has been considered as dead for a long time now but the President thinks she is still alive. What happens now and how they will find teddy (if she is alive) would be interesting to read.
This time Stone Barrington is hired to protect a former intelligence agent with amnesia. He holds many secrets which can be a reason for someone to kill him. Will Stone able to protect him? Or he will be failed by someone smarter than him? Just read the amazing Stuart Woods book and finds out!
Loitering With Intent (Stone Barrington #16), 2009
Kisser (Stone Barrington #17), 2009
Lucid Intervals (Stone Barrington #18), 2010
Strategic Moves (Stone Barrington #19), 2010
Bel-Air Dead (Stone Barrington #20), 2011
Son of Stone (Stone Barrington #21), 2011
D.C. Dead (Stone Barrington #22), 2011
Unnatural Acts (Stone Barrington #23), 2012
Severe Clear (Stone Barrington #24), 2012
Collateral Damage (Stone Barrington #25), 2012
Unintended Consequences (Stone Barrington #26), 2013
Doing Hard Time (Stone Barrington #27), 2013
Standup Guy (Stone Barrington #28), 2014
Carnal Curiosity (Stone Barrington #29), 2014
Cut and Thrust (Stone Barrington #30), 2014
Paris Match (Stone Barrington #31), 2014
Insatiable Appetites (Stone Barrington #32), 2015
Hot Pursuit (Stone Barrington #33), 2015
Naked Greed Stone Barrington #33), 2015
Foreign Affairs (Stone Barrington #35), 2015
Scandalous Behavior (Stone Barrington #36), 2016
Family Jewels (Stone Barrington #37), 2016
Dishonorable Intentions (Stone Barrington #38), 2016
Sex, Lies, and Serious Money (Stone Barrington #39), 2016
Below the Belt (Stone Barrington #40), 2017
Fast and Loose (Stone Barrington #41), 2017
Indecent Exposure (Stone Barrington #42), 2017
Quick & Dirty (Stone Barrington #43), 2017
Unbound (Stone Barrington #44), 2018
Shoot First (Stone Barrington #45), 2018
Turbulence (Stone Barrington #46), 2018
Desperate Measures (Stone Barrington #47), 2018
A Delicate Touch (Stone Barrington #48), 2018
Wild Card (Stone Barrington #49), 2019
Contraband (Stone Barrington #50), 2019
Stealth (Stone Barrington #51), 2019
Treason (Stone Barrington #52), 2020
Hit List (Stone Barrington #53), 2020
Choppy Water (Stone Barrington #54), 2020
Conclusion

So these are the popular Stuart Woods books in order that you needed to know about. We have here done our part by bringing you the best Stuart Woods books and now it's your turn to find the perfect one to start with. Although we would suggest you start from the first book from the Stone Barrington series.

Get ready to explore the whole new world of Stuart Woods. But we would like to tell you, once you start the journey of his books it will be hard to stop. It's just a perfect book for those who want to experience the best book series and complete a number of books without getting bored.

Our article here is completed and we hope you liked the article and found it helpful. Thank you for visiting the page and keep coming.