We all crave crime/investigatory/mystery novel and fortunately, we have many amazing authors who never fail us in giving some of the best crime/mystery novels. But do you what's better than a crime novel? A full-fledged crime/investigatory/mystery series! One such series which is too good to be missed is the Maisie Dobbs series by Jacqueline Winspear! Well, the books have already impressed us by featuring a female lead character as most of the novels and series feature a male protagonist.
You should know that Maisie Dobbs is a popular series and it's definitely worth reading. The first novel in the series, Maisie Dobbs was published in the year 2003. Before we start our article we want to tell you a little bit about the author and the character of the book!
About the Author –
Jacqueline Winspear was born in 1955, London. She grew up there and completed her education from the University of London's Institute of Education. She has worked in academic publishing and marketing communication. She was always interested in writing. Her series is mainly inspired by her grandfather's suffering from world war 1. She emigrated to America in the year 1990 and she is living there since then. Here she started exploring her writing career and become a popular mystery writer that we know her today!
About the lead character Maisie Dobbs-
Maisie Dobbs who spent her early life working as a maid and then she completed her education and become one of the popular psychologists as well as an investigator! She has managed to start her own detective agency. She deals with the cases which seem twisted and hard to solve and managed to come up with answers for the several crimes that appear throughout the series.
The first novel in the series, Maisie Dobbs was published in the year 2003 and since then the series features more than 15 books with the latest one The American Agent, which was published in the year 2019! Her series has won many awards including a number of best first novel awards!
Her stories are said to be unique and gripping which is the reason behind its popularity and you will definitely enjoy the mysteries which happens in the past era and how easily Maisie Dobbs solves them.
In this article, we have written all the Maisie Dobbs books in order so that you are able to read them in the right order and enjoy the character development throughout the series. We have also discussed the plot of the books so you will have a better idea about the kinda stories which are being presented in the Maisie Dobbs books. Let's start our article for the Maisie Dobbs books in order.
Maisie Dobbs Books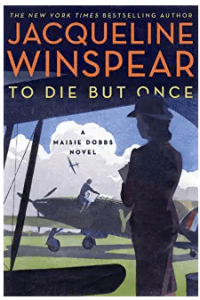 The first book in the series which was published in the year 2003, has managed to grab the attention of readers for Jacqueline Winspear and the Maisie Dobbs series. As we have mentioned earlier the book has won many awards for the first novel and people were eagerly waiting to read the next book of the series.

The book features the character of Maise Dobbs and introduces her. She is just thirteen and currently working as a housemaid but her employer knows that she has the potential to become much more and that's the reason he has patronized her education. She somehow managed to get admission to the Cambridge college. But when the first world war took place she was sent there to work as a front line nurse. After the first world war was over she set up her own investigation agency and worked as a private investigator.

Her first case is full of secrets as well as darkness and it tests the intelligence of Maisie Dobbs's intelligence. After the book is over you will actually find yourself as a fan of the character and her intelligence!
Some cases are prestigious and they are challenging because there are a lot on stake. One such case has been fallen into Maisie Dobbs's lap as an heiress has gone missing. What seems as a simple runway case has turned into a complicated case when three of the heiress's friends has been found dead.

Now Maisie Dobbs is busy connecting the dots and trying to figure out the connection between the murders and the heiress's runaway. When she starts to investigate further she finds some connections with the Great War. But the time is ticking and she must find the Heiress before it's too late.
The story features the character of Sir Cecil Lawton who is asking for Maisie's help as her wife's deathbed plea left him with no choice. Agnes Lawton ( Cecil's wife) never accepted that her son, who was an aviator,  has died during the world war. This investigation is turning as madness when Maisie Dobbs found some shocking revelations. This surely not a case who h can be termed as straightforward! Soon you will find some dark practices which are said to commune with the spirit world. She comes in contact with her old friend who has lost 3 brothers to the war and one of them has a connection to Ralph Lawton! This is one of the most popular novels of the Maisie Dobbs as there are many scenes that capture the reader's heart!
On the opening night of his new and much-awaited exhibition at famed Mayfair Gallery, Nicholas-Bassington Hope has been found dead. Although police have found nothing suspicious about his death and declared it as an accident. But his twin sister Georgia is not convinced and she thinks that there is much more than just an accident which resulted in her brother's death. That's where Georgia takes the help of famous Maisie Dobbs and asks her to investigate her brother's death. As the investigation progress she yet again found a connection with the world war.
Everyone is shaken with a series of crimes in a small rural community. Maisie Dobbs took a pretty simple case of land purchase but soon her inquiries lead her to Kent, a small village. This is the time of hop picking season and as she digs up the matter she found out something is amiss.

A fire broke in the village that districts the life of villagers and after that a lot of crime series takes place. There is surely a secret surrounding the village and this leads to are complex investigation.
The title truly justifies the theme of the novel as numerous incidents took place simultaneously. The story starts with a man witnessing someone committing suicide. After that, a threatening letter has been received which claims that the lives of thousands of people are in jeopardy. Meanwhile her assistant, Bill Beale is again suffering from the personal crisis as her wife, who was barely recovering from their daughter's death has been slipped into melancholia's abyss.

The author has combined a heart sobbing story with a rich evocation of a fascinating period which becomes one of the most satisfying and compelling novels yet. Overall Maisie must hurry to find out the truths of all the things which are going on and figure out what has lead to this dark period.
The story is based on a story that uncovers the love and death during the wartime and investigation takes Maisie to unfold a love affair between a young cartographer and a nurse who seems mysterious to Maisie.

The story features the character of Michael Clinton who was a cartographer, he has bought land in beautiful Santa Ynez Valley in the hope that he will find oil beneath its surface. But before he could do his business the war broke and he has to leave everything and serve the British army. He never found aftermath and listed as missing in action. All this happened in 1914 now after many years his family has been informed that their son's remains have been unearthed. His family has approached Maisie Dobbs to find out who the mysterious nurse was, while he wrote love letters too.

Her investigation soon suggests that the reason for his death might be something big and now her family and Maisie herself are in danger. It's also a crucial period for Maisie as she is coping with her mentor's death. This might be the biggest case in Maisie's career.
Maisie Dobbs has received the most prestigious case of her life. She has been assigned an undercover case by Scotland Yard's Special Branch and the secret service. She has been pasted as a junior lecturer in a private college of Cambridge to investigate the activities by an emerging Nazi party. If you are looking for a book full of thrill and mystery then you would be a satisfying book. Furthermore, the story has been proved as a turning point in Maisie's career.
The book features the character of Eddie Pettit who is a simple, kind, and generous man. He has a magical gift of working with horses. But soon he is brutally murdered or what appears as a violent accident. This has raised suspicion among his community and everyone wants to find out the answers. Some Maisie has a connection with this community and she has taken the case without having any trouble. Her investigation had made it clear that some political power is behind the case. It would be interesting to see how Maisie is going to tackle this case.
Maisie is now solving a case of an Indian immigrant who is looking for answers about her sister's death which took place two months ago. There has been no investigation conducted and the Scotland Yard didn't even make an arrest in the case. Maisie was solving the case as well as dealing with personal issues, yet another Indian woman has been murdered. The case has become more complex and she has to find answers before anything else happens.
A Dangerous Place is also a story that features a political connection to a case that is being investigated by Maisie Dobbs. She is in a dangerous place and currently handling so many things at once.
As we know Maisie Dobbs is a part of the British Secret Service and she has been sent to Germany where the dictatorship of Hitler is taking place. Maisie isn't just dealing with a simple case this time and as long as she stays in the country the danger will be upon her life!
The prime minister of Britain has declared war with Germany. And a senior secret service agent has a case for Maisie. He wants her to investigate the killing of a man who left Belgium as a boy and now he has found dead.
As the war with Germany is going in the country Maisie is yet again approached for a case of a disappeared young apprentice who was working under atop a secret government program. The story features a strong link between the money and the war!
A reporter, Catherine Saxon has been murdered while she was reporting the war in Europe. Once again Maisie Dobbs's expertise has been asked by another secret Service agent Robert McFarlane in the matter. Will this be an easy task for Maisie?
Conclusion

So these are the Maisie Dobbs books in order which you were looking for. The books are quite interesting and keep you glued until the last page. We hope you have found the article helpful. We have also written such kinds of articles for other others as well so don't forget to check them out as well (if you are looking forward to reading some new books). Thank you for visiting our page and keep coming!