Since you are here, you must be looking for a long crime novel series and we can surely say that you have made the right choice by choosing the crime novel series by Robert Crias. He is an American novelist who is popularly known for his crime/investigatory series that is Elvis Cole and Joe Pike series.
Robert Crias was born in 1953, in Lousiana. He studied mechanical engineering but he always had an interest in writing. He moved to Hollywood in 1976 to work as a scriptwriter. He worked for many popular series like Hill Street and for that he even won an Emmy award! He debuted as a novelist in the year 1980 with his book Monkey's Raincoat. It was also the first book of his Elvis Cole and Joe Pike series. He even wrote many other series as well as some standalone books and not to forget won many awards for his books as well as other work by his.
So we know that he has got some talent and you can undoubtedly rely on him and his novels for a good reading experience(if you like detective novels!). In this article, we are going to mention all the Robert Crias Books in order so that it becomes easier for you to pick a series or even a standalone novel in its publication order. Just like many other series, you can actually read the series book as a standalone, but as usual, it would be better if you read them in order so that you have an idea about each character and see the character development as well. Let's not waste any more of your time and start our list of Robert Crias books in order for you.
Robert Crias Books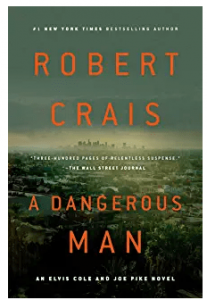 This the first novel by Robert Crias and also the first book in the Elvis Cole and Joe Pike series. The book features the character of Ellen Lang, whose husband and son went missing. She asks the help of Elvis Cole who is a famous detective and all she wants is her son and husband back.

What seems like an easy missing case has now taken a huge twist when Elvis and his partner Joe found a connection with the ex-Matador! He was last seen at his party and now no one knows what had happened and where he is gone. Things are pretty confusing as they get to know the seamier side of Hollywood. But what comes as the biggest shock for Elvis and Joe is when Ellen herself went missing!

Will they be able to solve the case and there will be deaths which they can't prevent? It would be interesting to see how Elvis is going to out his life in danger for the case and how he got out of it!
Stalking the Angel is a story about a Japanese manuscript known as Hagakure! Sometimes somethings are more valuable than we can ever imagine and that's what the story is about, Bradley Warren had that manuscript which is now midding from his safe! The thing is it belonged to someone else and that's what troubles him because he has to return it and its pretty valuable. It would be interesting to see how Elvis is going to solve this case and what challenges he is gonna face!
The story features an erratic director Peter Alan Nelson who is also known as the King of Adventure. There is no doubt that he is a successful director and his movies make billions. But someone who is that successful and rich tends to be an arrogant person and have an attitude for other people. And due to his behavior, he is prone to make enemies than friends. Anyways, he gets what he wants and now all he wants from Elvis is to comb the country for airhead wife and infant child the film-school flunkout dumped en route to becoming the third biggest filmmaker in America. But his wife is nothing like Elvis imagined! The story takes a turn when her character shows up and once again Elvis is in a difficult place!
See by the time you reach the third novel by Robert Crias, you would be aware of the fact that Elvis Cole and Joe Pike are the best detectives and they know what they are doing! And that's why they are so popular that almost everyone is aware of them. This time a woman has asked their help to know about her fiance because she thinks he is in trouble and he is hiding something from her.

But he is a cop! That means he knows pretty much everything and more importantly no cop wants to reveal their secrets. As soon as Elvis and Joe find more about the other side of being a cop and how brutal a policeman can be. But they are in trouble and now being framed as killers! Why? You gotta find out by reading the book.
What if you didn't know where you came from? Surely you would be devastated and no matter what would be your present you would wanna know about your past! This is what's happening with Jodie Tylor who is a Television Star. Tylor was given up for adoption nearly thirty years ago and now she wants to know a little bit more about her biological parents!

The case seems pretty easy for Elvis until he founds out it's not that easy. As soon as he arrived in Lousiana, he found that someone else also wanted to know about Tylor's parents, and to his shock, they are dead now! Elvis better be careful and know what he is doing so that he can avoid such a consequence. But he must find out who is behind all this and what is the identity of Jodie Tylor!
The case features a restaurateur, Teddy Martini whose wife has been brutally murdered. But the police come after him and make him a prime suspect in the case. Teddy knows he has to fight hard if he wants to get justice for his wife and clear his name and that's where he went to Elvis Cole for help. Elvis and Joe investigate the case and look for the person who is framing Teddy. Their first doubt goes to someone in the police itself! But are they right about it? Or there is a much more complex answer to their question?
This time three kids approach Elvis and Joe for help because their father is missing for eleven days now and they cant take help from the police for some reason. Elvis and Joe agree to help them. But is the case this simple? Well you would know the answer by now, nothing goes simple and no case is easy. Elvis and Jow again find themselves in trouble when their investigation leads them to a corruption case and lots of high crime which are being investigated at a federal level! Will they be able to find the father or the reality will break the kids?
Sometimes you are prepared for some cases as they involve the close persons! And that's what the story is about. Joe receives a call from Frank Gracia who is the father of his ex Karen! She has been brutally murdered and no one has a clue what happened to her. Frank wants Joe and Elvis to keep an eye on the investigation of LAPD because they are known to mishandle the cases.

The case is already tough for both Elvis and Joe and now that LAPD is involved, it gonna test their patience and relationship with each other as well! They uncover the harsh truths and get to know more than they have asked for!
Being an extraordinary detective has its own disadvantages too, because, on the one hand, you help people to find out what they have asked for you to investigate, but sometimes the investigation leads to loss for the other people and that's where you make enemies. That's the theme of the book. Elvis is in trouble as he was asked by his girlfriend to watch her ten-year-old son Ben while she was out of town for business.

But he has been kidnapped and the kidnappers are not after money! Now Elvis is looking for him and investigating who could be the kidnapper and why he is after him. But the thing is must find him before the police. While Elvis is on the investigation, Joe finds out something on the case that can be disastrous for everyone!
Elvis got a phone call from LAPD which says that they have found an injured man on the alleyway. The man was asking about his son Elvis Cole before he died in the crime scene. Elvis is shaken up with the news because he never knew about his father and now he is dead!

He takes up the investigation and looks for the person who has killed the man, but the investigation is affecting him! He turns to Joe for help and he must help his friend before things get difficult for Elvis.
The books feature Joe Pike as the center character and this might be the reason a lot of Joe Pike fans found this one as their favorite book. The story revolves around, Larkin who is a carefree party girl but her life changes when she witnesses a crime. And that crime involves some of the most powerful people and they would do anything in their power to keep her silence. Even police protection has failed to keep the girl safe and that's why her family hired Joe! Will he be able to protect her?
The fire season is there in Los Angeles and people are being evacuated from their homes. But to everyone's shock, a person found dead which seems like a suicide, what's more, shocking is an album that features 7 young girls brutally murdered. The case fell into the lapse of Elvis Cole and he is determined to get the answers!
Joe's friend Frank has been accused of some crimes and police have been going through everything from his past life which involves some secret chapters from his life. Now Joe wants to prove that his friend is innocent! But is he?
An owner of a Los Angeles Diner has been attacked by gangsters but Joe Pike happens to be there and save him with his niece Dru! But instead of thanking him, they are resentful. And their behavior is suspicious to Joe!
A woman is asking for help from Elvis and Joe when her daughter is missing with her boyfriend. This case opens about the horrific truths about human traffickers and what they do to young and innocent people. Will Elvis and Joe be able to find out her missing daughter before its too late?
Conclusion

Here we have completed the list of Robert Crias books in order. We hope you found the article helpful and now you know which book to start from! The series is highly appreciative and you would love to read detective fiction and the thriller books of his. We are pretty sure that by the time you will finish up his first book by Robert Crias, you would be a fan of his writings. So go ahead and pick a book that you liked the most. We have described the plot of the first 15 books of his so that you will have an idea about the plots and kind of stories we present in his books.

Here the article ends but you can check out other such articles written for different authors and their books in order. Thank you for visiting us and keep coming!